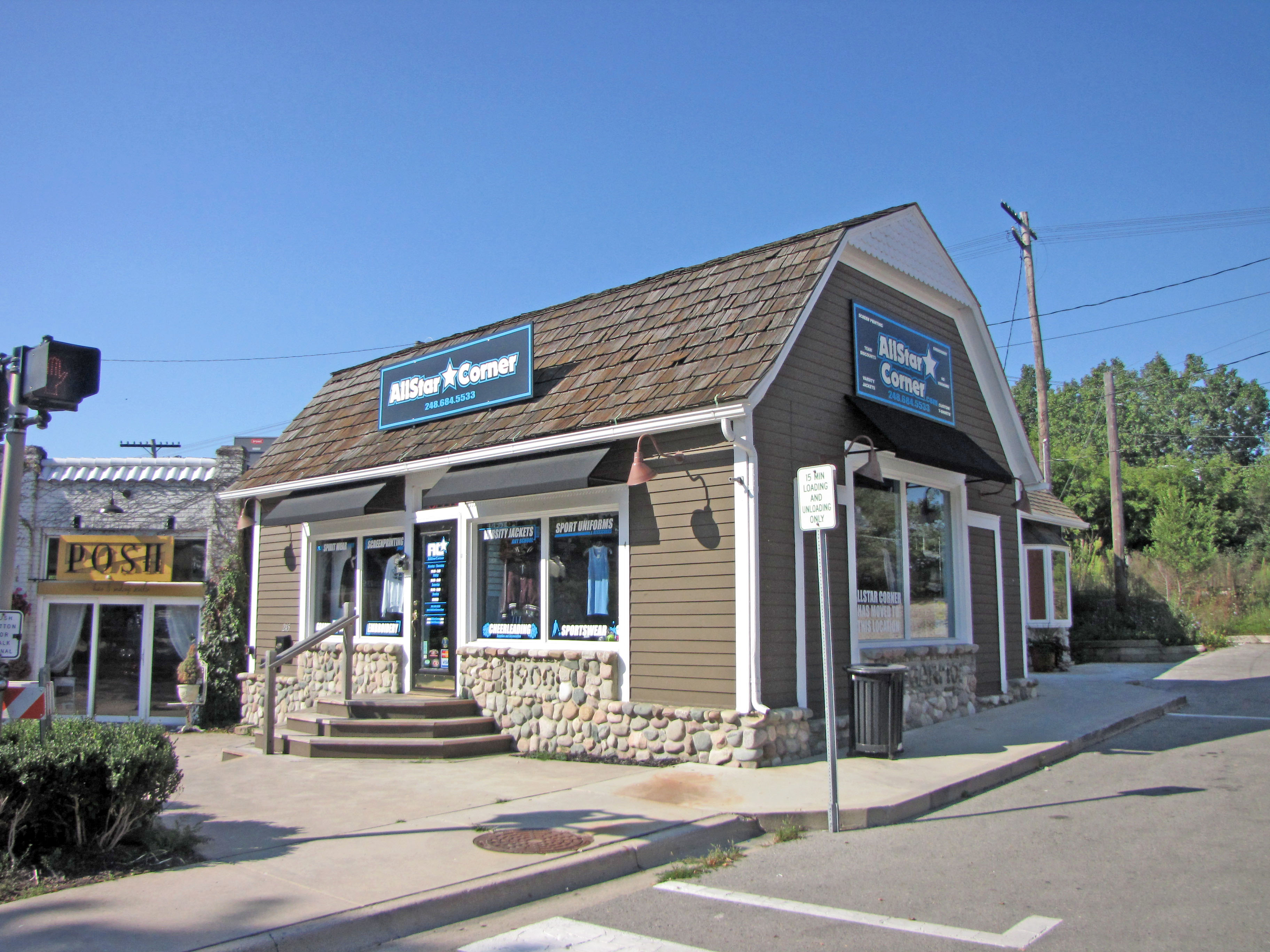 B. F. Howland Lumber Company Building
245 North Main, Milford, MI
The Milford area was first settled in the 1830s.  Local streams and waterways were quickly damned to create a few mills for processing lumber and farm products.  Milford's prospects improved greatly in 1871 when the rail line from Plymouth to Flint was completed.  This railroad eventually became part of the Pere Marquette Railroad, then the Chesapeake and Ohio system and now the CSX line.  Products made in Milford could readily be shipped to larger markets throughout Michigan.  In the last three decades of the Nineteenth Century, Milford grew into a modest manufacturing center because of the availablity of low-cost water power and raw materials.  As the impressive homes in the Milford Historic District attest, quite a few entrepreneurs amassed considerable wealth in this era.  Presumably, much of the lumber used to build the Queen Anne and Victorian homes in the Milford Historic District came through the Howland yard.
B. F. Howland, I infer, was already a businessman in Milford when the railroad reached his village.  He quickly established a lumber yard along the rail line and then was responsible for building the first grain elevator in the community.  The structure you see is a one and one-half story frame building placed upon a fieldstone foundation.  I do not know how closely the present building resembles the one that B. F. Howland constructed 138 years ago.  I suspect that much of the exterior has been modernized and the stone work is probably of recent vintage. The building is now home to the All Star Corner business.
This Howland Lumber Company building very closely adjoins another structure listed on the Michigan Register of Historic Sites – the McPherson Oil Company Service Station.  They are two separate buildings with distinct histories.
Josiah W. Begnole, a Democrat, was elected to Congress from the Flint area in 1872.  He also served as Michigan's 19th governor in 1883 and 1884.  By profession, he was a  Genesee county farmer, but he also entered the lumber business. After completing his term his Lansing, he continued his entrepreneurial activities.  In 1890, he purchased this building from B. F. Howland.  I do not know if the name of the lumber firm changed, nor do I know how long this yard operated, a small one by today's standards but probably sufficient for the two thousand or so individuals who called Milford their home town in 1900.
These two building—McPherson Oil and Howland Lumber—are very attractively preserved.  However, it is easy to see them and not realize their historical significance since there is no State of Michigan Historical Marker.
Architect: Unknown to me
Date of Construction: 1871
Architectural Style: Vernacular
Use in 2009: All Star Corner Sports Apparel http://www.allstarcorner.com/
Detailed description of Milford's history with some information about
B. F. Howland: http://www.milfordhistory.org/historic_significance.html
State of Michigan Registry of Historic Sites: P24,477; Listed July 19, 1990
State of Michigan Historical Marker: None put in place
National Register of Historic Places: Not listed
Photograph:  Ren Farley, September, 2009
Description prepared: November, 2009
Return to Commercial Buildings