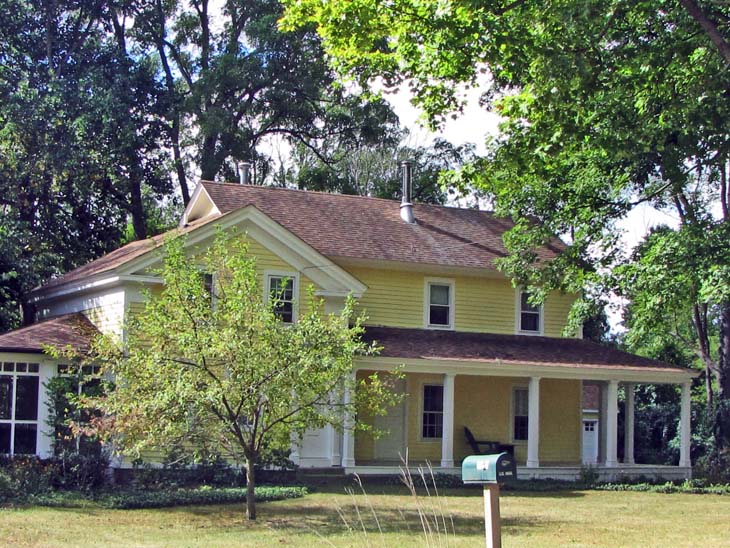 Hubbard-Kesby Home
1965 West Dawson Road between North Garner Road and
the Kensington Metropolitan Park, Milford

After 1825, settlers from the East Coast could reach Michigan because the newly completed Erie Canal facilitated getting across New York State.  Gradually, the population of Michigan rose.  Early in the 19th century, almost all Michigan residents lived along the lakeshore or on navigable rivers since there was no internal transportation system.  Gradually, trails were cut across the state allowing the settlement of the interior, especially after the Indians in the state were encouraged to leave.

Milford owes its existence to the availability of energy.  The Pettibone Creek flows into the Huron River at the site where Milford is located.  In 1832, Elizur and Stanley Ruggles erected the first building in the area—a sawmill.  Two years later, Luman Fuller built a gristmill.  Quickly thereafter, investors set up a tannery, a cooperage and a woolen mill.  By 1835, the population was sufficiently large to merit a post office.  The community continued to grow in the mid- and later-19th century, thanks to the availability of low cost and reasonably reliable water power.

I infer that in the late 1830s, the Hubbard Family built the attractive farm home that you see here.  Alas, I know little about that family or the exact date when they settled in Milford.  The second family to live in this home were the Kesbys; that is, John Kesby and Betsy Moore Kesby.  I do not know much about them either.  Betsy Kesby had a son from a previous marriage whose name was John Moore. He was born in London in 1826 so I infer that Betsy Moore Kesby was an immigrant to Michigan.   John Moore was active in the Democratic Party and served as mayor of Saginaw from 1861 to 1863.  He ran for Congress in 1862 but the electorate spurned his bid.  The Michigan Democratic Party selected him as their candidate for governor in the 1868 election.  On November 11 of that year, the voters once again turn him down since the Republican candidate; Henry Porter Baldwin won 128,000 votes to Moore's 97,000.  I do not know if John Moore ever lived in this home. 

This structure has been listed on the National Historic Register since 1996 which means there is a great deal of documentation about its significance.  The Department of Interior, fortunately, digitized that documentation for structures in most states but not for Michigan.  At some point in the future, it will be much easier to assess information about the history of this appealing home.
Date of Construction: 1833 to 1837
Architectural Style: Greek revival
Builder or architect: The original family to commission the building of this attractive residence was Horace and Amelda Hubbard.
Date of Rebuilding and the addition of a second story: 1905
Use in 2016: Very well maintained residence
State of Michigan Registry of Historic Sites: P907, Listed: November 15, 1995
State of Michigan Historical Marker: None erected
National Register of Historic Places: Listed June 3, 1996
Picture: Ren Farley; September 4, 2010
Description prepared; February, 2016

Return to Historic Residences

Return to Home Page