Hubbard Farms Historic District
Properties on both sides of all four bounding streets, which are: West Vernor Highway,
West Grand Boulevard, West Lafayette and Clark Street

Robert Navarre, born in Villeroy, France, arrived in Detroit in the 1730s after spending time in Nova Scotia. He served as royal notary at Fort Ponchartrain, an appointment he retained after the British occupied the village. Navarre received a grant from the French crown for the land in this general area. Subsequently, five ribbon farms were laid out here, stretching inland from the Detroit River south of present-day downtown Detroit. There were bountiful springs in this area with the best, perhaps, located close to present day Fort Wayne. This led the French settlers to name the area Belle Fountaine.

After the war of 1812, English immigrants began to purchase the land and establish farms here. Some of the nearby land was held by the federal government. Father Gabriel Richard intended to establish a large boarding school for Indians here. He knew that the students would have to farm in order to sustain themselves. Father Richard traveled to the East in 1808 and approached President Jefferson to seek a grant of this land for his school. President Jefferson, apparently, permitted Father Richard to use the land without rent, but did not give the land to him. Once he was back in Detroit, Father Richard apparently found little support for the school he intended to build. One of the early United States property owners in this area was Whitmore Knagg. Born on his parents' farm that was located on the Maumee River, Knagg was appointed an Indian agent by President Washington in the early 1780s. He became well known as an Indian fighter who joined with General Anthony Wayne to drive Indians from the upper Midwest. He served as an interpreter and soldier for the United States military in the War of 1812. He also helped draft the treaties that sought to contain Michigan Indians in the early years of the new republic. These include the treaties of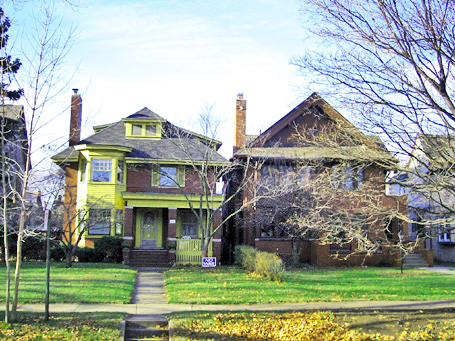 Detroit, 1807; Brownstown, 1808, Maumee, 1817, St. Mary's (Ohio) and Saginaw, 1819.

Bela Hubbard was the primary developer of this section of Detroit. Born in Hamilton, New York in 1814, he attended Hamilton College and earned a degree in geology at age 20. He promptly migrated to the growing port of Detroit. By 1837, the new state of Michigan appointed him assistant geologist. I infer that he inherited money from his prosperous family and used it to buy property in the neighborhood that continues to carry his name. Hubbard wrote numerous papers about geological issues and was one of the original members of the American Association of Geologists. However, his interest turned to law and real estate development in Detroit. He was admitted to the Michigan bar in 1842 and then became prosperous through his real estate transactions in Detroit.

Hubbard realized that there were many Indian mounds in this area. In the 1830s, he began excavating them and discovered that this location had been a Pottawatomie village and burial ground. Apparently there were once numerous Indian mounds throughout southwest Detroit and along the Detroit River as it flowed toward Lake Erie. Indeed, Father Richard had chosen this area for his school since Indians regularly crossed the Detroit River here. With urban development came the removal of most Indian mounds, although one or more may still exist on the campus of Fort Wayne. Bela Hubbard also collected art and was one of the founders of what has become the Detroit Institute of Art. I believe that he donated his art collection and his numerous Indian artifacts to that museum.

As Detroit grew into a manufacturing metropolis following the Civil War, industries located in this area. One of the major employers was the large tobacco factory established by David Scotten who also lived near here. Workers and managers needed homes so numerous ones were built here. Most of the homes in the Hubbard Farms area were architect designed and built between about 1880 and the First World War. I think of the homes as primarily Victorian but you will also find Romanesque, Colonial Revival, Beaux Arts and Italianate homes. There are also some of the few row houses built in Detroit in the early Twentieth Century. Very many of them have been restored and are now helping to make this an attractive residential neighborhood.

Detroit faced numerous challenges after the civil violence of 1967 and many older neighborhoods went into decline. Large homes in inner city Detroit neighborhoods seemed much less appealing than attractive ones in the suburbs. However, the Mexican population of southwest Detroit increased in the latter decades of the last century and many efforts were made to avert a slide of the Hubbard Farms neighborhood into dilapidation. Those efforts were basically successful and the area now contains a modest array of well preserved Victorian era homes.

This historic district includes the Amelia Earhart Middle School. The Hubbard Farm neighborhood is a registered historic district with specific boundaries. To the immediate north is the Hubbard-Richard neighborhood bordered by Sixteenth Street on the east and West Grand Boulevard on the west. So far as I know, Hubbard-Richard is not yet a registered historic district.

Bela Hubbard was a significant figure in the development of Nineteenth Century Detroit. There is one impressive structure that recalls his memory: the Bela Hubbard branch of the Detroit Public Library located on West McNichols near the intersection with Schaefer.

City of Detroit Local
Historic District: Designated February 26, 1993
State of Michigan Register of Historic Buildings: Not Listed
National Register of Historic Sites: Listed January 29, 1993
Use in 2009: Attractive residential neighborhood
Photo: Andrew Chandler, December, 2004
Description prepared: December, 2009

Return to City of Detroit Historic Designations