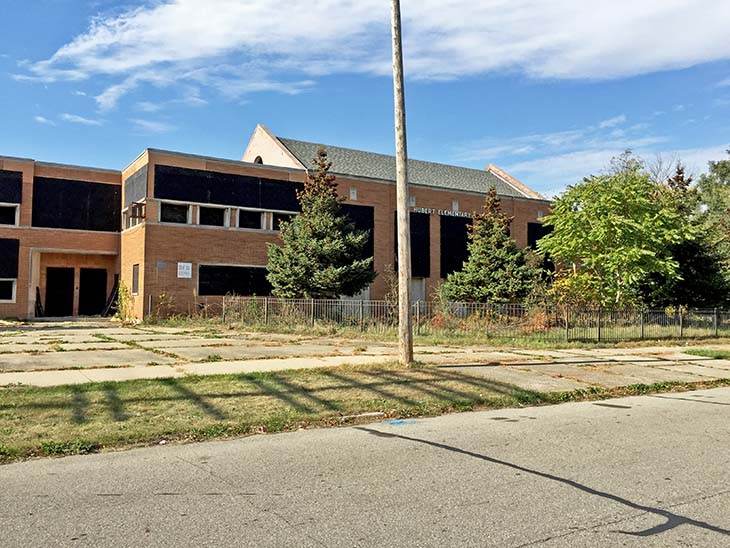 Don Huburt Elementary School
14825 Lamphere Street in the Brightmoor neighborhood of Detroit

The Brightmoor neighborhood is one of the most isolated and impoverished areas of the city.  It is bounded, roughly, by Puritan Road in the north, Evergreen Road on the east, the CSX railroad tracks on the south and Telegraph Road which is the Detroit city limit on the west.  I realized there are other definitions for this neighborhood.

In the 1920s, this area was a component of Redford Township.  B. E. Taylor was a Detroit real estate developer who built quite a few neighborhoods in Detroit in the booming 1920s.  I have seen reference to some 33 neighborhoods where he owned property and then built homes.  Many of them were designed for the emerging middle class. 

Taylor realized that many men were coming from the South to work in the auto factories of Detroit.  Upon arrival, they had neither funds nor a place to live but during those boom years, they could easily find a job.  He saw an opportunity.    He purchased or obtained rights to much vacant land in what was then Redford Township just west of Detroit.  This is present day Brightmoor.  He encouraged men arriving in Detroit to work at Ford's River Rouge plant to live in this development that he named for an ancestral location in Scotland.   He made it possible for them to do so since they could buy property on a land contract for low cost.   The lots sold for between $350 and $800 but the purchaser could make monthly payments.  He also had an arrangement whereby he could erect a small home—really more of a shack—on a very small piece of property.  I believe that he charged as little as $895 for the very primitive homes he sold to the newcomers.  Using a crew of six, Taylor could erect these extremely modest homes in two days.  Quite a few people did business with Mr. Taylor.  There were challenges.  There was no water or sewerage service in this area.  I believe there was electricity in this area but those who purchased "homes" here may have had to hook up their own electricity.  Mr. Taylor apparently had water trucks visit the neighborhood where residents could fill their buckets or bottles.  The homes he built had no plumbing.  He expected their owners to dig a latrine in the back yard.  The streets were not paved.  And there was no public transit so he ran a bus to the Ford Rouge plant for his customers.  Of all the developments constructed in Detroit in the early vehicle era, Brightmoor had the most minimally adequate homes.  I wonder if there were Detroit building regulations that would have precluded such home had the area been in the city.  Some of those who arrived and bought land opted to live in tents or in flimsy buildings until they constructed on their own homes.

The state government realized that there were impending health problems in Brightmoor given the lack of all ordinary city services.  They implored Detroit to annex the area but the city turned down that option noting that it would cost the city a great deal to extend water lines, sewer pipes and public transit to this remote area of the very low value of the homes there.  Property tax receipts would be minimal.  After some time, the state worked out a type of financial arrangement beneficial to Detroit if they would annex Brightmoor.  They did so in 1926 and began extending city services.

I do not know what the population of Brightmoor was before the Depression began in 1929, although a reasonable estimate could be obtained from Census 1930.  However, once the Depression led to massive layoffs in the vehicle industry, the population of Brightmoor dropped sharply.  Presumably, many of the residents returned to their places of origin in Kentucky and Tennessee.  When Detroit became the Arsenal of Democracy in the early 1940s, thousands of workers arrived to work in the munitions industry.  There was a tremendous housing shortage so the generally unattractive housing structures in Brightmoor were once again populated.  This time, those who lived there had funds to improve homes and, after the end of World War II many of the shacks Burt Eddy Taylor built were replaced by modest workingmen's' homes  For a couple of decades, it was a working class neighborhood of modest homes in a remote corner of the city.

I believe this is the era when the Detroit Public School (DPS) system built the impressive school that you see.  It is probably the largest single investment that the city of Detroit or DPS made in the section of Brightmoor to the west of Outer Drive.   Several other schools: Burt Elementary and Harding Elementary; were built in the blocks to the east side of Outer Drive.  They have also been closed.

The homes in Brightmoor were not very attractive and few had architectural merit.  When the population of Detroit suburbanized, Brightmoor's population fell sharply.  In 1990, about 24,000 residents called Brightmoor their home.  The area got a reputation for extensive criminal activity.  That may have contributed to the demographic change that reduced the area's population to 13,000 in 2010.

Hubert Elementary School survived until 2006 when it was closed.  Apparently, very quickly after it was shut, it was looted of almost all valuable items.  This school was one of 70 put on the real estate market by DPS in 2013.  So far as I know, it was still on the market in early 2016.  I do not know about the accomplishments of Don Huburt.  The VFW post in nearby Redford Township also bears his name.

In recent years, a variety of volunteer organizations have made modest investments in Brightmoor.  It is a location where many lots are used for urban farming.  Artists have painted quite a few structures in attractive colors.  Play lots have been established for children.   Renovating troubled neighborhoods and turning them into stable residential areas is a great challenge.  If this can be accomplished in Brightmoor—and there are those who are trying—it will be a newsworthy story.

Date of Construction: Most of the building was built in 1953.   I believe there was a school on this site dating from either 1921 or 1929.  That building may have been incorporated into the 1953 structure.
Architect: Unknown to me
Date closed: 2006
Use in 2016:  Abandoned school
Website for students who attended this school: http://www.hubertschool.org/home.html
Website for Brightmoor Association: http://www.brightmooralliance.org/
City of Detroit Designated Historic District: Not listed
Michigan Registry of Historic Sites: Not listed
National Register of Historic Places: Not listed
Photograph:  Ren Farley, Fall 2015
Description prepared: January 2016

Return to Education

Return to Homepage