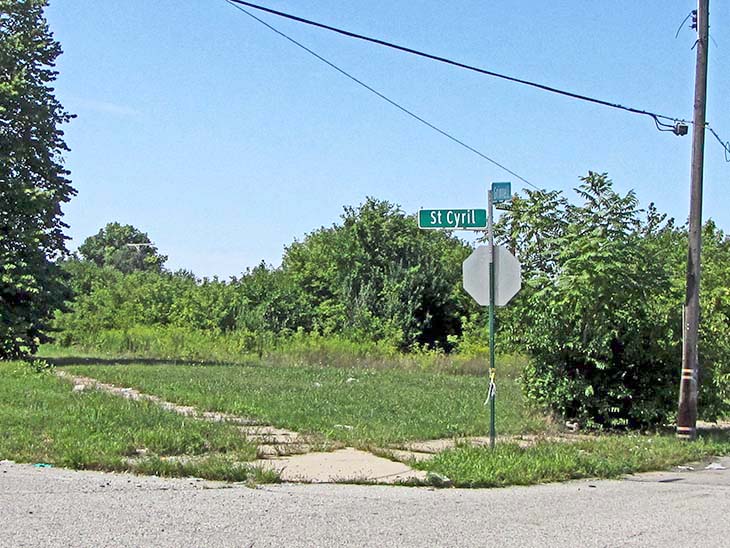 I-94 Industrial Park
Bounded, roughly, by Mt. Elliot on the west; Huber on the north,
St. Cyril on the east and Miller on the South

Detroit began losing its industries in the 1950s as vehicle firms and parts suppliers moved away from antiquated multi-story buildings in the city that dated from the World War I era.  Many of them erected spacious, low-rise buildings in the suburban ring.  The sparsely populated suburbs had land available for such structures but densely settled Detroit did not.  The city, over the years, made many attempts to provide the amenities that might attract employers.  Particularly important were large lots and low taxes.

In the 1990s, the state government cooperated with cities on the establishment of Renaissance Zone, especially in older, declining Michigan cities that had lost their industrial base.  A key provision was tax abatement in such areas, reflecting the highly popular idea that reducing taxes was the ideal way to attract businesses and residents.  I believe that, eventually, eight Renaissance Zones and 16 Renaissance sub-zones were established within Detroit.  Businesses that locate factories, warehouses or other establishments in Renaissance Zones receive an abatement of city, county and state taxes, including the Michigan Personal Income Tax, the six-mill state property tax for education, the Detroit personal property tax, the Detroit city income tax and the Detroit 5 percent tax on all utility payments.

In the twenty years since the I-94 Industrial Park was conceived, only a few building has been located here.  I believe there is now one trucking/warehousing firm here and, I think, the Detroit Department of Water and Sewerage has a facility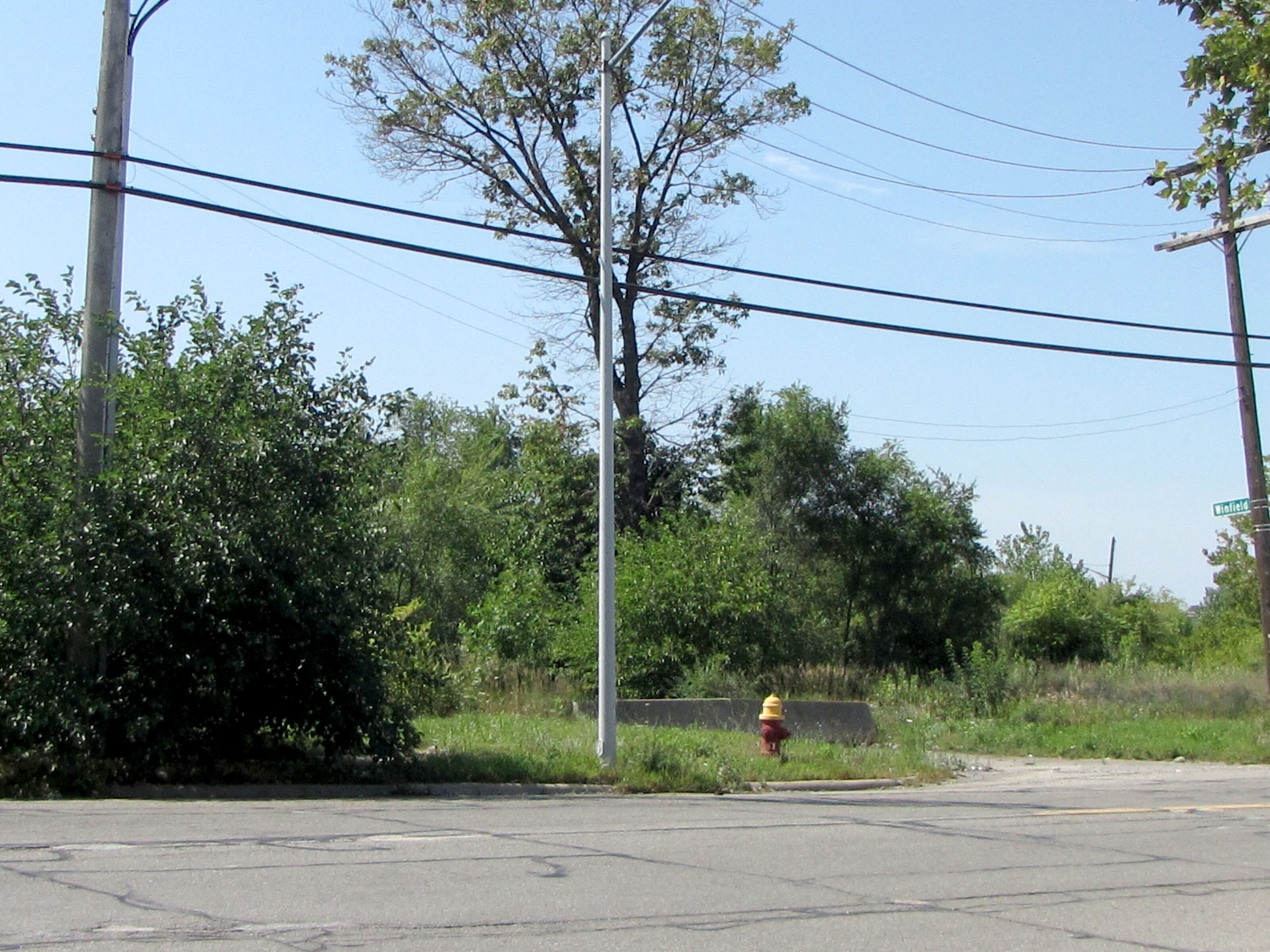 here.   There may be a couple of other active buildings located here.  I have driven and ridden my bicycle through this forlorn wasteland, but not on every street.

In retrospect, the ideas leading to the I-94 Industrial Park were reasonable.  With very much help from the City of Detroit and the state, General Motors built its Hamtramck Assembly plant nearby.  This was a moderately successful effort to retain employment in Detroit.  Since its bankruptcy, General Motors has invested more than $350 million to retrofit the plant.  In 2014, it was turning out Impalas, Malibus, Volts and a few of the electric Cadillacs. Under Mayor Coleman Young, the city spent substantial amounts to raze buildings so that Chrysler could erect its Jefferson North plant. After Fiat and Sergio Marchione took over Chrysler, that plant b became an extremely productive one, turning out about 35,000 Jeep Cherokees and Dodge Durangos a month in 2014.  Those who planned the I-94 Industrial Park, I presume, foresaw a time when there would be a dozen or more plants turning out vehicle parts or serving as warehouses where goods were transferred from rail cars to truck.  

The I-94 Industrial Park has taken on a significance that its designers never foresaw.  Those who are interested in the greening of the city or who carefully monitor change in the city realize that it is quite a nature area now.  The area answer the question of what would happen if you took about 300 acres in one of the nation's biggest cities tore down most—but not all—of the homes, schools, churches and building there and then left it unattended for twenty years?

Mike Benelli's interesting book, Detroit City Is the Place To Be (New York: Henry Holt, 2013), devotes a full chapter to this area, focusing upon its "rural" nature, not its potential for economic development.  Detroit blogs, from time to time, include comments from naturalists who have walked through this rather wild area.  Others post pictures observing that for some time it was used as a dumping ground but nature took over as trees and bushes sprouted up providing an environment for animals not often found in cities whose population once exceeded two million.  Most streets are not maintained and some were blocked by formidable concrete barriers.  If you are exploring the least visited and emptiest areas of Detroit, this is site to consider.

It will be interesting to see what happens to this area in the future.   Perhaps we need to be more patient.  The Detroit Tigers played their final game at Michigan and Trumbull in September, 1999.  Shortly thereafter that eight-acre plot became a Renaissance Zone.  Mayor Bing found a firm that would tear down the historic baseball park at no cost to the city.  They got to salvage the metal in the stadium.  But there was no reuse of that site even though it adjoins prosperous downtown and the increasingly appealing Corktown and Woodbridge neighborhoods.  Finally, at the end of 2014, a suburban developer agreed to build a structure on that Renaissance Zone that will include 101 residential units and 33,000 square feet of commercial space.

I was very surprised to read, in Crains' Detroit Business, that the Lear Corporation—a vehicle parts manufacturer—and the Penske Corporation both expressed an interest in becoming anchor tenants in the I-94 Industrial Park that is now owned by the Detroit Economic Growth Corporation.

The Renaissance Zone tax abatements on this land are scheduled to expire at the end of 2017.  Detroit Mayor Duggan has requested that the state legislature designate the I-94 Industrial Park as a component of the Next Michigan Development Corporation.  That is an organization established by the legislature in 2010 to promote business activity in the state.  I assume that a favorable decision by the legislature would insure that Lear, Penske and other corporations building on this property would receive tax abatements.

You can also imagine environmentalists suggesting that, once the tax abatements end, the I-94 Industrial Park should be allowed to further revert toward what Antoine Cadillac saw when he arrived in Detroit from Québec in July, 1701.

City of Detroit Designated Historic District: Not listed
State of Michigan Registry of Historic Sites: Not listed
National Register of Historic Places: Not listed
For an array of picture of the I-94 Industrial Park, see: http://scotthocking.com/zone.html
Photographs:  Ren Farley; August, 2014
Description prepared: December, 2014

Return to Industrial Sites

Return to Homepage