Idlewild: The Black Eden
Located in the northwest section of Yates Township and the northeast section of
Pleasant Plains Township approximately three miles east of
Baldwin Lake County

This rural area occupies a unique niche in the nation's racial history.  For a span from the 1920s to the mid-1960s, it was, arguably, the premier black resort area in the entire country. 

Jim Crow practices became the norm in many northern cities when blacks moved from the South in great numbers to take industrial and service jobs during World War I.  Prior to that there were small to modest black population in such cities as Chicago, Cleveland and Detroit.  Blacks were not, at that time, highly segregated and public schools, to some degree, were integrated.  In cities that had a substantial African-American population, a handful of black professionals prospered, sometime serving an integrated clientele. 

As E. Franklin Frazier pointed out in his famous book, Black Bourgeoisie (1957: Glencoe, Ill.; The Free Press), financially successful African-Americans wished to share the same amenities enjoyed by the most prosperous whites.  Presumably, they also had the incentives that motivate many rich people to enjoy themselves and live ostentatiously from time to time.  When it came to vacationing, however, blacks had few choices since most resorts hired African-Americans as waiters and maids, but did not welcome black guests.  At the time when Idlewild became the nation's leading black vacation spot, it was not possible to take a plane to the Caribbean where hotels might accept black clients.

Four families of white real estate brokers: Erastus and Flora Branch; Adelbert and Isabelle Branch; Wilbur M. and Mayme Lemon and A. E. and Modolin Wright; got the idea of creating a recreation paradise for the modest but growing black financial elite.  I believe the Wrights were from Chicago while the Branches were from nearby White Cloud.  By 1912, they started acquiring very attractive land in Yates Township just east of Baldwin.  There were numerous lakes in this area with extensive shore lines and a large island.  I believe they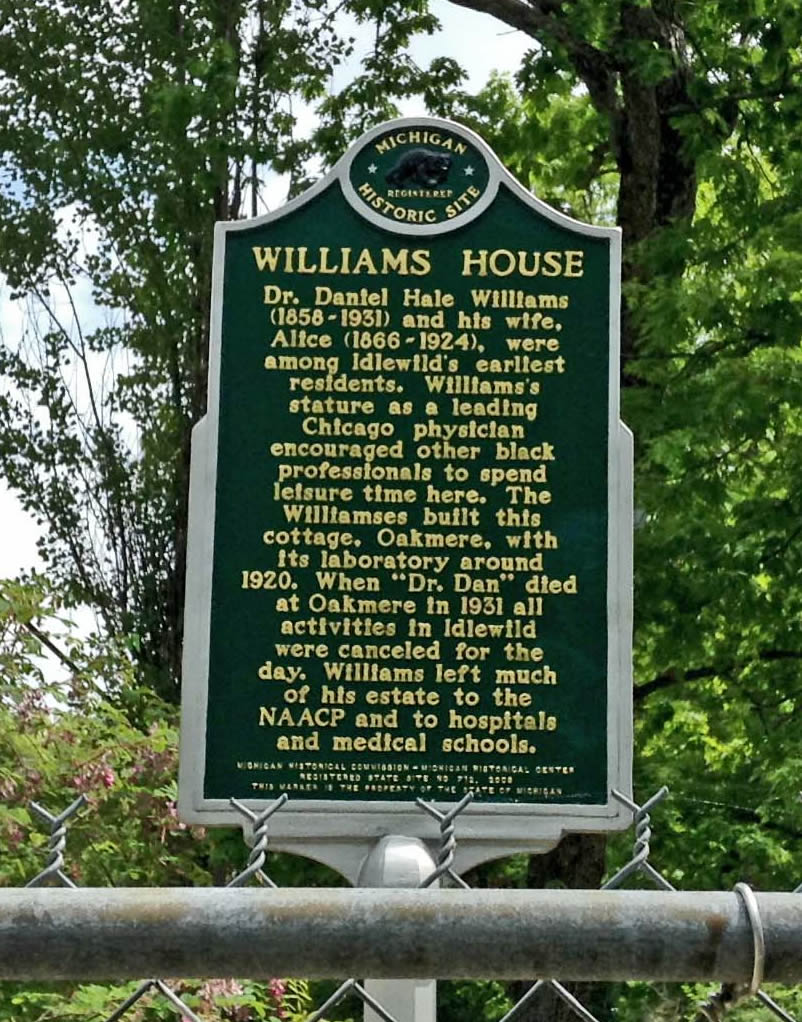 hoped to sell plots of land to prosperous blacks from Detroit and Chicago, blacks who would do what prosperous whites did in that era—buy a piece of property in a vacation area and build a modest or substantial cottage where your family might spend much of the summer.  Their efforts eventually led to a largely black up-scale resort consisting of about 3,000 acres.

Their endeavor began in 1912 but I think few plots were sold until 1915.   That was a turning point when Dr. Daniel Hale Williams from Chicago purchased land and began to build a home, one that is pictured on this website.  It is appropriate to note, that Dr. Williams was the second physician in the nation to perform open heart surgery.  Another key development in creating the community was the arrival in 1915 of Herman and Lila Wilson, also from Chicago.  They were black investors who purchased a lot for themselves and then began plotting some of the area and promoting the sale of property in Idlewild.  I think they played a key role in the emergence of Idlewild as a black resort.

The migration of blacks to take jobs in the World War I defense industries in the Rust Belt states created a very much larger black middle class.  Black doctors, real estate brokers, lawyers, publishers, funeral directors, numbers operators and entrepreneurs in many fields amassed considerable wealth since black men earned substantial salaries in the Midwestern cities.  As a result, land sales in Idlewild picked up.  Interestingly, financially secure blacks from around the United States purchased land and put up cabins or substantial homes.  I believe, however, that the plurality of property owners came from the booming black neighborhoods of Chicago, Cleveland, Detroit and Indianapolis.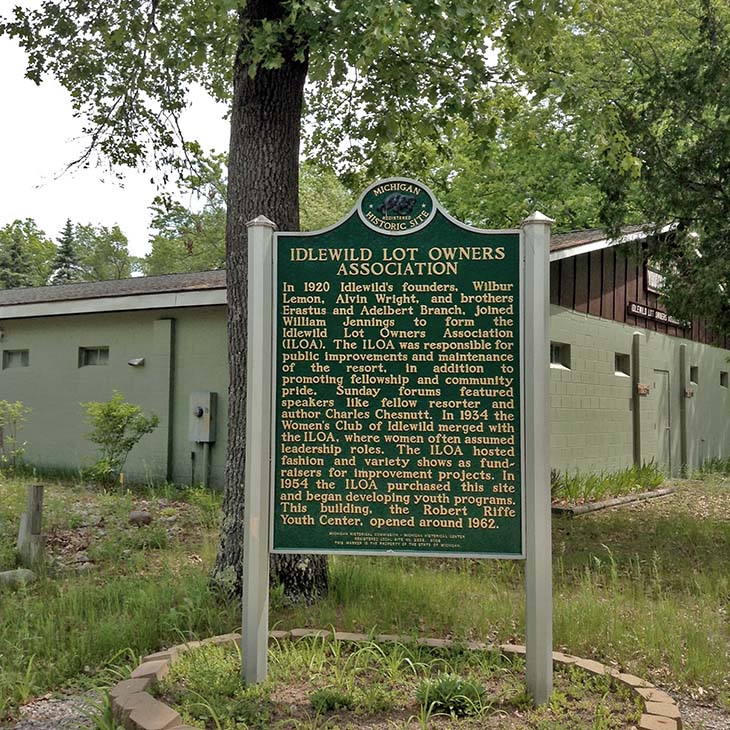 The list of famous African Americans who owned property in Idlewild is impressive and diverse.  It includes:

Reverend Robert L. Bradby – the prominent pastor of Detroit's Second Baptist Church
Charles Waddell Chestnut – arguably the most popular black novelist of the early Twentieth Century
W. E. B. DuBois – perhaps the most prominent black intellectual of the Twentieth Century and one of the founders and most articulate spokespersons for the National Association for the Advancement of Colored People
Lemuel L. Foster – the president of Fisk University
Joe Louis – the World's Heavyweight Champion from Detroit
Madam C. J. Walker – one of the most financially successful African-Americans due to her cosmetic business

Idlewild was at its peak in the 1920s and again in the 1950s.  There are reports that as many as 25,000 visited during the summers of those years and that as many as 300 businesses were open during the summer months.   The fall hunting season was another time when many cottage and home owners visited Idlewild.  The Pere Marquette Railroad ran resort specials with Pullman cars from Chicago and Detroit to northern Michigan vacation spots from June to September.  Their trains stopped in nearby Baldwin.  There was a railroad station in Idlewild but the Pere Marquette offered only one train a day on that line.  Among the most famous features of Idlewild were the night clubs where leading black entertainers performed. In the Jim Crow era, black artists often performed in white-only venues so blacks found it challenging to see them.  That was not the case in Idlewild where the night clubs welcomed white and black patrons.  One of these clubs was the Island Club and then, after World War II, The Flamingo  was opened by Detroit entrepreneur and hotelier Phil Giles.  Those who performed here in Idlewild include Louis Armstrong, Cab Calloway, Bill Doggett, Billy Eckstein, Four Tops, Aretha Franklin, Al Hibbler, Roy Hamilton, B. B. King, Della Reese, Sarah Vaughn, Fats Waller, Dinah Washington and Jackie Williams.


The Civil Rights Revolution and the Civil Rights Act of 1964 that prohibited racial discrimination in public accommodations pretty much terminated Idlewild as the Black Eden resort.  By 1968, the last of the night clubs closed.  Blacks could enjoy the same amenities as whites and the larger resorts were not only banned from excluding  African-Americans but came to realize there was money to be made by attractive prosperous blacks. 

Idlewild is certainly not the community it once was but some of the cottages have been converted into substantial homes. Very few businesses remain but the community sponsors an annual jazz festival. Census Bureau's surveys taken since 2009 report that 263 black households and 603 blacks lived in Pleasant Plains and Yates Township.  The interest in black history that developed after the Civil Rights Revolution also had benefits for the community.  A modest amount of state and some federal funds, including Community Development monies, have been invested in this historically black but now racially integrated community.  Five State of Michigan historic markers have been erected: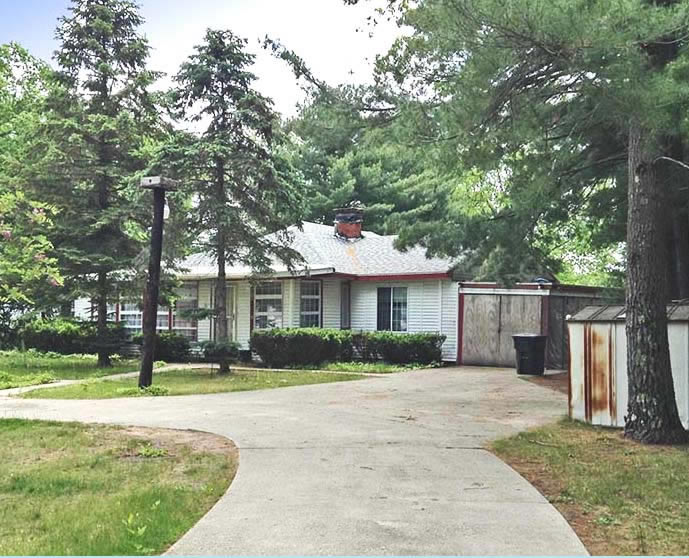 The Flamingo Club/Island Club marker
1002 Martin Luther King Avenue
The Idlewild Community Marker
At the intersection of U. S. #10 and Broadway
The Idlewild Lot Owners Association
Lake Drive at the intersection with Glade Avenue
The Dr. Daniel Hale Williams and Alice Williams Residence
15,712 Lake Drive
The Herman and Lela Wilson Residence
6583 Paradise Path 
Founding of settlement: 1912

Use in 2015:  An attractive and populated rural area
Website for the Idlewild African-American Chamber of Commerce: http://www.iaacc.com/http://www.iaacc.com/
Books describing the history of Idlewild: Ronald J. Stephens, Idlewild: The Rise, Decline, and Rebirth of a Unique African American Resort Town (Ann Arbor: University of Michigan Press, 2013); Lewis Walker and Ben. C. Wilson, Black Eden: The Idlewild Community (East Lansing: Michigan State University Press, 2002).
State of Michigan Historical Sites:  Listed above
State of Michigan Historical Marker: Listed above
National Register of Historic Places: Not listed
Photographs:  Ren Farley  June 4, 2015
Description prepared: June, 2015

Return to Parks and Recreation

Return to Racial History

Return to Homepage