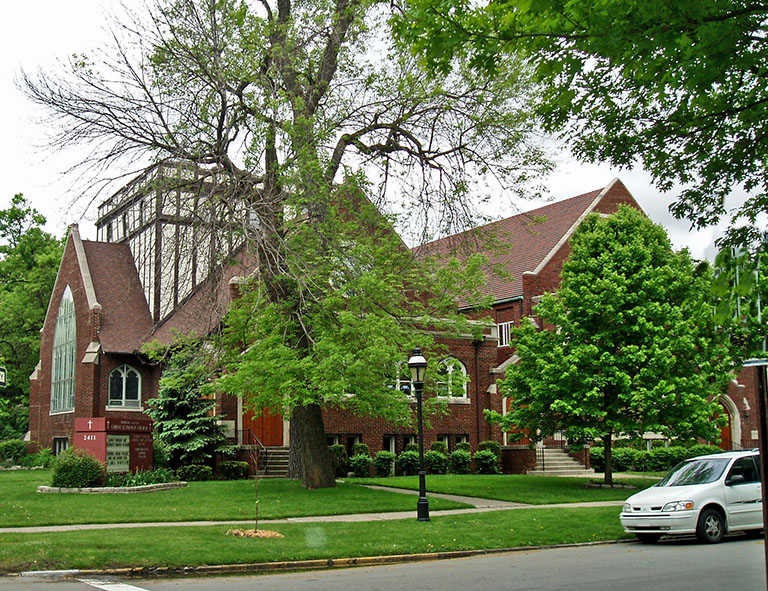 Iroquois Avenue Christ Lutheran Church
2411 Iroquois at East Vernor in Indian Village
In 1911, members of St. Mark's Lutheran Church in Detroit decided to establish an English-language mission church on Detroit's East Side. I believe that St. Mark's was a German-language congregation affiliated with the Missouri Synod, but one that no longer exists. By 1913, the mission congregation obtained land on Iroquois Avenue and became the Lutheran Church for Indian Village residents.
Gothic was the preferred architectural style for many or most churches built by Catholics and the established Protestant denominations in the 19th and the first half of the 20th centuries. So it is no surprise that Iroquois Avenue Christ Church has many Gothic features. However, the Arts and Crafts movement was thriving in Detroit, and by 1913, was influencing architecture. The shape and form of this church derives from British Arts and Crafts precedent; nothing like this design was ever seen in medieval times. Louis Keil, an architect who was a member of the congregation, designed the interior decorations. He also designed this church and the parsonage to the north.
The interior of this church contains at least 13 sets of stained glass windows depicting Biblical stories and Christian themes. Some of the windows are in the Renaissance style and other in the Baroque style. Those in the narthex emphatically reflect the British Arts and Crafts manner. Keil had married the widow of Edward Lee, a stained glass artisan, and Keil controlled the Lee studio when these windows were made. A new window was added in 2006, illustrating the growth of the congregation.
This church was originally affiliated with the Missouri Synod of the Lutheran Church. In 1977, the congregation affiliated itself with the Association of Evangelical Lutheran Church, a group that became the Evangelical Church in America eleven years later.
A church house in 1928, it is said that the parsonage had to be moved to the north to make room for it. I believe that part of that building is now used for a parochial school. One of seven Cornerstone Schools now operating in the city of Detroit occupies space in the church complex, especially in the basement. This chain of Christian schools was founded by the Catholic archbishop, Adam Cardinal Maida, in 1990.
Date of Construction: 1913
Architect: Louis Keil
Architectural Style: British Arts and Crafts with Gothic detail.
Builder: Henry Malow
Stained Glass Windows: Edward Lee
Use in 2006: Church
Website for Indian Village: www.historicindianvillage.org
Website for Iroquois Avenue Christ Lutheran Church: www.iroquoischrist.org/
City of Detroit Local Historic District: Indian Village Historic District, January 1, 1971
State of Michigan Historic Place: Indian Village Historic District, P4473 October29, 1971
National Register of Historic Places: Indian Village Historic District, #72000667, March 24, 1972
Photograph: Ren Farley
Date of Preparation of Description: November, 2006