Jefferson Avenue Presbyterian Church
8625 East Jefferson near the MacArthur Bridge to
Belle Isle and Indian Village
Writ Rowland, from Clinton, Michigan, began to appreciate Gothic architecture while attending graduate school at Harvard in the first decade of the last century. He then traveled and studied in Europe to learn much more about the diverse Gothic styles. Eventually, he returned to Detroit where he worked with the city's most accomplished and recogniz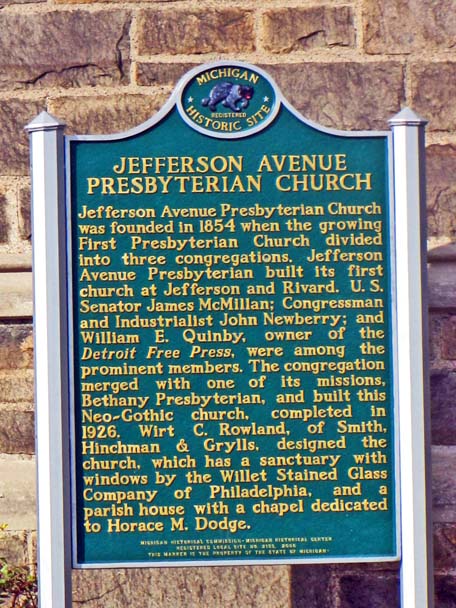 ed architects, including George Mason and Albert Kahn. In 1922, he joined the Smith, Hinchman and Grylls firm where Rowland produced his best designs.
Shortly after joining that firm, they got a commission to design a church for the Jefferson Avenue Presbyterian congregation. This was, I believe, Writ Rowland's first major opportunity to design a beautiful and large church. This is the massive neo-Gothic structure that you can see on East Jefferson or in the picture above. This illustrates what an architect can accomplish using stone liberally, but making the church beautiful because of the many arches and interesting sculptures. You ordinarily think of stone as very heavy and imposing, but you see, in this church, how Rowland conveyed a sense of importance and majesty but, with the tracery stone work on the window along East Jefferson suggest a certain lightness.
Prior to occupying the structure you see, Jefferson Avenue Presbyterian had a red brick church on East Jefferson between Rivard and Russell, a church that no longer stands.
Writ Rowland move on to become one of the city's most imaginative and productive architects in the later half of the 1920s. He played a key role in the design of the Buhl Building and the addition to the Penobscot Building, but his most brilliant structure—and one of the city's—is the Guardian Building.
In 1930, Rowland founded his own firm. This was not an auspicious time for architects. In the Depression decade, no one in Detroit had the resources to build what Rowland might design. And in the first half of the next decade, all efforts were devoted to defeating our German and Japanese enemies. He died in 1946, just before the post-World War II building boom. Before his death, Rowland participated in the design of the Kirk in the Hills—1340 West Long Lake Road in Bloomfield Hills. Kirk in the Hills, completed in 1958, may be among the last great churches in the United States built in the classic Gothic tradition.
Funds for the construction of this church were obtained from two very prosperous Detroit area residents. Anna Thompson Dodge, the widow of Horace Dodge was one of the richest women in the country from the 1920s until her death at the end of the century. The other major donor was John S. Newberry, the son John S. Newberry who had earned his substantial fortune in a variety of entreprises including building the railroad that spanned the Upper Peninsula.

Architectural firm: Smith, Hinchman and Grylls
Architect: Writ Rowland
Date of construction: 1925
Architectural Style: Neo-Gothic
Stained glass windows: Willet Studies of Philadelphia
Sanctuary wood carvings; Anton Land Family of Oberammergau
Further information with museum quality pictures: Marla O. Callum, Barbara E. Krueger and Dorothy Kostuch, Detroit's Historic Places of Worship,Detroit: Wayne State University Press, 2012; Pp. 180-189.
City of Detroit Local Historic District: Not listed
State of Michigan Registry of Historic Places: Not listed
National Registry of Historic Places: Not listed
Use in 2015: This is the Jefferson Avenue Presbyterian Church.
Website for church: www.japc.org‎
Photo: Ren Farley; June, 2004
Description updated: December, 2015