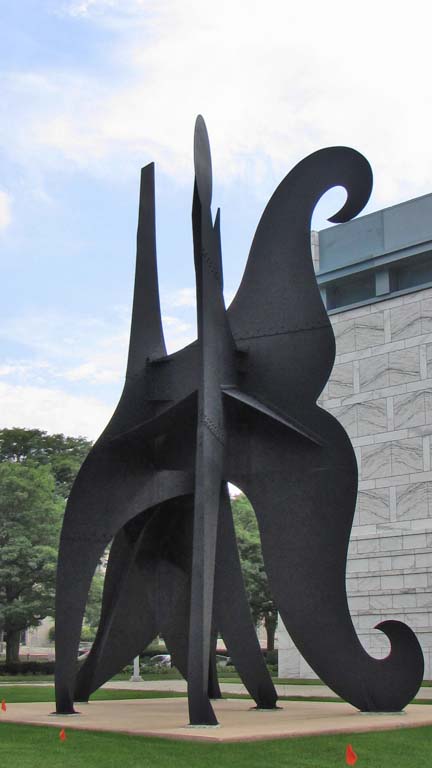 Jeune Fille et sa Suite
Farnsworth at John R on the Campus of the Detroit Institute of Art in the
Cultural Center of Detroit
We are fortunate to have three Alexander Calder sculptures on public display in the Detroit area.

In the early 1970s, the American Telephone and Telephone Company (A.T.&T.) commissioned Alexander Calder to design a sculpture for their new Detroit offices located at the intersection of Michigan Avenue and Cass in downtown Detroit.  This 17-story building was designed by Smith, Hinchman and Gyllis and opened in 1974.  This Calder composition was installed in front of their building.  From that year through 1985, this sculpture was painted black; the color that Calder selected for it.  However, by the 1980s many of Calder's large sculptures in the United States were painted red.  This had become the "traditional" color for his sculptures. Thus, in 1985, A.T.&T. officials apparently decided that their sculpture should be painted in "Calder red." 

In 2006, A.T.&T. removed this sculpture from their Michigan Avenue building.  Sometime later they donated it to the Detroit Institute of Art and, in May, 2008, that organization installed it at the northeast corner of their campus.

Alexander Calder created many different types of art, but he is best known for his large abstract outdoor sculptures. These are known as "stabiles."  Alexander Calder was born in Lawnton, Pennsylvania in 1898.  His father, Alexander Sterling Calder, was a sculptor who created statues portraying important people.   He had studied at the Philadelphia Academy of Fine Arts.   Many of his statues, I believe, still are in place near Philadelphia.  Alexander Calder's mother, Nanette Lederer Calder, was a painter.  She spent about six years in the late 1880s and early 1890s studying fine arts in Paris.  Alexander Calder's first sculpture was, apparently a clay elephant that he designed when he was only four years of age.  Alexander Calder wanted to part ways with the careers of his artistic parents so he enrolled to study mechanical engineering at Stevens Tech.  This is the Hoboken, New Jersey school which has its campus high atop a large bluff overlooking the Hudson River and New York City.  It is one of the best-situated engineering schools in the nation. After graduating from Stevens Tech in 1919, Alexander Calder worked for some time as a hydraulic engineer and as an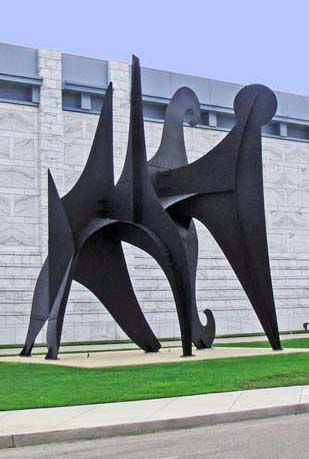 automotive engineer.

Apparently, engineering did not greatly appeal to him so he took a variety of different jobs in the years after his college graduation.  He was employed as a timekeeper in a logging camp and then took a job in the boiler room of an ocean-going ship.  Apparently, he had an epiphany experience when he was working on the ship and sailing toward San Francisco.  He may have noted the beautiful sunsets and sunrises.  In any event, in 1923 he decided to become an artist and returned to New York City to study.  To support himself, he got a job with a newspaper drawing sketches, and at one point, was assigned to spend several weeks with the Ringling Brothers and Barnum and Bailey Circus sketching what he saw.  That circus, of course, owes its existence to Detroit since Mr. Bailey was the financial genius who helped create that organization.  An historical marker in Cobo Arena commemorates James Bailey's outstanding achievements in creating the circus that is still an iconic American institution.

After studying in New York, Alexander Calder went to Paris and began to make small sculptures.  Early in his time there, he created a miniature circus.  Later in the 1920s, he developed the idea for small abstract sculptures that might be hung so that their parts could be pushed around by wind currents. This was the innovation of kinetic art for which Alexander Calder is famous.  One of his colleagues in Paris, Marcel Duchamp, called Calder's kinetic art mobiles and the name became something of a household word.  Many parents now hang Alexander Calder's creation: "mobiles" above the cribs of their children. 

In 1933, after less than a decade in France, Calder returned to the United States and established a studio in Roxbury, Connecticut.  In the bleak Depression years, he began to create the large abstract outside sculptures that are associated with him.  These are often called stabiles to distinguish them from Calder's mobiles. They tend to have the fluid lines that appeared earlier in his kinetic sculptures.  Alexander Calder continued to paint and work in other styles of art.  For example, he designed sets for the legitimate theater. By the late 1930s, he was becoming a well-known sculptor.

In the early 1940s, Alexander Calder sought to join the United States Marines for service in World War II, but he was rejected.  He continued to sculpt, but because steel was in short supply, he worked in wood.  After World War II, his large "stabile" works became very popular in the United States and in Europe.  He won commissions to design sculptures for many prominent public places.  Almost all of them are quite abstract and fluid in their design.

In the early, 1960s, he established his atelier in Saché, France in the Loire Valley.  He created works there for the rest of his long life.  His studio there is now run by a foundation that honors his memory and commemorates his accomplishments.

Denis Alan Nawrocki, in his definitive description of public art in Detroit, Art in Detroit Public Places, 3rd edition (Detroit: Wayne State University Press, 2008) observed that the large figure with the prominent curves in the stabile pictured above may suggest a woman with prominent breasts and buttocks.  The more geometrical forms on either sides of the curvilinear shape may suggest her possible suitors.  Please let your imagination work freely when you see and appraise this sculpture.  Calder designed this 22-ton steel piece in his shop in France.  It was sent to Detroit where it was assembled and painted first in black, then in red and later in black once again.

A short walk north on John R will take you to the Josephine Ford Sculpture Garden on the Walter and Josephine Ford campus of the College for Creative Studies.  The most prominent of the many art works in that garden is Alexander Calder's 1967 work The X and Its Tails.  In the reading room of the Grosse Pointe public library hangs a large Calder mobile.

Sculptor:  Alexander Calder
Date of first installation: 1970
Date of current installation: 2009
Material: Painted steel
Use in 2011: Public Art
Photographs:  Ren Farley July 28, 2011 for the present installation
Description prepared: August, 2011
Return to Public Art and Sculpture

Return to Home Page