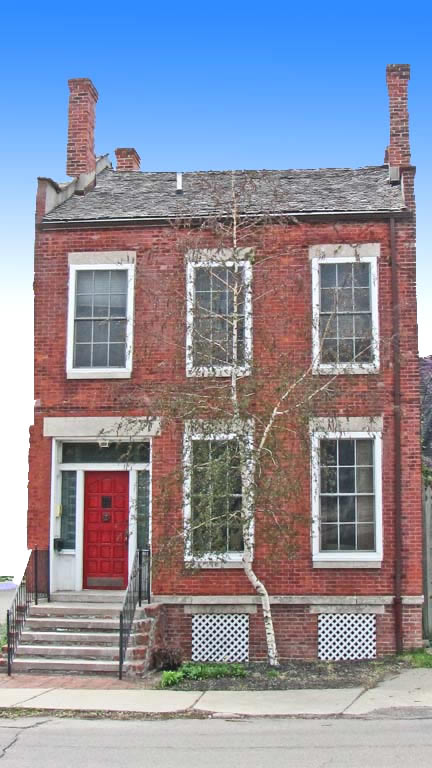 John Mason Residence
This is the federal style home that you see as you walk or drive west from downtown on Michigan Avenue toward the former Briggs Stadium site or Dearborn.  It is also the oldest brick residence in the city that still serves as a home.  The Corktown neighborhood was settled in the 1830s by immigrants who got to Detroit through the Erie Canal.  Many of the laborers who built that waterway in the 1820s were from Ireland.  I believe that most all of the stonework for that Canal was done by Irish immigrants. Some of them moved on to Michigan where they put their skills to use in farming and in the building trades as the territory's population grew for the first time.

John Mason was a brewer who, apparently, produced his beer on his property behind the home you see.  By the 1850s, German immigrants dominated the production of beer in the city, all of it made in modest quantities.  But Mason was able to prosper in the earlier decades serving the local Irish clientele. He had this home constructed about 1852.  It very closely resembles the Christopher Moross Home at 1460 East Jefferson that was built in 1848.  That home was used as a residence for many decades, but was recently purchased by a historic preservation group and then sold to a law firm that now uses it for offices.  That home, and this one, are unadorned, perhaps austere,  Federal style structures.  I do not know if either home was designed by an architect, but the designer or builder was familiar with the style of construction used for upscale row houses constructed in east coast cities and in England during the early decades of the Nineteenth Century. Christopher Moross earned his wealth from brickmaking, so it is possible he had a large role in the design and this home and his own house.  The name Federal comes from the Federalist Party whose members constructed quite a few building in this style for the New Republic in Philadelphia, New York and, later, in Georgetown and Washington.  So far as I know, these two homes are the only classically federal structure to be found in Detroit today.

The home you see pictured above was restored in 1992 by Jerome Ferette who lived in it for some time.  I believe that it served as a bed and breakfast for some time.  The current owner of the residence maintains a website that is noted below.  This site present an array of pictures showing the glorious and very colorful  interior of this magnificent home.  The residence was or is known to some as the AirBandB.

Architect or building:  Unknown to me.
Date of Construction: 1852
Architectural Style: Federal
Use today:  Residence
City of Detroit Designated Historic District:
State of Michigan Registry of Historic Sites:  The home is within the Corktown Historic District
National Register of Historic Places: The home is within the Corktown Historic District.
Photograph:  Ren Farley; April 19, 2012
Description prepared: April, 2012

Return to Historic Residences

Return to Home Page