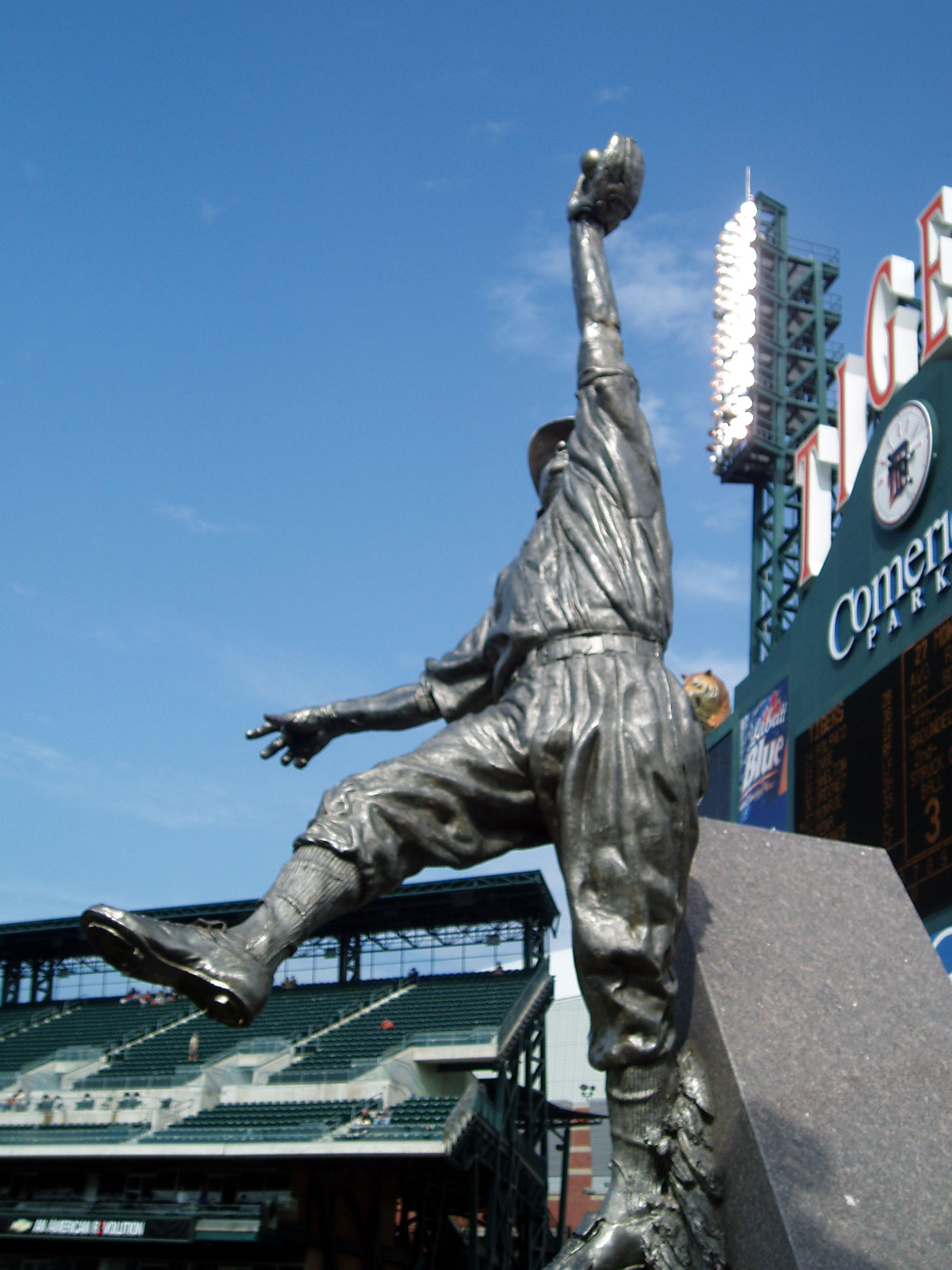 Statue of Al Kaline
Located in the walkway above left field in Comerica Park in
Downtown Detroit and visible from Adams between Witherell and Brush

Albert Kaline was born in Baltimore on December 19, 1934. His father was a broom maker but had a very strong interest in baseball. He taught his son to become a pitcher. By the time, he got to Southern High School in Baltimore; young Al Kaline had an excellent arm with a variety of pitches. However, the coaches converted him to become an outfield, apparently because of his tremendous ability to hit. By his sophomore year at Southern High School, scouts throughout baseball knew of his unusual talents and identified him as a very strong prospect to play in the major leagues.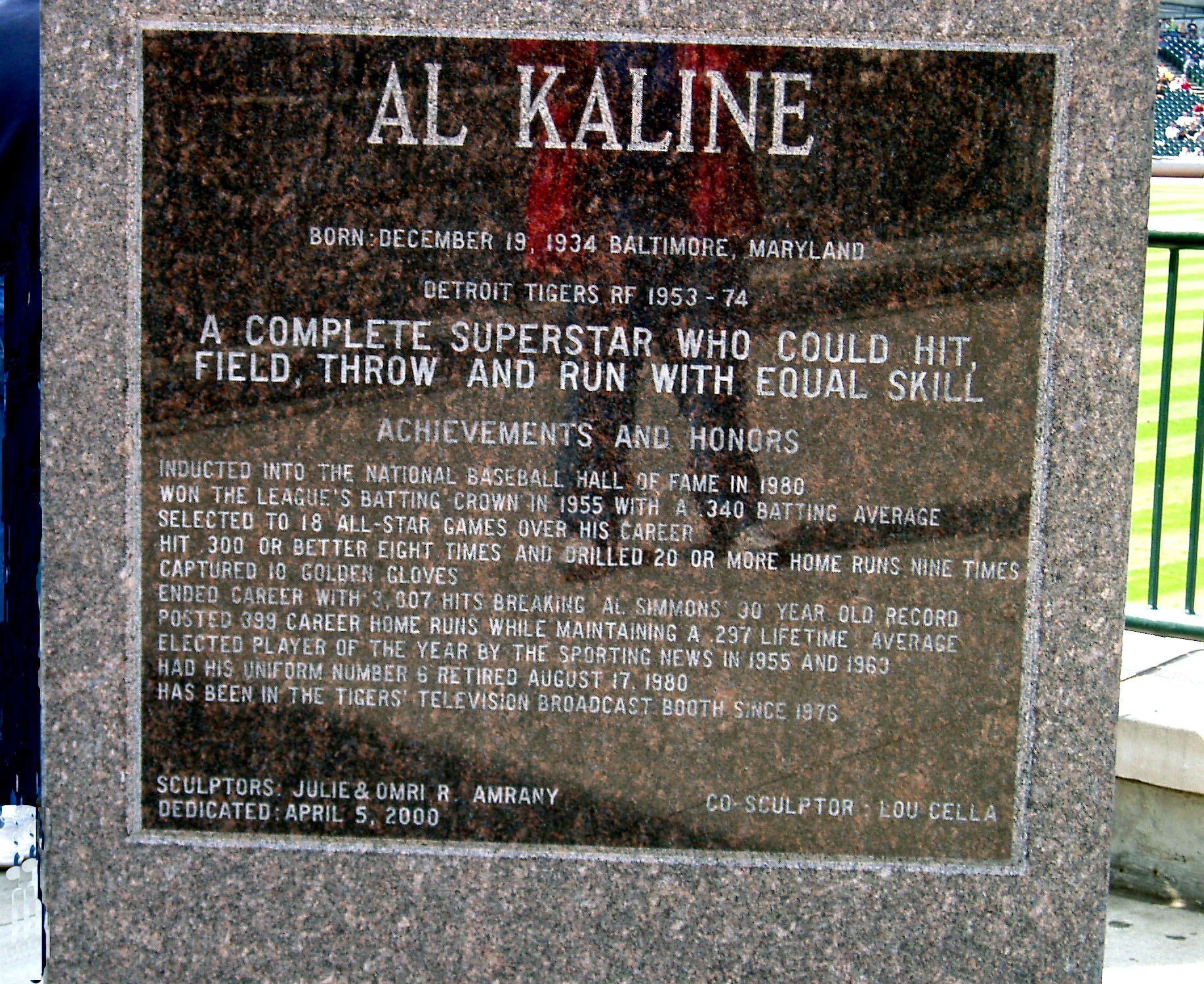 Edward Katalanis, one of the Tigers' most accomplished scouts, was the person who most adamantly encouraged the Tigers to sign Al Kaline who hit .488 as a senior at Southern High School. The Tigers did so and paid him a bonus of $15,000—about $130,000 in 2011 dollars with two years guaranteed at $10,000 per year. Young Al Kaline used the bonus to pay off his parents' mortgage and to pay for an eye operation that his mother needed. At that time, baseball rules required that any player accepting a bonus as large as Kaline's must either remain on the roster of the big league team for two full seasons or be released. Al Kaline joined the Tigers when they were in Philadelphia on June 25, 1953 and played in the game that day as an 18 year old. But Kaline played sparingly in the Tigers' 1953 season.

The next year, Al Kaline played much more regularly, hit .276 and finished third in the Rookie of the Year competition. Baseball aficionados recognized that the Tigers had signed a very valuable player. The following year—when he reached age 21—he led the league in hitting with a career best .340 average and achieved a career best 200 hits. That great performance was followed by 19 more years of truly outstanding play for the Tigers. In 15 of those 19 seasons he was selected for the American League All-Star Team. Twice—in 1955 and in 1963—he finished second in the Most-Valuable Player voting. When his distinguished career ended at the conclusion of 1974 season, he had played in more than 2,800 games for the Tigers with a lifetime batting average of .297, 3,007 base hits and 399 home runs. He was elected to the baseball Hall of Fame in 1980, as early as the rules of that organization would permit. It is interesting to note that Kaline's peak salary with the Tigers was $110,000 or about one-quarter of the current minimum salary for a rookie player.

Al Kaline was a calm, distinguished, gentlemanly player who was very much appreciated by the fans in Detroit and throughout baseball. To say that he was and remains extremely popular is an understatement. Starting the mid-1970s, he served as an announcer for the television broadcasts of the Tigers games. He spent more time broadcasting for the Tigers—25 years—than playing for them—22 seasons. In the early years of the new century, he took a job as a special assistant to the Tigers' management. He continues to regularly instruct young players at spring training and attends many games in Comerica Park. He is often interviewed and retains his tremendous popularity almost 60 years after he first took the field for the Tigers in Shibe Park in Philadelphia. He continues to be one of the icons of baseball in Detroit.

When the Detroit Tigers' management planned their new Comerica Park that opened in April, 2000, they commissioned sculptures of six of their greatest players: Ty Cobb, Charlie Gehringer, Hank Greenberg, Willie Horton, Al Kaline, and Hal Newhouser. The sculptures were the work of the Amrany sculpture firm from Chicago. Lou Cella, educated in the fine arts at Illinois State University, is a Chicago-based sculptor who has specialized in the portrayal of figures—especially athletes. In addition to the seven sculptors that he designed for Comerica Park, his sculptures depict Ernie Banks and Harry Carey at Wrigley Field in Chicago and Carleton Fisk and Frank Thomas at the baseball park of the Chicago White Sox.

Sculptors: Julie Rothblatt-Amrany, Omni Amrany and Lou Cella
Date of Dedication: 2000
Use in 2011: Public Art honoring the baseball tradition in Detroit
Biographic essay from Baseball Reference.com: http://www.baseball-reference.com/players/k/kalinal01.shtml
Website for the sculptors' studio: http://www.rotblattamrany.com/index.php
City of Detroit Local Historic District: Not Listed
State of Michigan Registry of Historic Sites: Not Listed
National Register of Historic Places: Not Listed
Photograph: Ren Farley; September 14, 2005
Description prepared: December, 2011
Return to Public Art and Sculpture