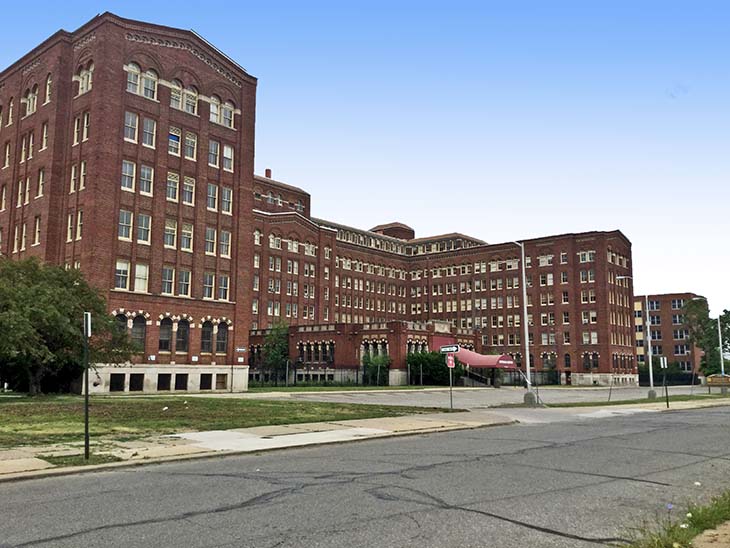 Herman Kiefer Hospital
1151 Taylor Street

The land where this hospital stands was first used for medical purposes in 1886.  At that time, it was far outside the settled city so persons with contagious diseases were confined at this location.  A modest hospital was built at the site but it was razed by fire shortly after it opened.  From the late 1880s until about 1906, tents were erected on this site to serve as a place for care for persons with specific contagious diseases, including scarlet fever, diphtheria and tuberculosis.  In 1909, more tents were put up, leading officials to decide upon the construction of permanent buildings.  The first such structure was designed by architect George Mason and opened in 1911.  Over time, the area was used again and again to provide healing.

Until the federal government developed the Medicare program to provide some support for medical care for low-income citizens and Medicaid to provide some health insurance for older persons, many large cities maintained hospitals, often serving low-income residents.  But most of these municipal hospitals were not exclusively for the poor.  Herman Kiefer was one of quite a few hospitals supported by the city of Detroit.  The city's rate payers, in 1919, approved issuing three million dollars in bonds to expand this medical complex and erect the building you see pictured here.  Albert Kahn, the city' most productive and innovative architect, was commissioned to design the building that you see here.  This massive hospital opened in 1928. 

At that time, hospitals were typically constructed with beds situated in wards of ten.  Albert Kahn, however, designed this 420,000 square foot building with 550 beds in single, double and triple rooms.  By 1932, it was expanded to include 1,200 beds for patients.  A 250-bed additional hospital for tuberculosis patients was constructed in 1953.  Herman Kiefer, for much of its existence, specialized in treating contagious diseases and was the central Detroit point for the treatment of polio after World War II.   Sulfa drugs and antibiotics were developed in the late 1930s, and after World War II, contagious diseases greatly declined.

With the advent of federal government support for medical care and the tremendous decrease in Detroit's population, this hospital gradually lost its reason for existence.  As the city's revenue decreased, various functions at this hospital closed.  Very late in its existence the city's public health department was moved here but the city did not have resources to support that department.  Mayor Bing closed the hospital in 2013 and transferred the functions of the city's health department to a private non-profit. 

When this hospital was under construction, a decision was made to name it for Guy Kiefer who was a health administrator in the city.  However, he suggested that the hospital's name should honor his father.  Dr. Herman Kiefer was born to prosperous parents in Sulzburg in 1825 .  He studied medicine at schools in Freiburg, Heidelberg, Prague and Vienna.  In 1849, he migrated to Detroit and established a successful medical practice.  He became active in civic endeavors and, in his long career, served on the Detroit Board of Education, the Public Library Commission and was a regent of the University of Michigan.  In 1883, President Chester Author appointed him as United States counsel in Stettin where he served for three years.  He died at age 86.

Quite a number of substantial architect-designed homes were built on Atkinson Avenue which is about three blocks to the northwest of the hospital just beyond Clairmount Street.  The peak time for construction was 1915 to 1925.  Many home physicians appointed at nearby Henry Ford Hospital or Herman Kiefer had homes built or purchased residences on Atkinson. Most of them are substantial, but not elegant, two-story Colonial, Mediterrean or Tudor homes with a basement and an attic. 

The Atkinson Avenue neighborhood was designated an historic district by Detroit's Common Council in 1984.  This includes about 225 homes on both sides of the six blocks of Atkinson from the John Lodge Freeway to Linwood.  This historic district was teetering toward decline in the last decades of the Twentieth Century and the early years of the next century.  However, concerted efforts have been made by local residents and investors to improve the area and I believe there is a consensus that, by 2016, this had become a fairly stable residential area with most homes in good condition or undergoing renovation.  Two famous Detroit individuals lived on Atkinson.  Edgar Guest—an English immigrant who lived in Detroit from the early 1890s until his death in 1959 legislature. He is the only individual to be designated a Poet Laurate by the Michigan's legislature.  He lived at 1500 Atkinson.  Ty Cobb, at least for some time, lived at a home at the intersection of Atkinson and Third, but that portion of Atkinson is not within the historic district.

Early in the administration of Mayor Duggan, the city considered tearing down Herman Kiefer.  The estimated cost was about $12 million.  Supposedly, Mayor Duggan asked President Obama for an appropriation but no such money was forthcoming.  Later in 2013, New York developer and architect Ron Castellano initiated negotiations with the city to purchase the hospital and nearby building owned by the city.  In late 2015, an agreement was reached.  For $925,000 Mr. Castellano will obtain the 450,000 square foot hospital and its campus, two abandoned public schools, including the very dilapidated Hutchins Middle School and more than a dozen abandoned homes that had reverted the city for the non-payment of property taxes.  At one point, Mr. Castellano mentioned the possible investment of $75 million to return the hospital and, presumably, the schools to successful commercial space and to rebuild the neighborhood that is bordered by the Lodge Freeway, Clairmount, Bryon and Pingree.  His agreement with the city requires that he invest at least one million dollars in redevelopment for each of the first five years and two million dollars per year for each of the next three year.  I presume he loses the property if those expenses are not made.  It will be very interesting to see if the endeavors and investments of
Mr. Castellano will refurbish this non-abandoned and challenged neighborhood of Detroit.  Will this become a stable, attractive neighborhood similar to the Atkinson Avenue Historic District?

Architect for the major building:  Albert Kahn
Architectural style:  Romanesque
Date of completion: 1928
Architect for some other buildings on the campus:  George Mason
Date of construction:  About 1911
Use in 2016:  Abandoned hospital awaiting renovation
Photograph:  Ren Farley; July, 2016
Description prepared: July, 2016
Return to Medical Facilities

Return to Homepage