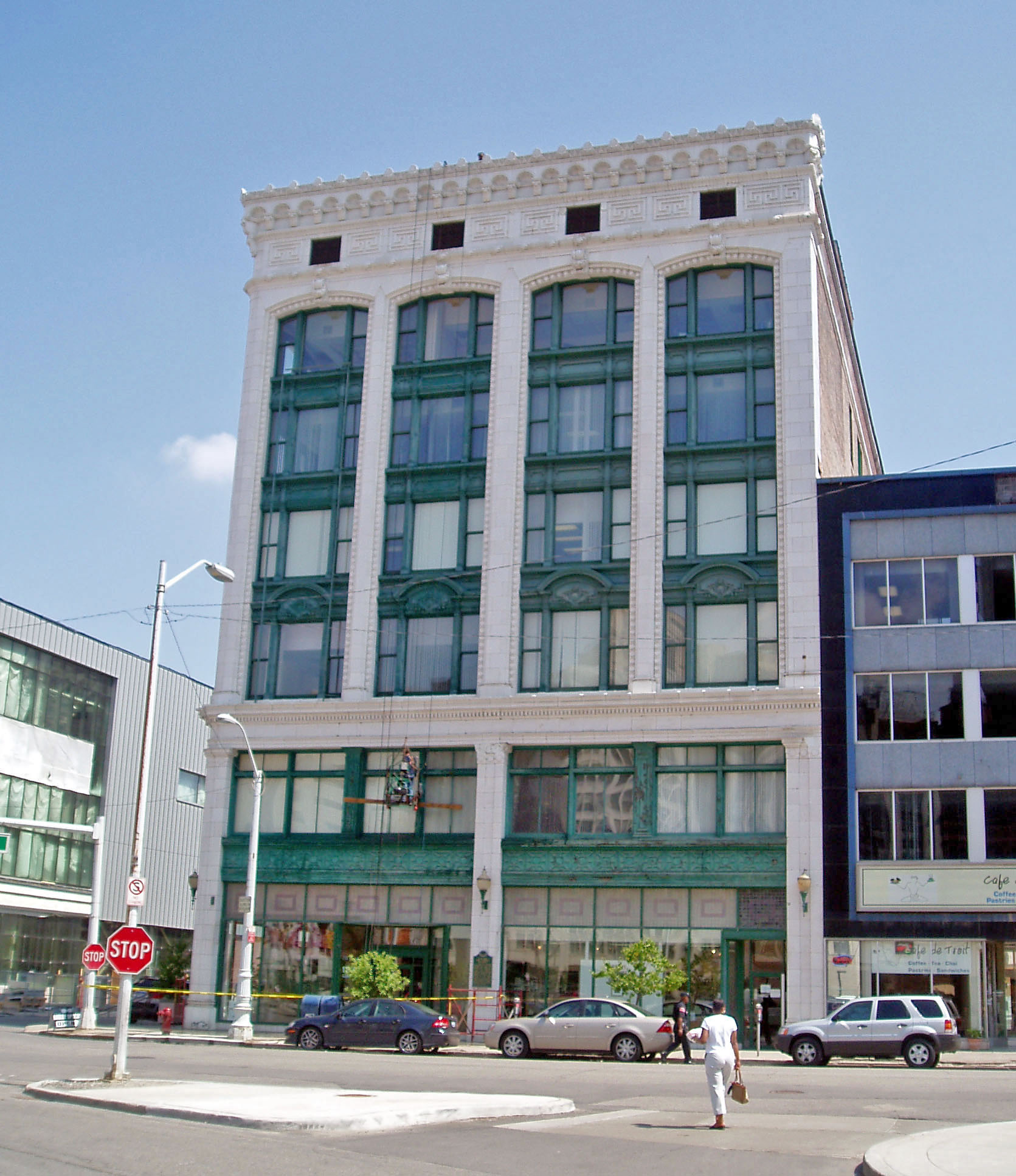 L. B. King Building/Annis Furs Building
1274 Library Street near Grand Circus park in downtown Detroit
L. B. King, born in Detroit in 1851, studied at Detroit High School and earned a bachelor's degree in science from the University of Michigan in 1874. His father had established a crockery and glassware firm in Detroit in 1849. L. B. King went to work in his father's business when he completed his course of studies in Ann Arbor, rose through the ranks and became the firm's president in 1907.
The King Company—wholesale china merchants—had the distinguished Detroit architects' Rogers and MacFarlane design this delightful six-story building that looks as fresh and appealing today as it did 95 years ago. Two distinctive features distinguish this building from other moderate-sized commercial structures built in Motor City's downtown at the same time. The extensive use of glass on the first two levels gives the impression that there is nothing but glass on the exterior at the lower levels. This was made possible through use of a steel frame. Then there is the brilliantly white terra cotta skin of this building. To appreciate the attractiveness of this terra cotta, you need to see it in clear Detroit sunshine. The Italian Renaissance cornice was added in 1926. Six years later, the L. B. King Company moved away from this structure.
Newton Annis was born in 1858 and moved to Detroit in 1880 where he worked for the F. Buhl fur firm. By 1887, Annis had established his own wholesale and retail fur manufacturing company. In 1932, Annis Fur replaced L. B. King in the building pictured here. They remained until about 1983.
Architects: James S. Rogers and Walter MacFarlane
Architectural style: Renaissance-influenced early 20th century Chicago commercial style
Date of construction: 1911
City of Detroit Local Historic District: Not listed
State of Michigan Registry of Historic Places: P25151; Listed January 22, 1987
State of Michigan Historic Marker: Put in place: January 12, 1989.
National Register of Historic Sites: Listed: June 12, 1987
Use in 2006: Condominiums
Photograph: Ren Farley; December, 2005