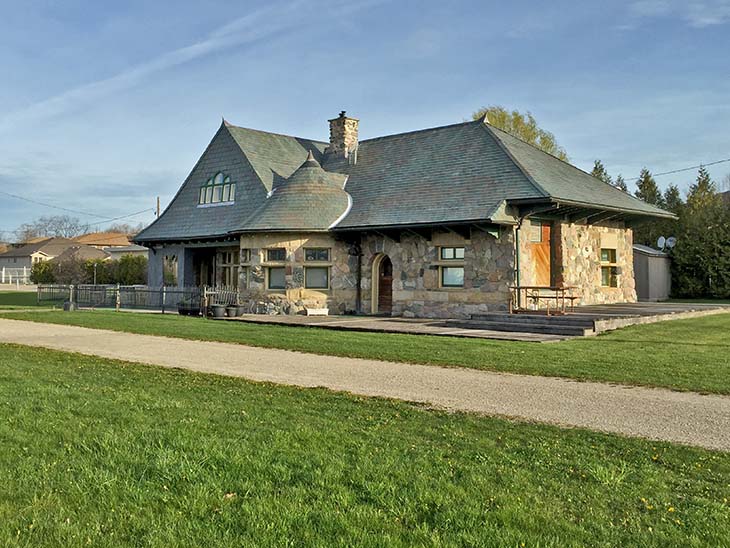 Kingsville Depot, Pere Marquette Railroad
189 Landsdown Avenue
Kingsville, Ontario
Hiram Walker was born in East Douglas, Massachusetts on the Fourth of July, 1816.  As a teenager, he found few employment opportunities in his small town so, at age 20, he moved to Boston where he worked for a grocery store and, apparently, learned that business.  Similar to many other young men of his era, he was taken by the idea of moving West where, presumably, opportunities was much greater.  He migrated to Detroit in 1838 and went into the grocery business.  At this time, the city had a population of about nine thousand.

Hiram Walker was an active entrepreneur and investor and quickly joined the ranks of the city's financial elite.  I believe that he got into the wholesale grocery business and then began producing some of the products that lined the shelves of his store.  Apparently, he developed a reputation for making excellent vinegar.  In the 1850s, he decided to distil whiskey.  He tried to do so in Detroit but found out that the new state of Michigan had many encumbering laws and regulations about the production of spirits.  He decided he would set up a distillery just across from Detroit in Canada.  He began bringing his liquor into Michigan but distillers in Michigan protested and insisted it be labeled as a foreign—and presumably—inferior product.  Hiram Walker, having good marketing skills,  called his whiskey Canadian Club and successfully sold it in the United States as an upscale product.  It continues to be distilled in Windsor and sells well.

The whiskey business prospered.  Walker was a Detroit resident and continued to live on the United States side, but he eventually built a very large complex that still stands today.  Indeed, Albert Kahn was commissioned to design several magnificent buildings for Walker's enterprise.  He created a company town with homes and stores for his workers. This was Walkerville and was incorporated as an independent Ontario municipality in 1890.   It is now a precinct of the city of Windsor.

Walker knew that Detroit's population was growing rapidly and would consume a great deal of food.  He also knew that the north shore of Lake Erie included—and still include—exceptionally productive farm lands.  Growers there were shipping their fruits and vegetables to Detroit by steamers and sailing vessels departing from such ports as Leamington and Kingsville.  Given his entrepreneurial skills, it is not surprising to learn the Walker joined the many other prosperous investors who were seeking to increase their wealth in the railroad boom of the post-Civil War era.  In the 1887, Hiram Walker began building a railroad – the Lake Erie, Essex and Detroit River which extended east from Walkerville.  Kingsville was reached in 1889.  Much of the right of way was just north of the Lake Erie shoreline since that was and is the most fertile soil.   The railroad was designed, primarily, to bring agricultural products from the rich Ontario terrain to market in Detroit.  Farm products would be taken off trains in Walkerville and put on ferries for the short trip across the Detroit River.  The railroad was not, apparently, an immediate success.  It was financially reorganized as the Lake Erie and Detroit River Railroad.  It did not complete building to its eastern terminus, St Thomas which was 120 miles from Walkerville, until 1901.

By the 1880s, a financially secure middle class developed in large cities like Detroit.  At that time, cities were extremely dirty and unhealthy places since soft coal was a major source of energy and horses were the primary source of urban transport.  Nor were there regulations limiting what Detroit manufacturers might spew into the air or dump into the Detroit River.  Prosperous people wished to get away from dirty cities at this time.  Hiram Walker saw another opportunity.  As his railroad was being built, he commissioned George Mason and Zachariah Rice to design a large resort hotel in Kingsville on the shores of Lake Erie and very near his railroad.  A 120 room hotel—called the Mattawas—was completed in 1889.  Walker insisted that an appropriate railroad depot be built.  The impressive fieldstone station that Mason and Rice designed for Kingsville is pictured above.  This is a classical Richardsonian Romanesque style depot.  Note the large porte cochere designed to ensure that patrons could alight from their train, get into a horse-drawn coach and to the Mattawas Hotel without a drop of rain or snow falling upon their head or attire.  I have read that the railroad was so well maintained that they scheduled passenger trains for just 30 minutes for the 30-mile trip from Walkerville to Kingsville.  The line's 1910 time card shows a more realistic 55-minute trip time.  Hiram Walker and the railroad built a similarly impressive stone station in Walkerville but it was razed. 

Mr. Walker died in 1899.  As is common for entrepreneurs, their property was sold shortly after their death.  The Pere Marquette Railroad purchased the Lake Erie and Detroit River in 1903.  This railroad was purchased by the Chesapeake and Ohio Railroad in 1926 and merged with that line in 1947. Once they owned this line through Kingsville, the Pere Marquette obtained trackage rights on the Michigan Central from St. Thomas to the Buffalo area and began offering through Buffalo to Chicago freight service.  Freight cars were put on ferries to cross the Detroit River.  This service continued into the 1970s.   Passenger service through Kingsville on the line from Walkerville to St. Thomas ended in 1947.  The railroad abandoned freight service and the entire line in 1991.

The Mattawas Hotel did not survive so long.  It was sold in 1902 to a Mr. W. P. Boyer.  Apparently, the city of Kingsville promptly increased the assessment on the hotel.  He got into a bitter dispute with the city about taxes and, at one point, made a final offer.  It was one that the city could and did turn down.  Mr. Boyer promptly had the Mattawas torn down in 1903 so only pictures of the resort survive.

The Chesapeake and Ohio began demolishing the depot shortly after they terminated using the line.  An organization called the Society for the Preservation of Kingsville Antiquities raised funds to purchase the depot from the railroad.  Later, the Essex Region Conservation Authority raised monies to restore the depot to its original 1889 glory.  In 1995, a non-profit organization, the Chrysler Canada Greenway, began converting the roadbed of the Lake Erie, and Detroit River into a bicycle and pedestrian trail.  This now extends from Old Castle, Ontario—just south of Windsor—to Ruthven, Ontario and passes by the depot you see pictured above.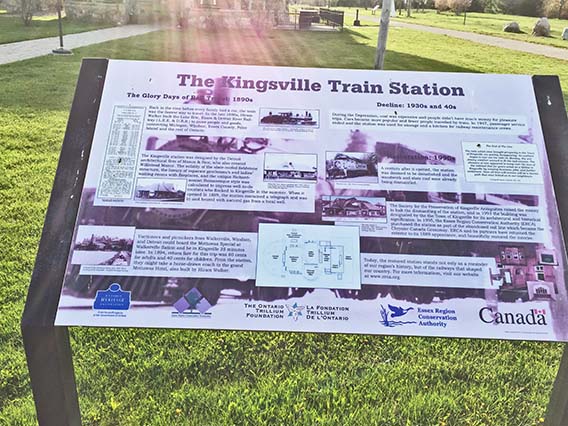 Architect: George Mason and Zacharias Rice
Date of Construction: 1889
Date of renovation: 1993 and after
Use in 2012:  Mattawas Station Mediterrean Restaurant
Website for current occupants: http://mettawasstation.com/
Photograph:  Ren Farley; November 9, 2012
Description prepared: November, 2012
Return to Transportation