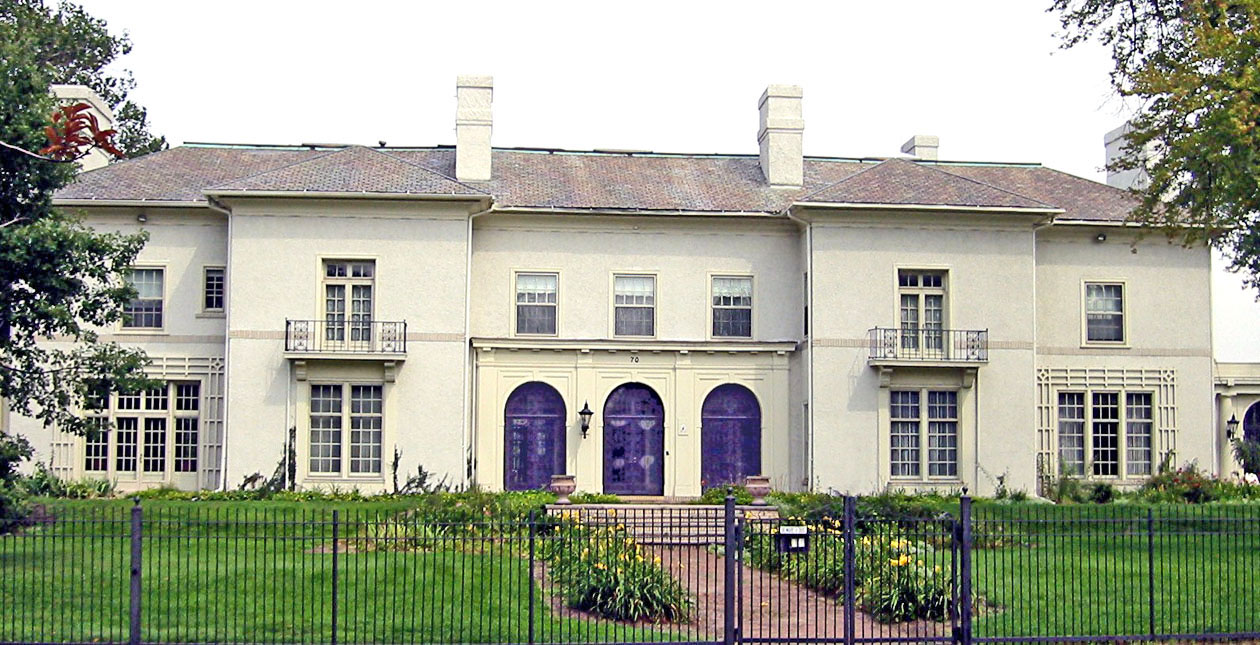 S. S. Kresge Home
70 West Boston Boulevard just west of the intersection with Woodward
in the Boston-Edison neighborhood
Sebastian Spering Kresge was born on a farm near Wilkes-Barre, Pennsylvania in 1867. By the end of his teen years, he had acquired whatever credentials were required in that era to become an elementary teacher. However, he did not enjoy employment in the classroom so, in his early twenties, he became a traveling salesman providing goods to retail merchants. He was successful, and in the mid 1880s, invested his savings to purchase a share in two stores—one in Memphis and one in Detroit—owned by a Mr. McCrory who eventually established a large and successful chain of stores. Kresge moved to Detroit and took control of the first Kresge store.

By 1899, Kresge had established his firm and began increasing the number of stores. In 1912, when he had 85 stores, he established the S. S. Kresge Corporation whose descendent firms are now a holding company controlling both the K-Mart and Sears and Roebuck chains. Originally, Kresge limited his prices to five and ten cents, but during World War I, he raised the price limit to one dollar. Kresge—or his public relations staff—cultivated an image of frugality. Supposedly, when he traveled from the Michigan Central Station, he rode in an upper berth rather than in a drawing room or private car. Allegedly, he used the services of Detroit boot blacks when they charged a dime, but when they went up to 15 cents, he started polishing his own shoes.

Kresge was a generous philanthropist. In 1924, he established the huge foundation that now bears his name and is now headquartered on West Big Beaver Road in Troy. During his lifetime he contributed at least sixty million to his foundation. That foundation now uses funds generated from Kresge's wealth to strengthen non-profit organizations that benefit humanity

S. S. Kresge was not frugal when it came to building a fine Boston-Edison home for his family. The home you see is one the largest and most impressive in Detroit. The architects—the Cleveland firm of Meade and Hamilton—designed a Mediterranean-style villa and, to make it distinctive, selected white stucco for the exterior. The best time to appreciate the appeal of this home is on a sunny summer morning. One wonders why S. S. Kresge did not ask Albert Kahn to design the home. By the time this residence went up at the corner of Boston and Woodward, Kresge had moved his firm's offices into a Kahn building on Grand Circus Park. And Kahn designed the Siegel home to the immediate west of Kresge's house. These were very busy years for Kahn and his firm, so he may not have had time to design a suitable home for S. S. Kresge.

Kresge lived to see the decline of the traditional downtown five and dime, and the emergence of a new chain of similar stores located in suburban shopping centers—the K-Mart stores created in 1962. Kresge lived to age 99, but surprisingly, both of his parents with their rural backgrounds, lived to older ages.

The contributions of Kresge to Detroit's architectural wealth merit comment. The appealing white Kales Building at the corner of Adams and Park in Grand Circus Park was the first major office building for his firm, although they occupied only 9 of the 18 floors. It was an empty hulk of a building for more than a decade in Detroit's bleakest days, but is an excellent example of the successful conversion of a long-dormant downtown buildings into residential uses. S. S. Kresge had Albert Kahn design a much larger but similarly white office building in 1927. This is the impressive but now basically empty Kresge Building facing Cass Park between the new Cass Tech High School and Masonic Temple. Then there is the most distinctive college building in the city, perhaps, in the state—the Kresge-Ford Building that graces the campus of the College for Creative Studies at the corner of East Palmer and John R. William Kessler and his associates designed this structure in 1975 with expansion in mind. You wonder if Kessler played with tinker toys as a child when you see this fascinating structure. Kresge foundation funds also supported the Kresge Art Museum at Michigan State University, the Kresge Library of the University of Detroit-Mercy Law School and the Purdy-Kresge social science library of Wayne State University. I suspect that there are several other Kresge buildings in the Detroit area that I have omitted from my list.

Architects: Frank Meade and James Hamilton
Date of Construction: 1914
Architectural Style: Mediterranean villa
Use in 2007:
City of Detroit Local Historic District: This home is located with the Boston-Edison Historic District. This district is bounded, approximately, by Edison, Woodward, Linwood and Glynn Court. The Boston-Historic District is also listed on the State of Michigan registry of historic districts and the National Registry of Historic Places.
Photo: Andrew Chandler; July, 2004
Description prepared: February, 2007.