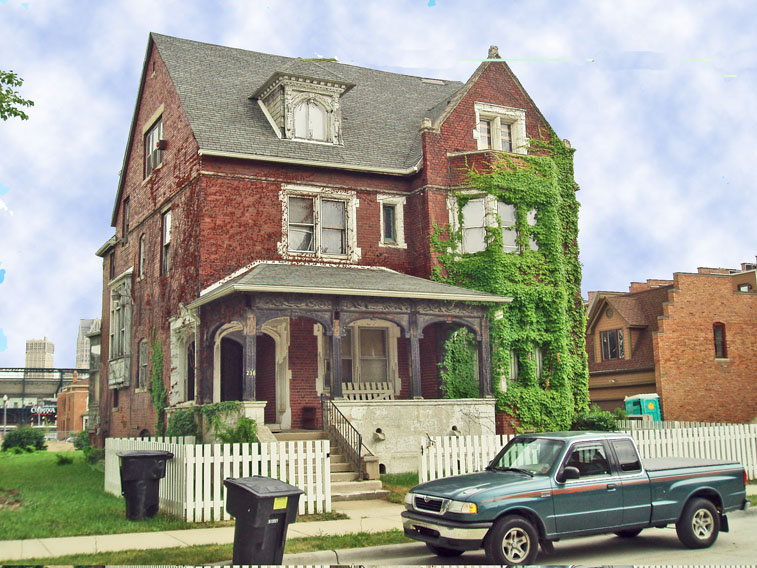 Krolik Family Home
South side of Adelaide between John R and Brush in Brush Park near downtown Detroit
Albert Kahn began his apprenticeship with Detroit architect George Mason in 1885. He started as an unskilled assistant doing chores but Mason recognized his potential and encouraged him to become a draughtsman and learn about architecture. By 1888, Kahn was helping George Mason and his collaborator, Zachariah Rice design homes. Although he had no formal training in the United States, Albert Kahn won a scholarship award so that he could spend 1891 in Europe studying and sketching the classical architecture of France, Italy and Germany.
After returning to Detroit, he began designing homes with Mason, Rice and their colleagues. In 1896, Albert Kahn married Ernestine Krolik and then joined with George Nettleton and Alexander Trowbridge to form their own firm. This was not to be a long lasting collaboration since Trowbridge departed the following year to become dean of the School of Architecture at Cornell, while George Nettleton died in 1900. By 1902, Kahn was heading his own firm, one that continues to prosper today with Detroit headquarters in the Albert Kahn Building on Second in the New Center area.
Shortly after marrying Ernestine Krolik, Kahn designed the house you see for her family. This was one of the early homes designed by Kahn, but certainly not his first. They were earlier ones, including the William Livingstone mansion that is included on this website and the Gilbert Lee home at East Ferry and John R—a home that does not survive.
There is a distinguishing feature of the impressive Krolick home—the extensive use of caryatides. These are the draped women supporting entablatures. At one time, there were several caryatides at the front of this home just above the ground level. Apparently, several of these unusual caryatides designed by Kahn were removed from the home without the owner permission. To prevent a loss of all of them, the current owner removed the remaining ones, presumably placing them in storage until such time as this home is restored to its glory. If you look carefully at the upper level window on your left as you look at this home from Adelaide, you will see caryatides although they are in need of carpentry and paint. When restored, this will be an extremely home meriting a detour since illustrating Kahn architectural creativity when he was a youth.
Apparently, the most notable use of caryatides is on the porch of the Erechtheion in Athens, a building constructed in about 410 BC. I do not know if Albert Kahn visited Greece when he spent 1891 in Europe.

Architect: Albert Kahn
Date of Construction: About 1893
City of Detroit Local Historic District: Brush Park is a City of Detroit Local Historic District authorized January 23, 1980.
State of Michigan Registry of Historic Places: Not listed
National Register of Historic Sites: Not listed
Use in 2012: An attractive home awaiting renewal
Photograph: Ren Farley; June 16, 2005
Description updated: February, 2012