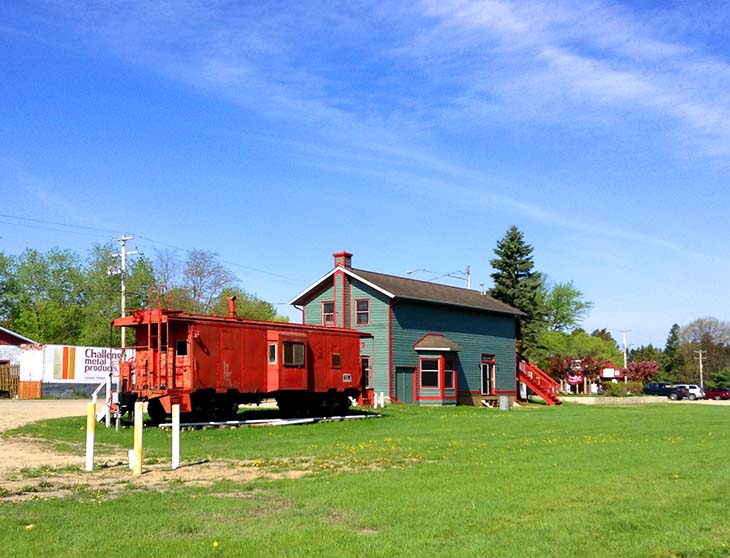 Lake City Depot, Pere Marquette Railroad
Near the intersection of Mystic Lake Road and Gibson Avenue
in downtown Lake City

Two-story depots are quite rare in Michigan's Lower Peninsula.  In remote locations, railroads constructed such depots with the assumption that the station agent would reside with his family on the second floor, while the first floor was reserved for passengers awaiting trains, freight and equipment.  The Michigan Central, in 1882, erected a rather similar two-story depot in Grayling but I cannot think of any other two-story depots that currently grace the landscape of the Lower Peninsula.   Perhaps the key element that identifies these two-story buildings as depots—in addition to their location along the rail bed—is the bay window that the agent used to spot approaching trains.  This Lake structure is the only two-story Pere Marquette depot still standing.

The Flint and Pere Marquette Railroad obtained a charter in 1862 to build a line that would connect the growing city of Flint to the port on Michigan's western coast then known as Pere Marquette since that was the place where Father Marquette died.  That city is now known as Ludington.  By 1863, the line connected Flint to Saginaw.  Construction to the west continued after that with the line reaching Midland by 1868, Clare by 1870 and the city now known as Lake by the end of that year.  Just four years later the line was completed to Ludington where products could be transferred to steam ships for distribution across the Great Lakes.  The Flint and Pere Marquette which, by the mid-1870s, extended from the port of Monroe on Lake Erie northwest across the state of Michigan to the port of Ludington was one of three substantial Michigan rail lines that were merged to form the Pere Marquette Railroad in 1899.  The Chesapeake and Ohio Railroad acquired the Pere Marquette in 1929 and merged with it in 1947.  This firm then became CSX Transportation in 1987.

The region of southwestern Clare county contains quite a few attractive lakes, hence the name of this small town.  Today, you will find quite a few cottages around these lakes.  I do not know if there were ever resort hotels in this area, hotels whose patrons would have disembarked from trains at the attractive two-story depot shown in this picture.

This was never a main passenger line for the Pere Marquette Railroad.  After World War II, they invested their capital in modern trains to quickly whisk passengers in elegance from Detroit to Grand Rapids and from Grand Rapids to Chicago.  However, they retained passenger service on this Saginaw to Ludington line after that war.  Indeed, just a few years ago—as recently as 1947—you could board a train at Lake at 3:23 in the afternoon and arrive in downtown Detroit at 9:30 in the evening.

Railroads were strictly regulated as utilities by the Interstate Commerce Commission Act of 1887.  Regulatory commissions had considerable power to force railroads to operate lines that were unprofitable but were defined as being in the public interest.  Even if there were only a few occasional shippers on a branch line, local Chambers of Commerce and elected officials insisted that the line was vital to the survival of their community and blocked efforts by railroads to terminate service.  In 1980, Congress replaced with Interstate Commerce Commission Act of 1887 with the Staggers Act that greatly deregulated railroads.  Shortly thereafter, railroads began abandoning their lightly used lines.  CSX Transportation abandoned service on this line in 1987.  In 1980, there were 5,343 miles of railroad in Michigan.  Ten years later, it was down to 4,233 so one-fifth of the state's millage disappeared within a decade of the Staggers Act.

Fortunately the flat and generally straight rail bed has been converted into the Pere Marquette State Trail for bicyclists, pedestrians and snowmobilers—a trail that is paved for almost all of the distance from Midland to Reed City.

The need for coal was one of the tremendous liabilities of using steam engines to power trains.   Michigan has a long but almost totally forgotten history of coal mining.  Unfortunately, the Michigan coal was exceptionally low in quality since it had relatively lit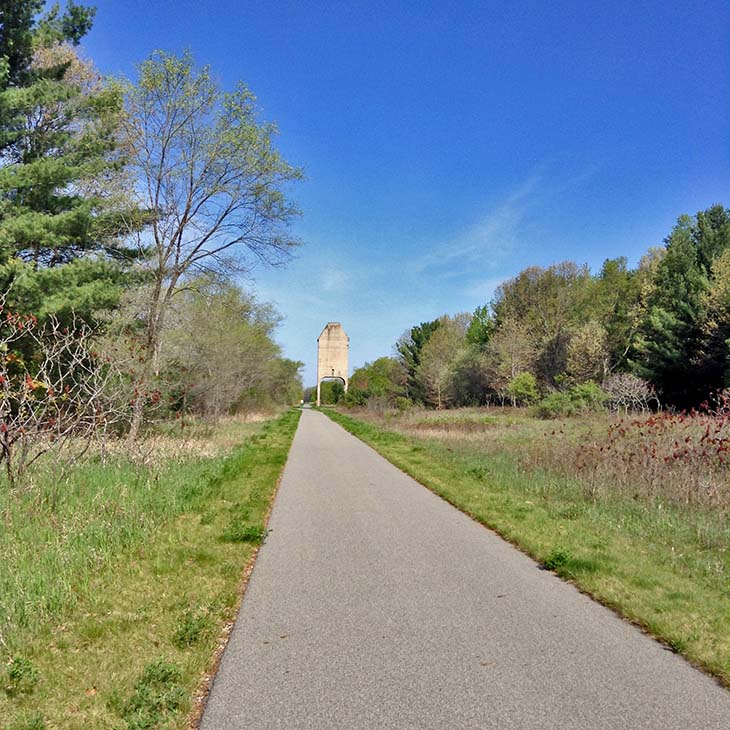 tle carbon content.  It was pretty much useless for industries and railroads so it was used to heat homes by people who could not afford much higher quality coal imported from other states.  For railroads, this meant that coal had to be shipped long distances and then stored in facilities that made it readily accessible to the fireman working on a steam engine.  Coal triples were used to store the coal that engines burned.  The coal arrived in hopper cars, was hoisted high up into a triple and stored there.  When a train came along, the engineer pulled under the coal triple with the tender exactly lined up with a coal chute that the fireman, riding on the top of the tender opened and then closed when the tender was resupplied.  About one dozen coal triples remain standing today in Michigan although none of them has been used since the mid-1950s.  There is a picture here of the coal triple in Lake, one that is very close to the well preserved depot.   This structure was built in 1929 and could be filled with 250 tons of coal.

When railroads abandoned lines, they typically hired a scrapper who would remove and sell everything of value.  Quite clearly, the cost of razing a coal triple was much greater than the value of any metal that might be recovered.  It is a tribute to the builders who put up these massive coal triples that they stand up well today although they have not been maintained for seven or more decades.

This settlement was originally called Lake Station when a depot was first erected in about 1877.  When the postal service opened here, the place was called Crooked Lake after the name of the local body of water.  In 1909, the name was changed to Lake.  Census 2010 counted 834 residents.

Date of construction:  1892
Architect: Unknown to me
Use in 2015: Residence
State of Michigan Registry of Historic Sites: Not listed
National Register of Historic Places: Not listed
Photograph: Ren Farley; May 14, 2015
Description prepared:  May, 2015
Return to Transportation

Return to Homepage