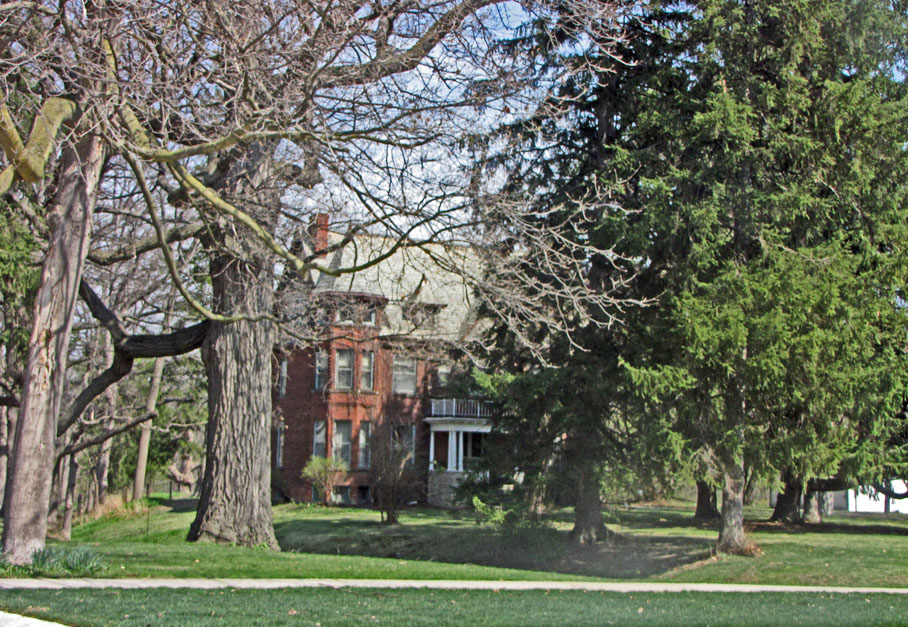 David Pardee Lapham Residence
22110 Morley Avenue in Dearborn

David Lapham was born in Dearborn in 1851.  His family owned a 100-acre farm that included the area now near the intersection of Monroe and Military streets.  David Lapham was a merchant, a land developer, a farmer and a banker.  The Army located an Arsenal in Dearborn in 1832.  This was not designed as a military post where numerous troops and their officers lived.  Rather, it was designed as a supply depot housing equipment for the Army stationed in Michigan and Wisconsin.  At this time, most Indians had been driven from Michigan or confined to remote areas, but there was still a military presence.  And, in the next decade, there was a fear that the British might send troops to not only put down a Canadian independence movement, but also to recolonize the United States.  Fort Wayne in Detroit was built to thwart those British efforts, but the Dearborn Arsenal also had a role.  The arsenal in Dearborn expanded and eventually included 11 buildings, the most impressive being the Commandant's Quarters that still stands on Michigan Avenue. During the Civil War, the Dearborn Arsenal was active, but in 1873, the United States Army ceased using this facility.  Four years later the government sold the Dearborn Arsenal at auction.  David Lapham, I believe, began developing the property that that Arsenal had used.  He also opened a store in Dearborn and, in 1896, chartered the David Pardee Lapham Bank.  This was the first bank in Dearborn and the only bank in the city until 1921.  Lapham sold his bank in 1910 to Henry Ford who renamed it the Dearborn State Bank.  Subsequently, it was included in Detroit's Manufacturers National Bank.

In 1890, David Lapham began building the large two-story Late Victorian style home that is quite challenging to appreciate since it is well guarded by huge pine trees.  Apparently, he selected this location on Morley Avenue because it was close to his businesses located on Michigan Avenue. He may have used some of the lumber and beams from the Dearborn Arsenal structure in this home.  It is a brick and frame home with a gabled roof.  Similar to many large homes of this style, it was once converted into apartments and, after World War II; Dearborn Mayor Orville Hubbard announced urban development plans that called for razing this marvelous residence.  Thank goodness, his plans were not accomplished.  In 2009, the home was sold to an individual who announced plans to refurbish the structure, presumably for his own residence or, perhaps, for resale.  It is lovely home on a peaceful, attractive block not far from the busy areas of downtown Dearborn.

David Lapham retired sometime after he sold his bank to Henry Ford.  He became a gentleman farmer with a spread in Milford, Michigan.  He died in 1926 after an accident in Florida.   Dearborn school officials honored his accomplishments by naming an elementary school for him, a school Westwood and Union that opened in 1951 but was subsequently closed.  A  Dearborn thoroughfare also carries the name of this man who made substantial contributions to this community well prior to Henry Ford's establishing factories here.
Architect: Unknown to me
Date of Construction: 1891
Architectural Style: Late Victorian
Use in 2010:  Residence
Photograph:  Ren Farley; April 10, 2010
State of Michigan Registry of Historic Places: P702, Listed September 14, 1995
State of Michigan Historical Marker: None erected
National Register of Historic Places: Not listed

Return to Historic Residences

Return to Home