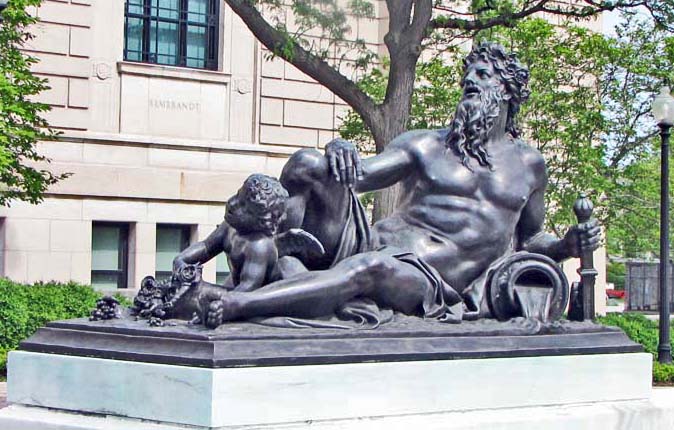 Le Fleuve et La Garonne
In front of the Detroit Institute of Art at 5200 Woodward in Detroit's
Cultural Center Historic District

When King Louis XIV erected Versailles, he decided that there should be massive sculptures in the garden commemorating the importance of four of the rivers in his kingdom. The sculpture you see here at the Woodward entrance to the Detroit Institute of Art reminded the King's subjects and us of the importance of the Garonne River in southern France.

Charles Antoine Coysevox was born in Lyon on September 29, 1640 to a family of immigrants from Spain. At an early age, he developed an interest in art and sculpture. He studied with the sculptor, Louis Lerarnbert, then moved to Paris in 1680 where his skills began to be recognized.

Charles Le Brun supervised artistic installations on the property of the Crown during this era; that is, latter decades of the Seventeenth Century when Antoine Cadillac was trying to establish a city here in Detroit. Le Brun commissioned Antoine Coysevox to create a variety of statues for Louis XIV's Versailles palace and its extensive gardens. By this time, Coysevox was making his unique contribution to the history of the sculpture art form. A Flemish style had dominated in France, but Coysevox introduced a Baroque style that became popular with the French court, a style that reflected, to some degree, the influence of the Italian sculptor and architect, Giovanni Bernini who designed St. Peter's in Rome.

Louis XIV, or his staff, decided that there should be four large sculptures commemorating four major rivers of the French Empire. The statue that you see here was Coysevox' interpretation of the Garonne River. This river has its headwaters in the Spanish Alps and then flows into France through the Aren Valley. It passes through Toulouse on its way to Bordeaux where it joins the Gironde Estuary that links Bordeaux with the Bay of Biscay and the Atlantic. The Garonne was and is important in that it empties into the Gironde, the river that make it possible for large ships to said from the Atlantic Ocean to Bordoeaux. The Garonne is linked to the Canal de Midi, the first modern canal—completed in 1681—that connects Sète on Mediterrean with Bordeaux. The western terminus of the Canal de Midi is Castets-en-Dorthe near Bordeaux. Once boats reached that location, they could travel on the Garonne and Gironde to reach the ocean. One of the other river statues Coysevox created honored the Seine but I do not know which two other French rivers were memorialized by Louis XIV and Antoine Coysevox in the gardens of Versailles.

This is the statue that is to the immediate right of Rodin's The Thinker as you stand on Woodward and face the Detroit Institute of Art. To the left of the Rodin sculpture is Nymph and Eros.

Sculptor: Antoine Coysevox
Person first casting the sculpture: Les Keller
Date of original casting: 1688
Location of original casting: The gardens of Louis XIV at Versailles
Use in 2005: Public Art adorning the Detroit Institute of Art
Photograph: Ren Farley; March 28, 2005
Description prepared: May, 2011

Return to Public Art and Sculpture