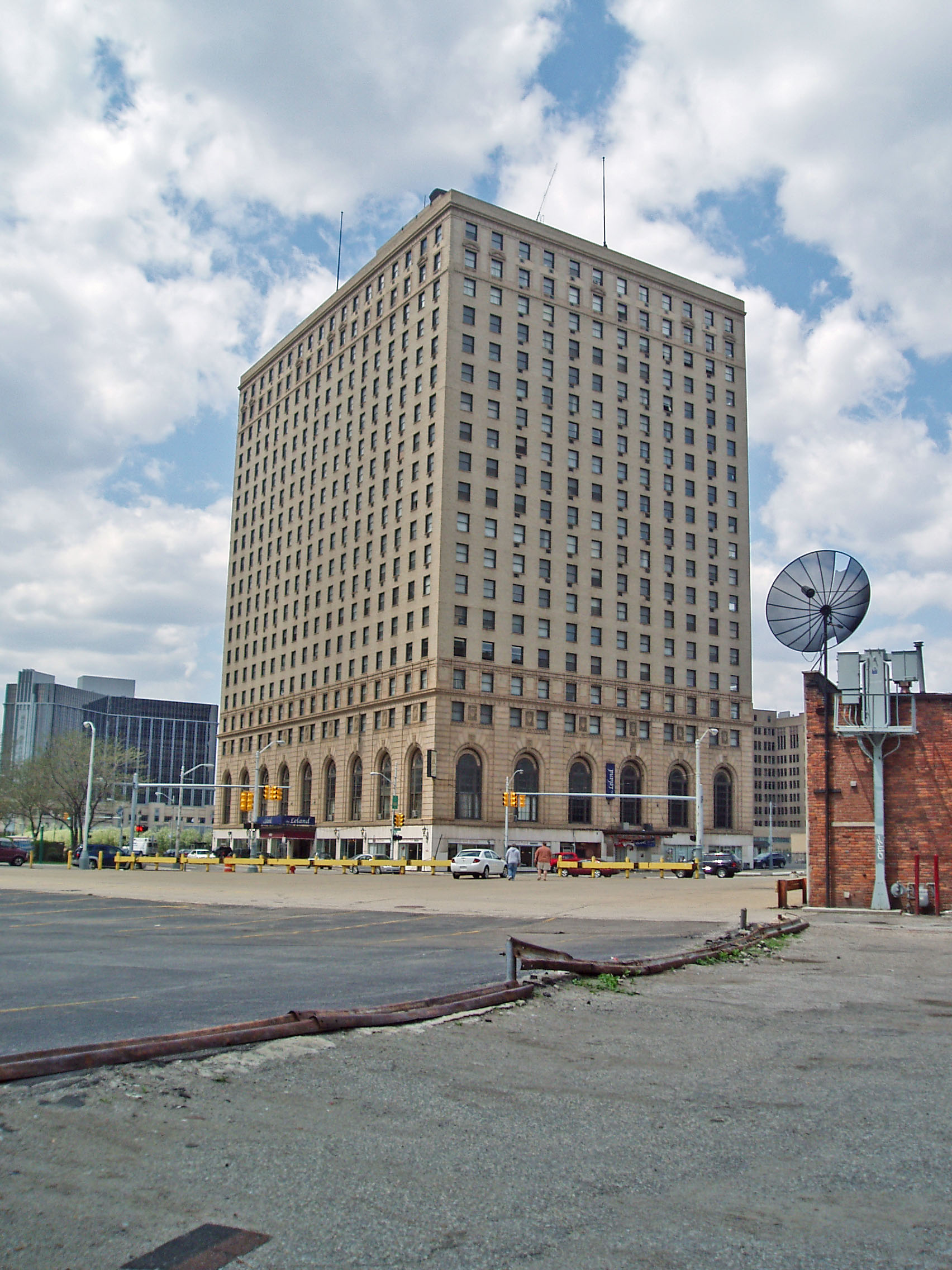 Detroit Leland Hotel
400 Bagley Street at Cass in downtown Detroit
This large building has borne several different names in the last seven decades. For all of that time, it has served as an hotel or an apartment-hotel. Most of the names included Leland. It is appropriate that there be monuments recognizing the achievements of Henry Leland. Indeed, he ranks with Henry Ford as a key figure in explaining why Detroit became and remains the international center for the vehicle industry.
Henry Leland was born in rural Vermont in 1843 and began his career as a machinist at a firm in Providence, Rhode Island. Later, he worked for the Colt firm in Massachusetts that manufactured fire arms. During the Civil War, thousands of rifles were produced. There was an effort to standardize their production so that if a gun failed in the field, soldiers could cannibalize other broken rifles for parts and get the gun back in service. This proved to be a great challenge since component parts for guns and machines were hand produced by craftsmen. The tolerances were so imprecise that parts from one gun would not always fit another gun produced by the same manufacturer. By the late 1870s, individual craftsmen could produce precise parts but since they worked with their hands, they could produce only a few such parts each day. More so than any other engineer or inventor, Henry Leland led the way toward the mass production of precise parts such as those needed for gasoline engines.
Leland came to Detroit about 1893 and established the Leland and Falconer firm. They built engines for ships and other industrial products. Late in that decade, Leland recognized that there might be a large market for motor vehicles. He met Ransom E. Olds who was the first to turn out cars in substantial numbers. Olds used an engine of his own design but it apparently did not use precision parts so it was inefficient and tended to fail since the parts did not mesh with great precision. Leland eventually convinced Olds that he could produce a much more efficient and reliable engines for his increasingly popular vehicles. Olds took him up on his offer and installed engines designed and produced by Henry Leland in the Curved Dash model that Olds turned out in the East Jefferson plant that burned to the ground early in the last century. This was the first successful mass production of motor vehicles.
Henry Ford's second automobile firm failed financially in 1902 and the bankers who had invested in Ford's operation insisted upon its sale. Ford asked Leland to assess the value of his assets. Leland realized that there was worth in the engineering resources and accomplishments of Ford's firm so Leland and his partner, William Murphy, purchased the assets from the bankers. Ford was out of the vehicle business but Henry Leland was about to become a successful auto manufacturere. Leland and his partner immediately formed a new company and began producing cars using engines designed by Leland. Leland decided to name the firm after the man who established the city of Detroit. The firm prospered. Leland sold his prosperous Cadillac firm to the new General Motors Company in 1909 but continued working with GM until the mid-teens. During Leland's leadership, Cadillac became the first American firm to market a car with an enclosed body and then the first to offer a self-starter. This was a tremendous improvement since starting a car by cranking the engire was a challenge.
At the start of World War I, military planners and strategists presumed that air planes would revolutionize warfare. The Germans, English and French tried to build effective aircraft. The United States did not wish to fall behind Europe. Many inventors and developers proposed to build engines and planes for the United States Army. Realizing that this endeavor needed to be coordinated, the government more or less appointed or selected Henry Leland to design and build engines for military aircraft. He formed the Lincoln Motor Car company and began construction of the large plant that once stood at Livernois and Warren on Detroit's West Side. It was listed as a National Historic Landmark but was razed in 2004. Leland selected the name for his firm because his first presidential vote was cast for the Illinois Republican during the Civil War. Military aircraft, I believe, played no more than a minor role in World War I. The engineering problems were immense and would only be solved about twenty years later. Leland turned his large plant over to the manufacturing of large, impressive cars. That is, he established the Lincoln Motor Car Company. The company was briefly successful but approached the cusp of bankruptcy in 1922. Henry Ford did not have a vehicle to sell to the silk stocking clientele so he bought the Lincoln automotive firm from Henry Leland. Leland remained an important and prosperous figure in Detroit and in the vehicle industry until his death in 1932. He played a key role in quite a number of inventions including the electric starter for cars and the electric razor.
The building you see pictured above was built as an 800 room hotel with twenty stories above the ground and two below. The architects were from Chicago: C. W. and George Rapp. During the 1920s, a large number of extremely elaborate and elegant palaces were built for showing of silent black and white movies in the nation's biggest cities. The Fox Theater is one of the best examples. Detroit's C. Howard Crane was, arguably, the most productive and creative architect designing such theaters in the 1920s but he had competitors. The Chicago firm of Rapp and Rapp was, perhaps, his most successful rival. They designed other buildings such as the Leland Hotel that you see above.
In 1966, many of the rooms in this hotel were converted into apartments. Sometime after that the Ramada firm took over management of this building. Here they ran an hotel, an apartment complex and a restaurant. In 2007, I believe, they cut their affiliation with this structure and plans were announced to convert the building into condominiums and apartments. By 2010 this was completed and this is, I am told, a fully occupied building. It is now known as the Leland House Apartnents. It is the home to the well-known Leland City Club, an industrial nightclub and heavy metal music venue.
Interestingly the Rapp and Rapp firm returned to Detroit in the 1950s for their final commission, one that capitalized upon their special skills. They designed the post World War II renovation of the Fisher Theater and restored it to the glory that Albert Kahn has designed several decades earlier.
This building should be distinguished from the Nellie Leland lofts at 1395 Antitem near Detroit's Eastern Market. Henry Leland's wife, Nellie, was interested in the care of children suffering from tuberculosis and other ailments. She served on various charitable boards in Detroit that focused upon the health and welfare of children. At this time, city school system bore no responsibility to provide facilities for infirm children such as those suffering from tuberculosis. Nellie Leland died in 1910 when her husband was in his late sixties. Two years later, Henry Leland built a school to serve children with tuberculosis, named it in honor of his wife and gave it to the school system. The Nellie Leland school building has been successful converted into an attractive loft residence near downtown.
Architect: C. W. Rapp and George Rapp
Architectural style: Italian Renaissance
Date Completed: 1927
Use in 2010: Apartment building with
Website for The Leland House Apartments: http://theleland.net/
Website for industrial nightclub: http://www.lelandcityclub.net/
City of Detroit Designated Historic District: Not listed
State of Michigan Registry of Historic Sites: Not listed
National Register of Historic Places: Number #05000718, Listed July 29,2005
Photograph: Ren Farley; May 2, 2009
Description updated: November, 2010
Return to Hotels

Return to Homepage