Liberty Motor Car Company/Budd Manufacturing/
Thyssen-Krupp Steel 2
Charlevoix at Connor on Detroit's far east side
Detroit is the only metropolis where you will find two full-sized and well executed replications of Philadelphia's Independence Hall. Henry Ford's historical interests led him to have a magnificent duplication of Independence Hall built to serve as the center for the museum housing the many historical artifacts he collected. That replication of Independence Hall was designed by Robert Derrick and completed in 1929. Ford was not, however, the first automobile entrepreneur in Detroit to build a version of Independence Hall.
Just prior to World War I, it became clear that the vehicle business would boom in the United States. Several major problems had been solved. Boss Kettering had perfected the electric starter so it was no longer necessary for a driver to crank the engine—a task that required considerable strength and might result in a broken arm. Reasonably priced, enclosed, all-steel bodies proved feasible so vehicles could be used all year and in any weather. And the controversy about the Selden patent had been resolved, so any group of investors with sufficient capital could try to become wealthy in the vehicle business by creating a new line of automobiles.
Percy Owens appeared to have the perfect background to establish a new and highly successful auto firm. He began selling Wintons before 1900, rose to be sales manager for that company and opened the first auto salesroom in New York City. European cars have always been imported for sale in the United States. Owens was among the first to successfully do so when he began importing Bianchis from Italy. The Bianchi auto firm survived for a long time and sold some cars in the States after World War II. By 1908, Percy Ownes had affiliated himself with a major Detroit producer—Chalmers—and eventually became their sales manager.
Accurately foreseeing the coming auto boom, Owens organized the Liberty Motor Car Company in 1916. He secured sufficient capital to begin production in a plant on Lycaste Street that had been the home to the unsuccessful R. C. H. auto firm. Owens' extensive experience in the vehicle industry allowed him to recruit engineers and administrators who had strong records of accomplishments in Detroit. His firm seemed destined for continued prospe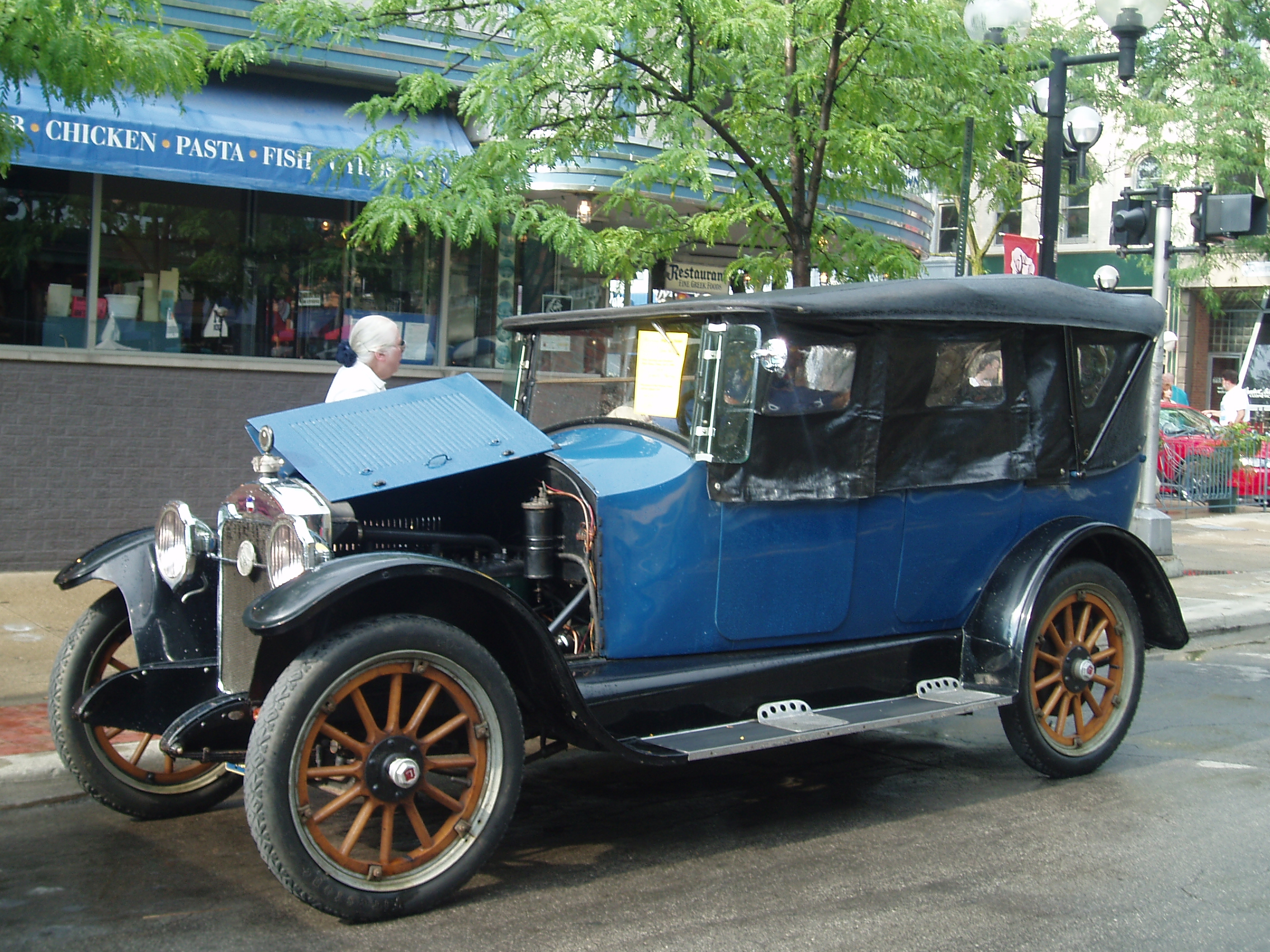 rity.

A picture of a 1919 Liberty is shown on this page. Owens designed a powerful 6- cylinder car with attractive flowing lines—a style that distinguished it from the functional boxy body style used by most manufacturers. Paying attention to the desires of the customers that he knew so well, Owens designed the interior for passenger comfort and ease of operation. Perhaps, this was the first car designed using what we now call "human factors" engineering, including seats intended to be much more comfortable than those found in other makes. Only one model—with its straight six 3394 cc engine—was built.
World War I slowed Liberty's initial production schedule, but in 1919, they turned out 6,000 Libertys and obtained sufficient funds to build a new plant at Charlevoix and Connor Avenue on the far east side of Detroit. For their office building, they selected the replication of Independence Hall that you see above—the first version of Independence Hall built in Detroit.
Owens claimed that Liberty was a success since his firm built and sold 21,000 cars in 1921, but there was trouble on the horizon. All producers depended heavily upon their parts suppliers. Compared to Ford, GM, Packard and Hudson, Liberty was a small producer. Apparently, they faced major challenges in securing the parts they needed and lacked the requisite capital to establish or buy parts suppliers. By 1923, Liberty went into receivership. The assets were purchased by the Columbia Motor Car Company at Mack and Beaufait but no more of the appealing Liberties were ever produced.
The Budd Company—producers of auto bodies for many firms—used this Independence Hall office building for many years. Budd was acquired by Thyssen-Krupp Automobile AG in the 1980s. Thyssen-Krupp used this office building for about two decades, but in 2007, closed their nearby plant and ceased using this replica of Independence Hall. Budd - originating in Philadelphia - was the first to mass produce all-steel bodies for automobiles. For about a decade, their production was centered in Philaelphia but, in the mid-1920s, they came to this site on the east side of Detroit. They continued to turn out bodies or body component here until 2006 when their new owner, Thussen-Krupp closed this plant and ceased to use the attractive Liberty Hall office building.
Architects: Walter MacFarlane, Walter Maul and Walter Lantz
Date of construction: 1919
City of Detroit Local Historic District: Not listed
State of Michigan Registry of Historic Places: Not listed
National Registry of Historic Sites: Not listed
Use in 2017: I believe it is a vacant office building awaiting reuse
Book describing the dismantling of the Liberty/Budd/Thyssen-Krupp manufacturing plant:
Punching Out: One Year in a Closing Auto Plant by Paul Clemens, New York: Knopf Doubleday, 2010
(Paperback: 2012)
Photograph: Ren Farley; August 6, 2005
Description updated: January, 2017
Return to Commercial Buildings