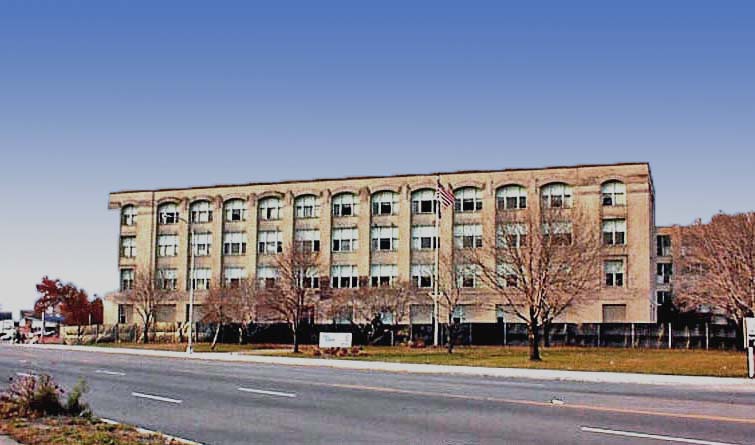 Lincoln Motor Company Plant
6200 West Warren Avenue at Livernois in Detroit
This was a National Historic Landmark

Major wars often provoke great technological innovations. The federal government appropriates the requisite capital so that designers and engineers can produce effective new technologies. World War I was the first engagement in which military officials tried to use airplanes to destroy their enemies. Indeed, some military thinkers at the time of World War I presumed that airplanes would revolutionize warfare. The Liberty engine was developed to power US planes during World War I. This plant was designed and built to produce those engines.
Henry Leland, a Detroit entrepreneur and financier, had a role in the development of three major automobile manufacturers. He provided capital and designed an efficient engine so that Ransom E. Olds could produce cars in a small plant on East Jefferson. The plant burned to the ground on March 9, 1901. Olds tried to continue producing cars in Detroit in a building that Henry Leland owned but soon got an attractive financial offer from people in Lansing. He moved his Oldsmobile firm there. In 1902, Henry Ford was forced by his bankers to sell the vehicle firm he had founded. The bankers who were about to repossess Ford's operations asked Henry Leland to look over his facilities and assess their worth. Leland realized that Ford's ideas and properties had considerable value so he, and his colleague William Murphy, purchsed the Ford firm. They decided to produce a car and named it for the most important figure in the city's history: the founder, Cadillac. The first Cadillac plant was a mill-style facility with its heavy oak flooring. It burned shortly after construction, so Henry Leland had George Mason build a three-story plant using reinforced concrete where Cadillac were produced until 1920. This original Cadillac plant still stands at 450 Amsterdam in the New Amsterdam Historic District just west of Woodward.
Leland pioneered the development of transmissions and along, with Charles Kettering, developed the electric starter. Cadillac prospered by selling well-designed expensive but reliable car for upscale customers. Cadillac was this nation's first motor vehicle to offer an enclosed body. Prior to about 1910, all cars came with a soft roof that could be removed. Because of his engineering accomplishments and entrepreneurial skills, the military turned to Leland to produce Liberty engines for the war effort. George Mason was the architect that began building this factory in 1917, but it expanded quickly. Albert Kahn also designed some of the many buildings that extended along Livernois from Warren to Tireman.
Although Leland produced some Liberty engines for World War I aircraft, the war ended in November, 1918. Airplanes, I believe, played no more than a small role in that conflict. Leland was in charge of a large plant so he turned to the production of another upscale automobile. By that time, he had severed his connection with Cadillac since Will Durant was incorporting that vehicle producer into the General Mortors Corporation that he was assemblying. Leland named his new upscale car for the first presidential candidate for which he cast a vote when he was a young man in Vermont - Lincoln. Lincoln was briefly successful but there was a recession after World War I so the firm went into bankruptcy in 1922. Henry Ford, at that time, did not have expensive vehicles to sell to the expanding market of very prosperous customers. Thus Henry Ford purchased the floundering Lincoln Motor Car company from Henry Leland and manufactured Lincolns at this Detroit plant until 1972.
After auto production ceased, Detroit Edison obtained this plant and used it, primarily, as a storage yard. Because of the importance of this plant for the development of the modern aircraft industry and for Lincoln automobiles, it was listed on both the National and Michigan registers of historic places. Indeed, it was deemed so important that the National Registry of Historic Places named it a National Historic Landmark. Detroit Edison tore down most of the plant in October and November of 2002. There were not required to hold public hearings or seek any approval to do so. The large administrative building facing West Warren may be spared. On April 4, 2005, the National Registry removed the razed building from the list of National Historic Landmarks
This is one of two building in Michigan to be declared a National Historic Landmark only to torn down shortly thereafter. Interestingly, they both of them have a link to Henry Leland. R. E. Olds began producing Oldsmobiles in Lansing in 1902. Samuel Smith, whose house still stands on Woodward at Detroit's Cultural Center, provided much of the financing that Olds needed in Lansing. Because of his father's investment, Smith's son, took over a management role in Oldsmobile He clashed regularly with R. E. Olds and so, in 1904, Olds left Oldsmobile. Shortly thereafter he began producing REO cars and truck in a Lansing factory. The production of REO cars continued until the Depression ended the make in 1936. REO trucks were produced at the plant until 1975. That plant was listed as a National Historic Landmark but was torn down in the early 1980s and so, similar to the Lincoln Motor Company plant, lost its status as a National Historic landmark.
Architects: George Mason, Albert Kahn and Walbridge and Aldinger
Dates of Construction: 1917 to 1922
National Historic Landmark: Number: 78001521, Listed: June 2, 1978; Delisted April 4, 2005
Michigan Register of Historic Sites: P112
No Historic Marker is visible on this site.
Photo: November, 2002; Ren Farley
Description revised: May, 2010

Return to Commerical and Office Buildings
Return to Michigan Historic Landmarks