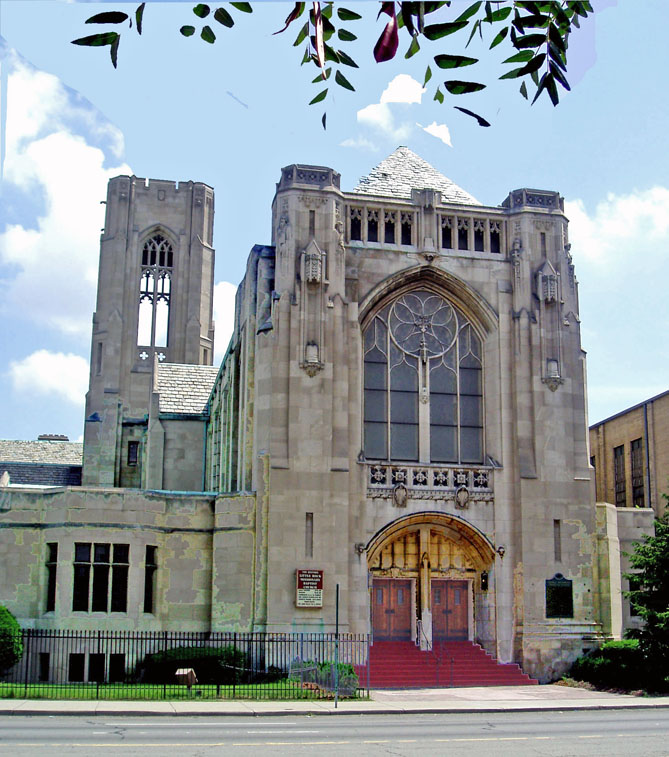 Little Rock Missionary Baptist Church/ Central Woodward
Christian Church
9000 Woodward at the intersection of Alger Street in Detroit's Upper Piety Row
This magnificent structure, dating from 1928, is among the last formal Gothic churches built within Detroit. It is an L-shaped formal building, clad in smooth limestone, and bears some similarity to the New Mount Mariah Baptist church (nee Trinity United Methodist) just a few blocks north on Woodward at 13100. Both were designed by George Mason in the same decade. The Woodward Avenue face of this church is narrow, but you see projecting buttresses terminating in niches for statues. Apparently no congregation has had the funds to commission statues since the niches remain vacant. An arched recessed entry is beneath a classical Gothic window with a parapet screen at the roof line spanning the buttresses. George Mason designed another face for this building fronting on Alger Street. It also shows a narrow nave with Gothic windows above a low one-story wing. From the Alger Street view you will see a slate roof nave terminating in a dominating flat roofed tower with the very open belfry that is visible from Woodward. Parishoners Ella Ford and Philip H. Gray donated the substantial funds needed for this elaborate church. As a result, George Mason designed the additional facilities—meeting rooms and offices—that you would need in a modern church. In doing so, he carried out the Gothic theme.
This church has served two congregations. Irishman Thomas Campbell was educated for the Presbyterian clergy in Scotland, but migrated to the United States in 1807. Shortly after arrival, he was admonished by his superiors for insufficient dedication to the Presbyterians. By 1815, he founded his own congregation and affiliated with the Baptist. His son, Alexander, followed him into the clergy and developed a reputation as a preacher, a debater and an inspiring religious leader. He founded Bethany College in West Virginia in 1840 and served as president, an institution that survives to this day. By the 1830s, the Campbells were on their way to develop a denomination distinct from both Presbyterians and Baptists. This new group was known sometimes as the Disciples of Christ and sometimes as the Christian Church.
In 1846, Reverend William Nay organized a Disciples of Christ or Christian congregation in Detroit. By the 1890s, the congregation had resources to build a substantial church downtown. With the increasing prosperity of the automobile era, the congregation commissioned George Mason to design the building that you see. After World War II, suburban migration meant that fewer Disciples of Christ lived in the prosperous neighborhoods surrounding this church. The congregation retained the name "Central Woodward Christian Church" but, in the early 1970s, erected a new—and very modern—house of worship at 3955 West Big Beaver Road in Troy.
Central Woodward was sold in 1978 to the Little Rock Missionary Baptist congregation, a primarily African American church. This congregation had been founded in Detroit in 1936 by the Reverend Robert E. Tate, whose leadership allowed his church to grow and eventually purchase this impressive Upper Piety Row church.
Stained glass windows distinguish this church. Shortly after its construction, the Disciples of Christ congregation installed two such windows designed by A. Kay Herbert. One shows George Washington and the other Abraham Lincoln holding the Emancipation Proclamation. In 1990, the Little Rock congregation began raising funds to replace the clear glass in many other windows with appropriate stained glass. Within a few years, they accomplished their goal. Perhaps the best known of the new windows is the African American Pulpit window showing the Reverend Richard Allen, the founder of what became the African-Methodist-Episcopal church; Dr. Martin Luther King representing the social gospel, Reverend Jesse Jackson representing the economic gospel, Reverend C. L. Franklin representing the quintessential skills of a preacher and Reverend James Holley who led the Little Rock congregation at that time and continues his service as pastor. This window was designed by Daniel Cicchelli and Reverend Holley and executed by Anchor Glass Studios of Inkster. Nine other 18 foot stained glass windows were installed depicting the traditional Stations of the Cross on Calvary. These were designed and painted by Dawn Sinkovich.
Architect: George D. Mason and Company
Architectural Style: Modern Gothic
Building material: Indiana Limestone
Date of Construction: 1928
Use in 2005: Church
City of Detroit Local Historic District: Listed February 6, 1993
State of Michigan Registry of Historical Places: P25042, Listed April 22, 1993
State of Michigan Historical Marker: Put in Place' June 20, 1994. This is visible on the Woodward Avenue front of this attractive Gothic church
National Register of Historical Sites: #82002896 Listed August 3, 1982
Photograph: Ren Farley; July 7, 2005
Return to Woodward Avenue Religious Structures
Return to City of Detroit Historic Designations