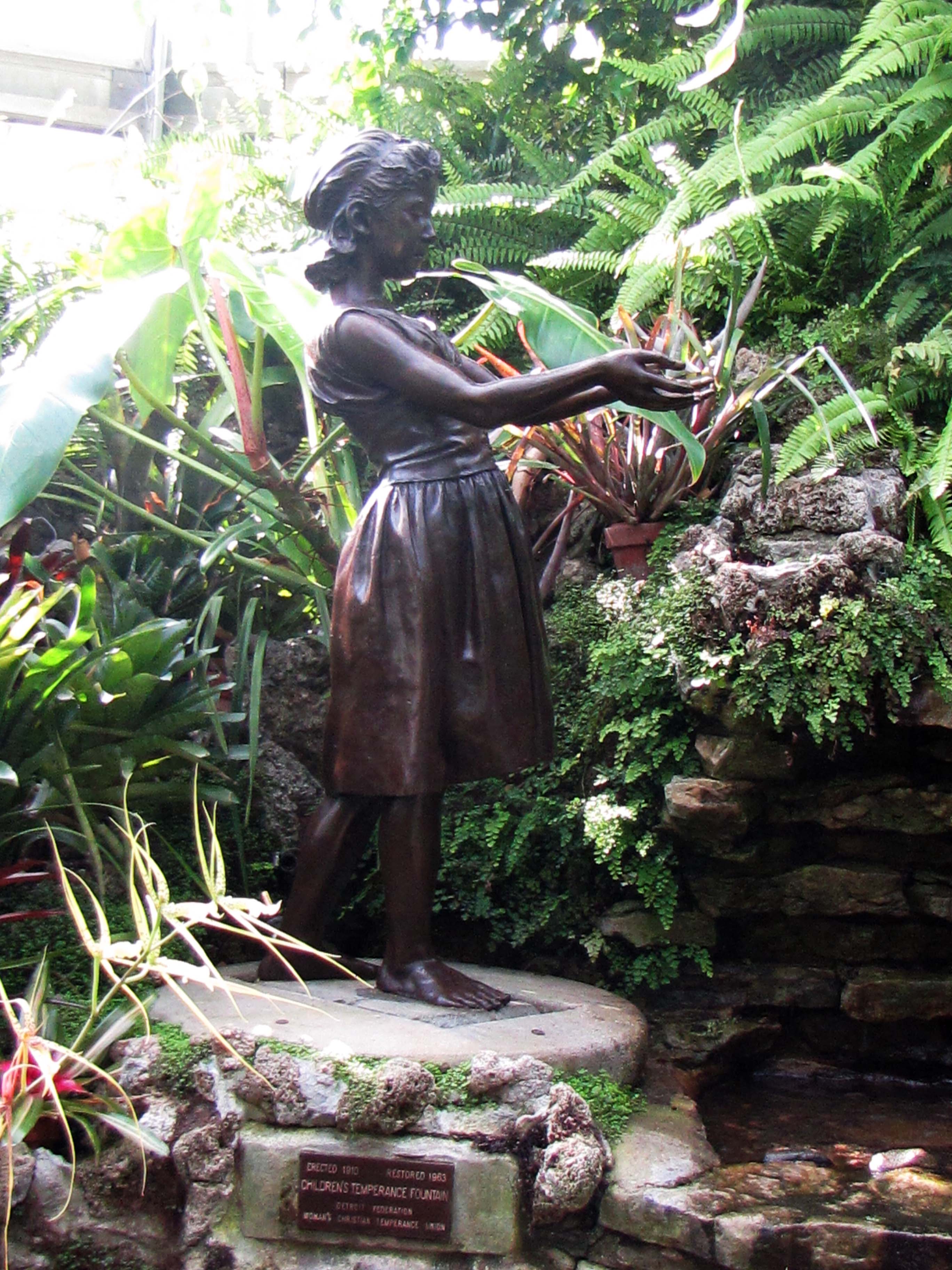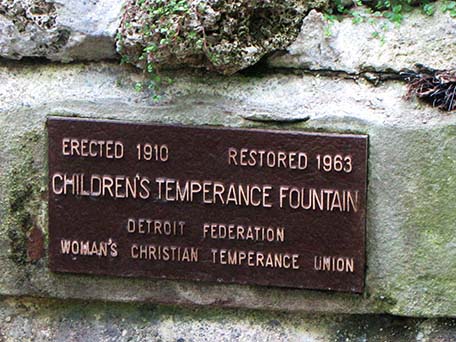 Little Water Girl Statue

Located inside the Anna Scripps Whitcomb Conservatory on Belle Isle near
the intersection of Loiter Way and Inselruhe Avenue
From the perspective of 2014, it is difficult to understand the bitter cultural conflict that alcohol once provoked in the United States.  For much of the Nineteenth Century, advocates of abstainance argued that alcohol consumption was at the heart of, or closely linked to, very many or even most social and physical problems.  Recently, I was reading Richard Adler's excellent book Cholera in Detroit, A History (Jefferson, N. C.: McFarland & Co., 2013).  In the 1830s, local commentators speculated that those Detroit residents who consumed alcohol were much more likely to die of cholera than those who abstained.  Frederick Douglas traveled to England and Ireland in the 1850s to raise money for the abolitionist movement.  He observed that the English tended to blame the starvation of the Irish, not on the exploitative economic policies of Britain that expropriated food products from their colony, but rather on the use of alcohol by residents of the Emerald Isle.  At the turn of this century in the United States, many argued that marital dissolutions were frequently caused by alcohol.  Indeed, there were arguments that alcohol consumption was a key explanation for poverty since men who drank died early, leaving their widows penniless and their children orphans.  The solution was to prohibit alcohol.

The Women's Christian Temperance Union was a leading organization promoting temperance.  Indeed, they and their allies were sufficiently strong to get Congress to enact and state legislatures to pass, in 1919, the Eighteenth Amendment to the Constitution that banned the manufacture, sale or importing of intoxicating beverages.  For the most part, it was northern European Protestants who advocated for abstainance, while the rapidly growing Catholic and Jewish population had a cultural tradition of alcohol consumption so they opposed the temperance movement

Lillian Marion Norton Ames Stevens, from Portland Maine, served as the second president of the Women's Christian Temperance Union (WCTU) from 1898 to 1914 when the organization was at the peak of its power.  At this time, there were cities in the United States that were still developing their public water systems.  In some areas, sanitary water was not readily available so workmen had to go into grog shops to quench their thirst.  One way to stop leading men into temptation was to provide water fountains to serve the public.  This was an important public health service in an era when safe water was not readily available.  In Detroit, the only Henry Hobson Richardson sculpture is the magnificent Bagley Fountain that was donated by Mayor John Bagley in 1887 to make sure that clean water was readily available in the downtown area.  After being restored in 2010, it was installed in Cadillac Square near Campus Martius.  It is worth a visit when you next go to watch the Tigers or Lions.

I infer that the WCTU strongly advocated the erection of fountains in cities.  When Ms. Stevens retired as president of that organization, her supporters commissioned the British sculptor, George Wadem to produce a statue showing a young girl offering a bowl of water, presumably to a laboring man who might have been tempted to enter a beer hall had not the young lady been there with her water.  George Wade had already designed such a statue for the WCTU in Chicago.  To honor, Ms. Stevens, this copy of the Water Girl Statue was placed in Portland's leading square—Congress Square—in 1914 and remained there until 1928.  When put in place, it was accompanied by a trough that provided water for that Maine city's horses and dogs.  It was removed because of traffic congestion but reinstalled in Deering Oaks Park Portland in the 1940s.  It was subsequently vandalized and put into storage.  In 1961, it was restored and returned to Deering Oaks.  In 1979, this Little Water Girl Statue was repositioned near the Portland Public Library.  In 2010, it was refurbished and installed in the courtyard of that library.

The World's Columbian Exposition was held in Chicago in 1893.  In an effort to promote water as the beverage of choice, the WCTU decided to participate in the Women's Pavilion at that World's Fair.  Their leaders commissioned George Wade to design a statue showing a young girl offering water.  This statue was displayed at that World's Fair.  After that event closed, the statue was moved to the Loop where it stood until 1921.  It was then moved to Lincoln Park where it remained for about a decade and then it was put into storage.  Later in the 1930s, it was reinstalled in Lincoln Park but it was stolen in 1958, presumably for the value of the bronze.  I do not know if the Portland Statue was an exact copy of the one designed for Chicago or a very similar depiction of a young lady supplying water.

In 2007, the Lincoln Park Conservancy organization decided that the Little Water Girl should once again make an appearance on Chicago's North Side.  They raised funds, contacted the art museum in Portland and had a mold created so that a new statue could be cast.  It was reinstalled in Lincoln Park in October, 2013.

I do not know how another copy of the same statue got to the Anna Scripps Whitcomb Conservatory on Belle Isle.  I presume that active WCTU chapters greatly appreciated the way this statue symbolized and memorialized the efforts of Ms. Stevens and the WCTU to end alcohol consumption.  I read that the Detroit statue was cast in 1917 suggesting to me that it from the same mold as the one used to produce the statue for Portland.   
  
Prohibition was not popular in the United States and, apparently, the amendment did only a little to reduce alcohol consumption.  Indeed, the importing of liquor may have increased during our "dry" experiment.  There appears to be consensus that Detroit and the area along the narrow St. Clair and Detroit Rivers was the leading point of entry for illegal liquor coming into the United States.  It is ironic that the Little Water Girl Statue stood less than one hundred years from the banks of the river that did the most to facilitate the importing of alcohol. 

Apparently, there is another Little Water Girl statue that George Wade produced for a London group.  I know nothing about that one.

The Eighteenth Amendment was not widely obeyed and, perhaps, did only a little to reduce the consumption or importing of alcohol.  It was repealed when the Twentieth-First Amendment was ratified in 1933, although many counties in the South remained dry for fifty or more years.  Indeed, in 2014 there are still 10 states with "dry" counties.

George Wade, a self-taught sculptor, won commissions to design statues of a number of prominent British figures.  Perhaps his best known work in North America is located in Montréal—a statue of John MacDonald one of the fathers of the Canadian federation and the first Prime Minister of Canada.  This stands in that city's major park, Place du Canada near Cathédrale Marie-Reine du Monde.

Sculptor:  George H. Wade
Substance:  Bronze
Size: Four and one-half feet tall
Date of creation:  About 1917
Date of restoration: 2014
Use in 2014: Public Art
City of Detroit Designated Historic District: Not listed
State of Michigan Registry of Historic Sites:  Belle Isle, P25026, was listed on September 10, 1979
National Register of Historic Places: Belle Isle:  Belle Isle was listed on February 25, 1974. http://www.detroittransithistory.info/index.html
Picture:  Ren Farley; August, 2014
Return to Public Art and Sculpture

Return to Homepage