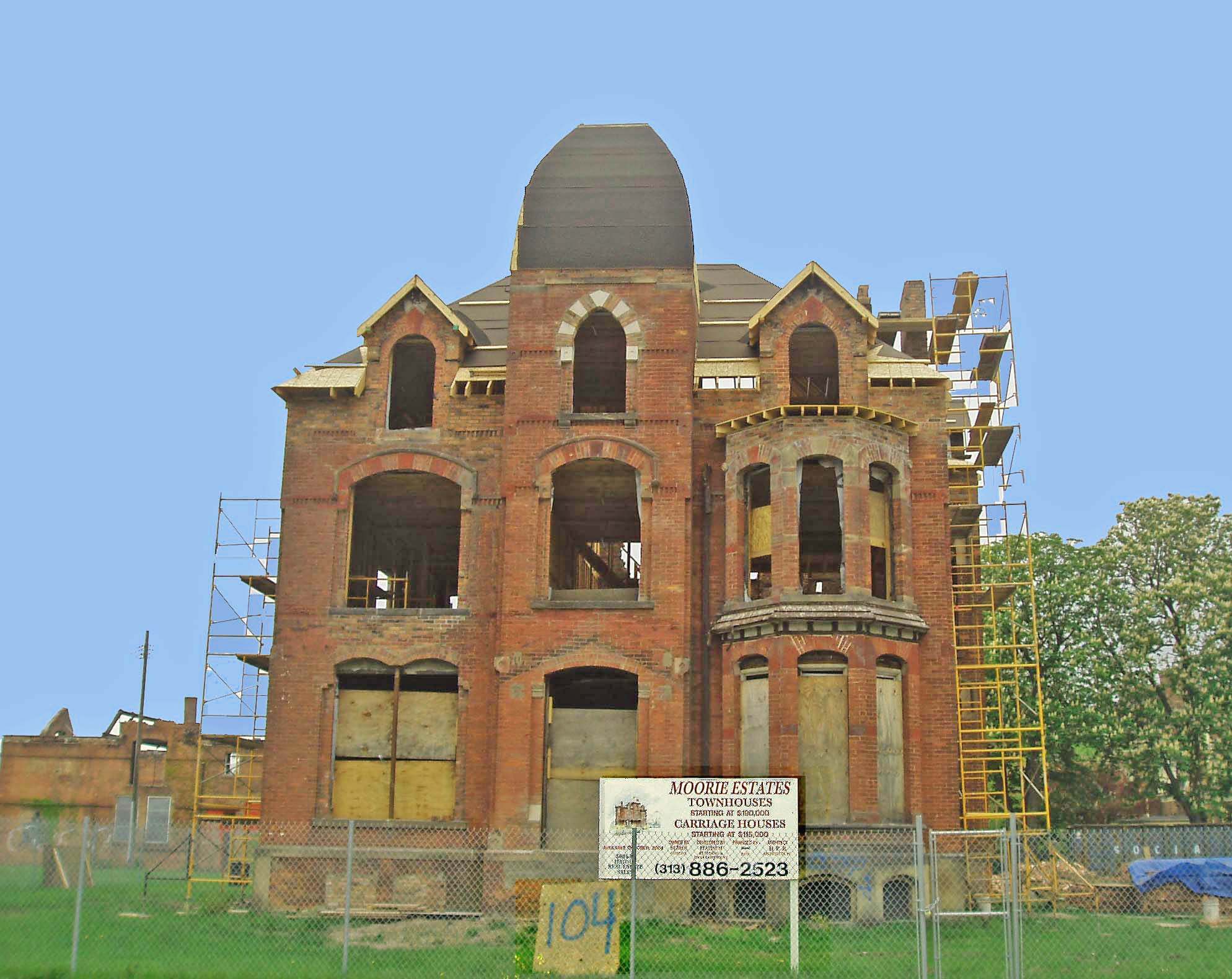 Lucien Moore Home
104 Edmund between Woodward and John R in Brush Park
This home illustrates the renovation process that is now reviving quite a few once-decaying neighborhoods in the Motor City. Lucien Moore earned his fortune in Michigan's lumber industry in the latter half of the 19th century. In the 1880s, he decided to build an elegant mansion in Detroit. The city's most prosperous families in that era could consider three different neighborhoods for their expensive homes: along East Jefferson, along Woodward up to what is now the Cultural Center or in Brush Park. It appears that Brush Park was the modal choice of many of the city's richest families. Moore built this seven thousand square foot Gothic style home with Renaissance influences. You see the impressive Gothic tower at the center of the home, numerous banded arches and colonettes. As was typical of that era in Detroit, the artistic brick work illustrates the accomplishments of talented crafts people.
By the 1920s, the prosperous families that built impressive homes in Brush Park were dying. The Victorian, Gothic and Queen Anne homes of this neighborhood were not particularly appealing to Detroit's prosperous families. Newer neighborhoods—Boston Edison, Indian Village and the Grosse Pointes—attracted those who made their fortunes in the vehicle industry. During the Depression decade, it was difficult to maintain the large homes of Brush Park, so many were subdivided into apartments, apartments that were readily filled in the next decades when thousands moved to the "Arsenal of Democracy" for defense industry jobs. The conversion of these elegant homes into rather high-density apartments compromised their appeal.
The post-World War II era was one of decline for most of Brush Park, and many of the most appealing homes fell into disrepair and were then razed. The neighborhood sunk to a nadir around 1990. Recent trends are much more optimistic. The population of the neighborhood seems to be rising.
Fortunately, the Lucien Moore home is now being restored to its original beauty. In 2005, the Home and Garden Television Network, the National Trust for Historic Preservation and the Comcast Cable Network selected this home for renovation, a processed assisted by various programs of the city of Detroit. Conrad Sosczynski of the Platinum Building and Development Corporation took the lead in converting the Lucien Moore home into six condominium units ranging in size from 1,100 to 1,800 square feet to be sold for $210,000 or more.
Date of construction: 1885
Architect: Unknown to me
Architectural style: Principally Gothic
Website for condominiums: www.platinumbldg.com
City of Detroit Local Historic District: The Lucien Moore home is within the Brush Park Local Historic District established by the City
of Detroit on January 23, 1980 and bounded by Woodward, Mack, Beaubien and the Fisher Freeway.
State of Michigan Registry of Historic Sites: The Lucien Moore home is with the Woodward East Historic District (P25292) established by the State of Michigan on September 17, 1974 including buildings in this area located on Alfred, Brush, Edmond, John R. and Watson.
National Register of Historic Places: The Lucien Moore home is with the Woodward East Historic District (#75000873) designated by the National Register of Historic Places in 1975 and with boundaries similar to the State of Michigan's Woodward East Historic District,
Use in 2006: Condominiums
Photograph: Ren Farley
Description: Prepared in November, 2005