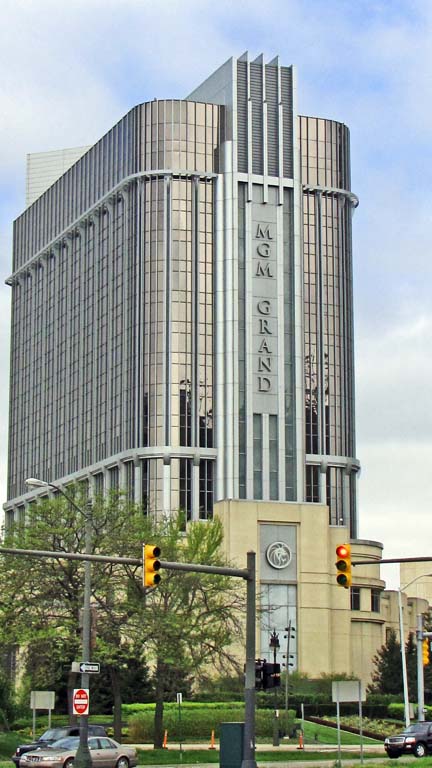 MGM Grand Detroit Casino
1777 Third Street near downtown Detroit
Coleman Young took office as Detroit's mayor on January 1, 1974 with a complete knowledge of the financial troubles that his city faced and its continuing rapid loss of population and economic activity.  He focused upon job creation in the city.  At that time, Atlantic City and Las Vegas were the only cities in the nation with large-scale casino gambling.  Mayor Young believed that Detroit should be added to that list.  He favored the construction of three major casinos.  In promoting these ideas, he and his staff suggested that each would employ upwards of four thousand workers and that each would build a major and architecturally significant 800-room hotel, generating a substantial number of jobs in construction.  They suggested that these casinos would make Detroit a major tourist destination.  Taxes from the gambling revenue would, it was suggested, reduce the city's income tax.  Furthermore, Coleman Young foresaw the building of casinos on a strip of land north of downtown, east of East Jefferson.  His promotion efforts encouraged the building of the massive Renaissance Center that was completed in 1977.  Immediately north of that would be the new casinos and their large hotels.  This might give downtown Detroit a prominence worthy of a major metropolis.

Although Coleman Young was elected mayor five times, he was not always completely popular with his constituants. He could rally them on Election Day with his strident criticisms of the largely white suburbs and the white suburban leaders.  Some consistently accused him of playing the "race card."  But in the neighborhoods of Detroit, Coleman Young was often criticized for focusing upon almost exclusively the interests of the city's biggest firms.   To create jobs, he encouraged razing the Poletown area for General Motors Hamtramck plant.  He was also successful in clearing away homes for Chrysler's North Jefferson plant.  Neighborhood leaders often felt Coleman Young placated a white business elite and was willing to meet their needs but not devote many dollars to a revitalization of the places where the low-income minority population of the city actually lived.  Frankly, he was unable to create many jobs for the city's many unskilled workers, to improve the quality of neighborhoods or public schools or to institute an effective transportation system.  While he gradually changed the color composition of the police force, it is less clear that Mayor Young was able to improve their effectiveness or end brutality.

Ministerial associations in Detroit generally opposed gambling and feared that the congregants might be impoverished rather than enriched by gambling.  They had many doubts about how Coleman Young was handling his job and argued that casino gambling in the city would encourage commercial sex and more drug use. They also stressed that the owners of the casinos, not Detroit residents, would be the major beneficiaries.  They insisted that the question of casino gambling be placed on the ballot.  I believe that Coleman Young saw this as a type of mono-a-mono competition and presumed that he could stress the job creation that would flow from casinos.   Voters faced the issue in the 1976 election and cast their ballots against gambling.  Mayor Young was unhappy and, as Detroit's loss of jobs accelerated, proposed once again that casinos were the answer.  The city's ministers once again got the issue in front of the city's voters and once again they sent Mayor Young a very strong message in a 1981 vote on the issue.

Given his diligence and persistence – and lacking other alternatives to increase employment in the city – Mayor Young continued to propose that casinos would solve many of the city's problems.  The intransient ministers continued their opposition and, in 1988, the voters turn them down a third time.

That was the end of Coleman Young's efforts to bring gambling to Detroit.  Coleman Young's substantial autobiography, Hard Stuff (with Lonnie Wheeler, New York: Penguin Books, 1994) does not mention his unsuccessful efforts to bring casino gambling to his home town.    In 1993, Judge Dennis Archer – whose style was extremely different from that of the confrontational Coleman Young – took office.  He, too, had few option about job creation is Detroit but he had a better working relationship with elected officials in Lansing.  In September, 1994 casino gambling opened in Windsor, Ontario. Soon large numbers  of Michigan residents were going to Canada every week to spend millions in casinos there.  The Governor of Michigan and the state legislature understood the tremendous number of Michigan dollars flowing into government coffers on the other side of the international border.

In 1996, voters in Michigan – not just Detroit – were asked to approve Proposal E, the Michigan Gaming Control and Revenue Act.  It was carefully crafted but had the specific purpose of allowing three large casinos to open in any city in Michigan that had a population of 800,000 or more and was within 100 miles of an international border.  Detroit, of course, was the only such place. The measure specified that 45 percent of the tax revenue from Detroit's gambling would go to the city for economic development while the other 55 percent would go to the state for public schools. Michigan voters approved and casino gambling came to Detroit.

Because the gambling industry is generally profitable, there was much controversy about who would own and operate the casinos leading to prolonged litigation.  But there were tremendous pressures for casinos to open quickly in order to stop the follow of dollars to Canada and to get underway before the vibrant opposition to obtain an injunction stopped the entire endeavor.   The three casinos opened in temporary quarters in 1999.  MGM took over a former Internal Revenue Building on Michigan Avenue just south of its intersection with Washington Boulevard.  This building still stands and may be converted, at some future and more prosperous date, into a new home for the Detroit police and fire departments.  One of the other casinos, Motor City, is owned by the Illitch family while the Greektown Casino was originally owned by the Sault-Ste-Marie tribe of Chippawa Indians.  However, that casino ran into financial difficulties, entered bankruptcy and was sold.

The idea of placing casinos in the space between East Jefferson and the Detroit River quickly lost favor.  Increasingly, planners and residents realized that the riverfront was one of the city's most valuable assets.  The Renaissance Center, as originally constructed, walled off downtown Detroit from the river.  A continuous strip of high rise casinos and hotels would have extended the "wall" that isolated the city of Detroit from its river. 

The casino owners had to find other locations.  MGM elected this site just southwest of downtown on a 25 acre site.  There is an 18 story luxury hotel here but with just 400 rooms, rather than the 800 Mayor Young envisioned.  The base for the hotel may resemble limestone but it is precast concrete.

There are eight casinos in Michigan outside Detroit.  These result from the Indian Gaming Regulatory Act that Congress passed in 1988 enabling many bands of Indians to establish casinos.  Given the rapid fall of tax revenue in Michigan since 2008 and the need to lay off many teachers, it is not surprising that advocates are proposing building more casinos around the state.  The state's voters in the fall of 2012 may be asked to approve new legislation that would permit four to eight additional casinos.  I imagine that the owners of the Detroit casinos will attempt to thwart those efforts.

Gambling casinos have been open in Detroit since 1999.  Have they been beneficial?  I do not know of any authoritative study  that examines trends in employment, tax revenues and tourism receipts.  The casinos, along with the new stadia for the Detroit Lions and Detroit Tigers, have helped to make downtown Detroit as recreational and entertainment spot.  Fifteen years ago, some or many suburban residents may have been hesitant to visit downtown Detroit after dark fearing crime.  That is no longer so true.  There is now a very vibrant array of night clubs, music spots, bars and restaurants downtown.  Employment in the traditional downtown may also be increasing with the recent arrival of many Quicken Loans and Blue Cross-Blue Shield employees.  It may be challenging to detect the specific contributions of the casinos to the revival of downtown Detroit.  I think their role has been positive and the city's income tax rate was reduced at least once due to revenues from casinos.
Date of completion: 2007
Architects: Hamilton Anderson Associates and Smith Group
Architectural style: Neo Art Deco as applied in the Las Vegas Casino style
Use in 2012: Gambling casino and hotel complex
City of Detroit Designated Historic District: Not listed
State of Michigan Register of Historic Sites: Not listed
National Register of Historic Places: Not listed
Photograph: Ren Farley; April 21, 2012
Description prepared: April, 2012
Return to Commercial Sites

Return to Hotels

Return to Home Page