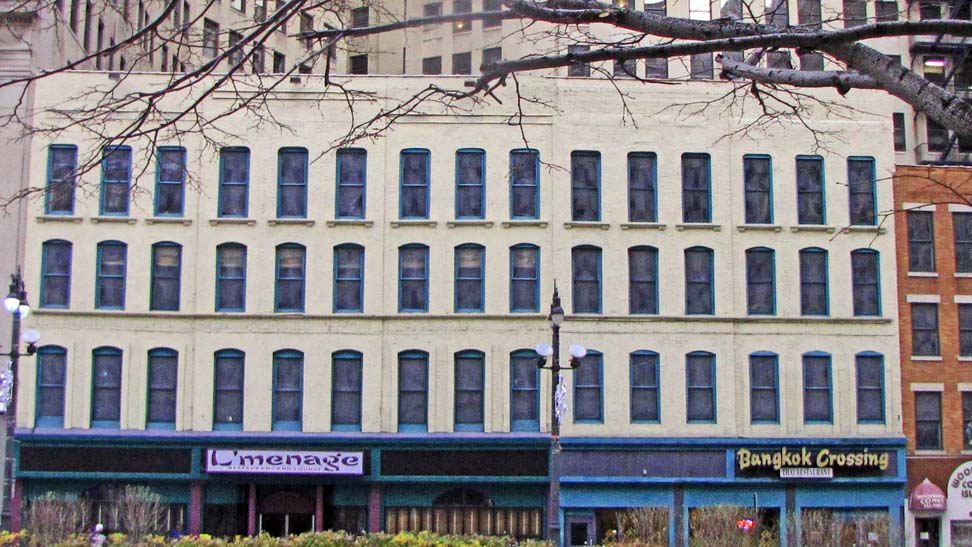 Christopher R. Mabley and Company Buildings
620 and 630 Woodward in downtown Detroit
These five buildings contrast with the huge First National Bank than looms over them. In 1870, Detroit was just emerging as an industrial and commercial center, thanks to its ideal transportation location. Almost all employment activity was near the riverfront. I do not know the origin of Mr. Mabley but he rapidly rose in the ranks of Detroit merchants. In 1870 he established a retail business at this location. Apparently, he specialized in habadashery and clothes although I have read that his firm was a department store. I do not know when the term department store came into use.

There are two buildings at the 620 Woodward address built for Mabley and Company vetween 1876 to 1880. And then there are three more buildings, built for the Mabley firm, that use the 630 Woodward address. Although they are distinct building, I believe they were designed to be used together.  All of them are wood frame four story buildings. I presume that the first floor was used for retail sales with one or more of the upper floors used for storage of items to be sold. Perhaps the upper levels were apartments. By 1876, Mabley and Company was one of the larger retail outlets in Michigan. Presumably Mr. Mabley built a home for his family somewhere nearby.

Mr. Mabley's firm survived until 1929. This may explain the peculiar shape of the lot occupied by the First National Bank  Building.  Fewer than fifty years separate the erection of the Mabley complex and the construction of the First National Bank. The classical style bank with its elegant features borrowed from Greek ideals,  contrasts with the attractive but much more modest structures that served the Mabley company. The buildings you see pictured above apparently once had much more embellishment on their Woodward Avenue front but they were removed in a 1918 renovation.

To the immediate east of the Mabley buildings, is the Vinton Company building at 616 Woodward, erected in 1880. To the east of that building is the Traub Brothers Jewelry Building at 612 Woodward, built in 1879 and used for several decades by the Grand Trunk Western Railroad as their downtown ticket office. To the east of that is the Martin Limbach Harware Building built in 1877. The Vinton Building at the corner of Woodward and Larned is a newcomer – a skyscraper designed by Albert Kahn and completed in 1917. Thus between Kahn's Vinton Buidling and his First National Bank Building, you find eight buildings that represent what downtown architecture in Detroit looked like in the decades following the Civil War when the city joined the ranks of the nation's leading metropolises.

Architect:  Unknown to me
Dates of construction: 1876 to 1880
Architectural style: Venacular
Use in 2010:  The ground floor space at 630 Woodward is occupied by Bangkok Crossing
Restaurant. The ground floor space at 620 Woodward is occupied by the Good Life Lounge
City of Detroit Designated Historic District: Not listed
State of Michigan Registry of Historic Sites: Not listed
National Register of Historic Places:  These buildings are included within the Detroit Financial Historic District; # 09001067,
Listed December 24, 2009.
Photograph: Ren Farley; November 20, 2010
Description prepared: November, 2010
Return to Commercial Buildings


Return to Homepage