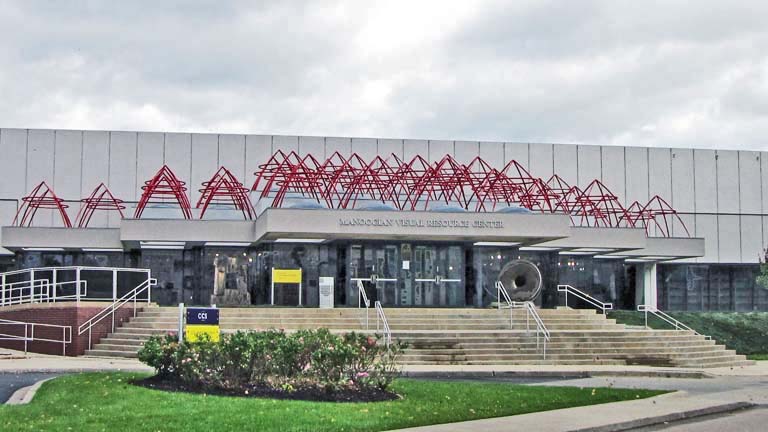 Manoogian Visual Resource Center
301 Frederick Douglas. on the Josephine Ford Campus of the
College for Creative Studies in Detroit's New Center Area

This attractive building opened in 1997.  Unfortunately I do not know which architect designed it.  The structure currently is home to the College for Creative Studies' Center Galleries which displays the creative work of CCS alumni and faculty.  These galleries are open to the public.  The CCS library is also located in this edifice.

Alexander Manoogian was born in the Armenia area of Turkey in 1901.  He fled Turkey during the period of genocide that led to the deaths of many Armenians and arrived in the United States in 1920.  He began working as a machinist in New England manufacturing shops, but in 1924, decided to move to Detroit where the booming vehicle industry appeared to offer unlimited opportunities.  He began making parts for auto firms and, by the mid-1930s, was running a successful large firm.  He is best known for his invention of the one-handed Delta Faucet that allows you to easily select the temperature of the water.  Previous faucets demanded the use of one hand for cold water and one hand for hot.  His firm—Masco Corporation now located in Taylor—prospered making plumbing equipments and other products.

Alex Manoogian died in 1996 after having very generously supported Armenian school and Armenian cultural institutions around the world, as well as Wayne State University and the College for Creative Studies in Detroit.  Alex Manoogian donated his mansion on the Detroit River to the city for use as the mayor's residence.
Date of construction: 1997
Architect: Unknown to me
Use in 2011:  It serves as an art gallery and library
City of Detroit Designated Historic District: Not listed
State of Michigan Registry of Historic Sites: Not listed
National Register of Historic Places: Not listed
Photograph:  Ren Farley; November 15, 2011
Description prepared: October, 2011
Return to Education

Return to Homepage