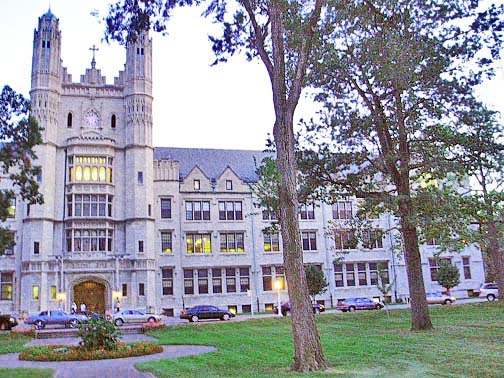 Marygrove College
8425 West McNichols Road at Wyoming in northwest Detroit
This college has a very attractive, and for most of the year, an extremely green campus. You might not expect to find a beautiful campus for a small liberal arts college in bustling Detroit. But Marygrove is such a place. In 1845, a Belgian missionary priest, Louis Florent Gilet, cared for the religious needs of Catholics living in Monroe, Michigan. He wished to establish an elementary school, so he recruited nuns to serve as teachers. Fortunately for him, he found three nuns in Baltimore who were willing to travel to remote Michigan. One of them, Theresa Maxis, was serving as president of a Catholic order of black nuns, the Oblate Sisters of Providence. Sister Maxis was a Haitian woman. When she arrived in Monroe, she and the other two nuns established a new order of nuns called the Sister Servants of the Immaculate Heart of Mary: the IHM sisters. Sister Theresa Maxis was recently elected to the Monroe County Hall of Fame.
One of their early activities in Monroe was to established a young ladies academy. St. Mary's Academy opened in January, 1846. St. Mary's prospered and the IMH order of nuns grew rapidly. As the Catholic population of southeast Michigan boomed, many Catholic pastors sought to establish elementary schools, and then later, some of them created small high schools. IMH nuns were recruited to staff many of these schools in southeast Michigan and in neighboring states.
In 1905, the nuns established St. Mary's College in Monroe to train nuns and others for classroom teaching. The college received state accreditation in 1910, and four years later, their teacher training program was certified by state authorities. As the Catholic population grew and became more prosperous thanks to the burgeoning vehicle industry, more parochial schools were opened and more women joined the IHM order of nuns. It appears that quite a few second-generation immigrant Catholic women found it appealing to take religious vows and then serve as a teacher or health care worker.
In the 1920s, it became apparent that St. Mary's College was outgrowing its facilities in Monroe and that Detroit would be a more desirable site. In 1922, with the assistance of the bishop in Detroit, the IHM nuns purchased an 80-acre wooded area at the corner of Six Mile Road (now McNichols) and Wyoming. Contributions were sought to erect two impressive collegiate buildings: the Liberal Arts Building and Madame Cadillac Hall. Fundraising was not totally successful, but the IHM nuns borrowed four million dollars from banks. The cornerstone for the first building was laid in 1925, and in 1927, the college opened in Detroit with a new name: Marygrove College. This was a Catholic liberal arts college for women with an emphasis on training teachers. Their first president, however, was a layman.
The economic boom that began during World War II and persisted for two decades thereafter had beneficial effects in many different areas. The post-war baby boom meant that there were numerous children to fill the new schools built in the growing suburbs. Prosperous Catholics funded the construction of many churches and their parochial schools. Many young Catholic women in this era found it appealing to become a nun, so the ranks of the IHM sisters grew rapidly. And the expanded schools provided them with employment opportunities. Quite a few young girls in the Detroit area had the opportunity to attend an elementary school staffed by IHM sisters, then a high school with the same order of nuns as teachers. Some of them were recruited to attend Marygrove College with its pleasant setting in northwest Detroit.
A variety of major changes occurred after the Civil Rights decade of the 1960s. The Catholic population moved away from the city of Detroit toward the outer suburbs. The Vatican II synod of the Catholic Church changed no theological doctrines, but was followed by substantial shifts in religious practices and traditions. After the racial violence of 1967, I suspect that many suburban Catholic parents questioned the wisdom of sending their daughters to a small college located within Detroit. The appeal of serving as a nun decreased after social values changed and women began entering many rewarding professions in addition to classroom teaching. Many of the elementary and secondary schools staffed by IHM nuns closed for financial reasons and for a lack of teaching sisters.
I believe that Marygrove College went through a challenging period for quite a few years, but then the administration refocused their efforts on providing liberal arts college training for graduates of the high schools of the city of Detroit. Apparently, it remains a value-oriented college with a predominantly African-American enrollment with, perhaps, 800 on-campus undergraduate students, 600 or so master's degree students and a teacher training program that may enroll 1,500 or more. At some point, the college began accepting men and now has intercollegiate basketball teams for both sexes.
There are several buildings on this appealing campus, but the two most important ones were built in the mid-1920s: the Liberal Arts Building pictured above and the adjoining Madam Cadillac Hall. These are Tudor Gothic or Collegiate Gothic structures built with Indiana Olithic limestone. Vermont slate was used for the roofs. The website listed below provides an immense array of information about the architecture on this campus and the numerous statues that honor religious and lay dignitaries. Antoine Cadillac intended to establish a city in Detroit when he arrived in 1701, not just a trading post or military fort. His wife traveled from Montreal to Detroit to join him less than a year after his arrival, making her the first European woman to live here. So far as I know, Madam Cadillac Hall and the Marygrove statue of her, are the only memorials to her role in the founding of the Motor City. I do not know of any other buildings in Detroit designed by Oscar Bohlen, but he did an excellent job with this campus. He preserved the many green trees and designed an appropriate Gothic gate in stone for Marygrove College. Bohlen was an Indianapolis architect and much of that firm's work was in Indiana. The firm was founded in 1853 and continued to operate in 2016.
Marygrove College is located in the Fitzgerald neighborhood of Detroit. That area is bounded by West McNichols on the north, Wyoming on the west, Fenkell on the south and Livernois on the east. Similar to many other neighborhoods, the population declined rapidly after about 1970 and, following the economic crisis that began in 2008, numerous homes went into foreclosure. With the arrival of the Duggan administration and the end of Detroit's bankruptcy, the city placed a new emphasis on neighborhood stabalization and revival. In the summer of 2016, the city announced that eight million dollars would be spent to renovate 100 homes that had a future and that 247 vacant lots would be cleared for use as playgrounds, gardens and orchards.
Architect: Oscar D. Bohlen
Date of Construction: 1925 to 1927
Architectural style: Tudor Gothic
Website for Marygrove College: http://www.marygrove.edu/home_fl.html
Architecture of the Liberal Arts Building: http://puka.cs.waikato.ac.nz/cgi-bin/cic/library?a=d&d=p1081
Website for the Sister Servants of the Immaculate Heart of Mary: http://www.ihmsisters.org/www/home.asp
Use in 2009: Liberal arts college
City of Detroit Designated Historic District: Not listed
State of Michigan Registry of Historic Places: Not listed
National Register of Historic Sites: Not listed
Photograph: Ren Farley
Description updated: November, 2016
Return to Race in Detroit's History