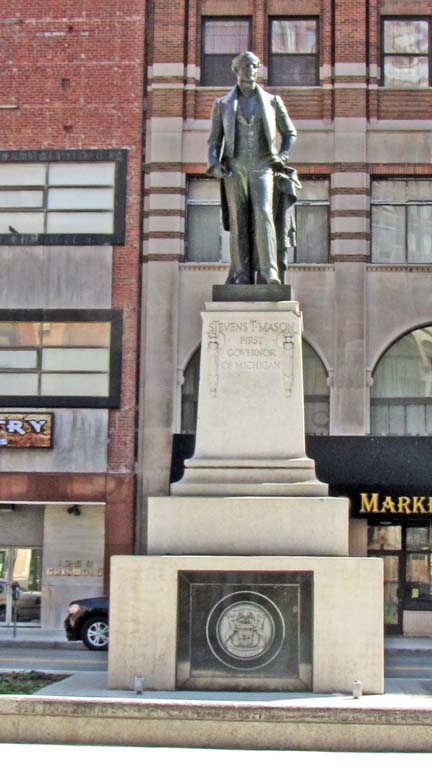 Stevens Thompson Mason Statue
Located in Capitol Park at the intersection of Griswold Street
and State Street in downtown Detroit
Michigan became a state in the 1830s and the Upper Peninsula is now a component of Michigan because of the tremendous efforts of Stevens T. Mason. Our state's hero was born in Virginia in 1811 into the prosperous and politically well-connected Mason family. His great grandfather was a friend of President Washington and his father was a good friend of Old Hickory, President Andrew Jackson. Mason's father moved to Kentucky while Stevens Mason was young. He intended to practice law and develop businesses in Lexington. He was not very successful In Kentucky, Michigan's future governor studied classical languages and philosophy at Transylvania University in Lexington but had to drop out because of his family's financial problems. Stevens Mason's father, John T. Mason, eventually realized that he needed to find work. Using his family connection and his friendship with the nation's Postmaster General, he was able to get a job. President Jackson who appointed him to be secretary of the Michigan territory in the spring of 1830. Michigan was a rather remote and unimportant area so this was hardly a plum job. John Mason got to Detroit—the territorial capital in 1830—but found that he was hardly welcomed by Lewis Cass and other powerful officials. They generally opposed President Jackson and his appointees. John Mason may have also realized that he was not well qualified for the Michigan political scene and, in 1831, he left the job to seek his fortune in Texas. Stevens T. Mason, however, came to the attention of Lewis Cass who developed a very favorable view of him and his talents. This may help to explain his rapid rise. That is, after the older Mason left Michigan, President Jackson waited some time and then appointed Stevens T. Mason as secretary of the Michigan territory. He was confirmed by the United States Senate as secretary of Michigan territory on May 24, 1832. At that time he was only 19.
Lewis Cass, who had been serving as Governor of Michigan territory, quit that job to accept an appointment as President Jackson's Secretary of War. Jackson then selected George B. Porter of Pennsylvania to replace territorial governor, Lewis Gilbert. Porter came from a prosperous, even aristocratic Pennsylvania family. He got to Detroit in the fall of 1831 and found that Stevens T. Mason was acting as governor of the territory in the absence of Lewis Cass even though he had yet to be formally confirmed as Secretary of Michigan by the Senate.. Porter, apparently, thought that Detroit was an extremely unattractive village, lacking the amenities that he enjoyed back in his sophisticated and prosperous home state. He left Michigan for as long as possible. I believe that he spent much more time away from Michigan than in the state. He did return for a brief visit in 1834, caught the Asian cholera that was then spreading throughout Midwestern cities. He died of the disease in July, 1834. Mason took over as acting governor at age 22. He was not officially appointed by President Jackson and the US Senate, but neither was anyone else, so Mason was accepted as the governor. Eventually, President Jackson appointed Mason territorial governor. Mason devoted the next three years to getting Michigan into the Union as a state.
Next came the Toledo War. When Congress passed the Northwest Territories Act in 1787, they laid out a governmental system for the area that now includes Ohio, Indiana, Illinois, Michigan and Wisconsin. They specified that three to five new states would eventually be created in the area. Using a map drawn in 1755 by British surveyor John Mitchell, they assumed that an east-west line tangent to the southern-most point of Lake Michigan would divide some southern states from possible northern states. The map was not accurate, but Congress devoted little attention to such a dividing line in 1787. Ohio became a state in 1803, and in 1805, Congress established Michigan as a territory. At the time, they continued to use the line surveyed by John Mitchell six decades earlier. Such a line unambiguously placed the mouth of the Maumee River in Michigan.
At this time, the area around the mouth of the Maumee was presumed to be a worthless swamp. There were a few settlers, and after 1805, Michigan officials administered whatever government was need in that area. Later, a small village grew up at the mouth of the Maumee originally called Port Lawrence, but by the 1830s, it was known as Toledo. The Midwestern population—especially Michigan's—began to grow after the opening of the Erie Canal in 1825. The success of that waterway led the Midwestern states to propose numerous canals and to build a few. Canals, at the time, were seen as keys to economic development. Ohio proposed to join with Indiana in building a canal to link the Maumee and Wabash Rivers. People and produce could then cross New York on the Erie Canal, be transported across Lake Erie to the mouth of the Maumee, then to the Wabash River and on to Evansville for further transport on the Ohio and Mississippi. Promoters of the canal assumed that massive amounts of tonnage and a large number of passengers would pass through the Maumee River.
The map that John Mitchell drew in 1755 was not very accurate and some of the surveying that Congress relied upon for drawing a line between the state of Ohio and Michigan territory was ambiguous about whether the mouth of the Maumee was in Ohio or in Michigan. Michigan claimed the land, arguing that Congress, in both 1787 and 1805, had assigned Toledo to Michigan and that the territory had administered government in the area for almost thirty years. Ohio officials, especially Governor Lucas, argued that Michigan was a territory and therefore was totally administered by the federal government. As the Toledo strip became more valuable for Ohio, that state sent officials to administer local government there.
Governor Mason, then approaching age 23, had the Michigan territorial legislature meet in Detroit and enact a Pains and Penalties Act in February, 1835. This gave Michigan officials the right to arrest anyone from another state who tried to act as a governmental officer in the state of Michigan. In April, 1835, Governor Lucas of Ohio announced that he would soon send out a surveying team to establish, for once and for all, an accurate line between Ohio and Michigan, one that would extend from the Indiana line to Lake Erie. It is important to note that both Indiana and Illinois had abrogated the 1755 Mitchell line when they were admitted to the Union. Indiana wanted to have a port on Lake Michigan so they extended their northern boundary north about ten miles, taking land away from Michigan territory. Illinois went further and extended their northern border sixty miles north of the southern-most point in Lake Michigan.
Governor Mason was viewed as a hothead. The eastern press nicknamed him Hotspur after the role of Sir Henry Percy in Shakespeare's Henry IV. When he assumed the territory's highest office, an Ann Arbor newspaper editor called him the "Boy Governor." He did not like that adjective. A week later, Mason saw the editor in Detroit and punched him. Apparently, Mason got into three fist fights in two weeks and had to post $500 bond. In early April, Governor Mason announced that if any Ohio surveyors came into Michigan, they would be arrested for violating the Pains and Penalties Act. He sought to raise a militia to hunt for such surveyors and bring them to justice.

On April 6, 1835, Ohio officials administered local elections in Toledo, staking out a claim for the area. On April 26, 1835, a group of Michigan militia men, commanded by Joseph W. Brown, came upon Ohio's surveyors just south of Adrian, Michigan. It was a Sunday morning so no one was marking lines, but the Michigan militia chased the Ohio team back to Toledo. It is possible, but not certain, that shots were fired over the heads of the fleeing Ohioans. This is known as the "Battle of Phillips Corners" and was the first—and only— skirmish of the Toledo War. Two months later, the Ohio legislature established Lucas County with Toledo as its seat. Governor Lucas announced that an Ohio court would meet in Toledo on September 7, 1835. This would prove to any skeptics in Congress that Ohio was governing the area.

Throughout the summer of 1835, deputies from Monroe County went into Toledo and arrested Ohio governmental officials who were brought to Monroe, held briefly and then released. The only injury of the war occurred that summer. Benjamin Stickney was a popular figure in Toledo who strongly supported Ohio's claim. He was, apparently, an extreme character. He believed, for instance, that children should select their own names when they grew older. He had two children: One and Two. Two shared his father's sympathies for Ohio, and on July 15, 1835, Monroe County deputy sheriff Wood sought to arrest him. Two pulled out a knife and slashed the deputy. Sheriff Wood presumed that he was about to die, but the only wound of the Toledo War was not serious.
Knowing that an Ohio court would sit at Toledo on September 7, Governor Mason called for a force of Michigan militamen who would march to Toledo to prevent Ohio judges from doing anything. Mason talked about raising 1,200 men and using large guns, but the number who joined Commander Joseph Brown on his march from Monroe to Toledo was really much lower. Ohio officials outfoxed the forces of Governor Mason. Governor Lucas had a group of Ohio judges and court officials meet in Maumee on September 6. Shortly after midnight, they rode eight miles from their location to Toledo where the Ohio court sat for 10 minutes in a school with blacked out windows. Several official papers were duly signed to prove that the court really met in Toledo in Lucas County. Ohio. Seeing no Michigan troops around, the Ohio judges woke up a local tavern keeper and enjoyed the distiller's products before riding back to Maumee, Ohio. On September 7, Michigan Commander Brown led his forces into Toledo only to learn that the court had already met and conducted its business.
This marked the end of violence in the Toledo War. Governor Mason called a constitutional convention in Michigan, drew up a very liberal constitution and submitted it to a vote of Michigan residents on October 5, 1835. They ratified it, and simultaneously elected a Michigan representative to Congress. The territorial legislature then appointed two men to represent Michigan in the United States Senate. Most territories first sought approval from Congress to become a state, then drew up a constitution and elected officials. Tennessee, however, in 1796, did what Michigan did in 1835. Governor Mason thought that Tennessee's actions were a precedent and expected Michigan to become a state as of November 1.
Congress, in Washington, refused to seat the Michigan delegates. Ohio representatives in Congress were not going to permit Michigan to join the Union unless it renounced its claim for Toledo. For his role in these endeavors, President Jackson fired territorial governor Mason. However, the citizens of Michigan elected Mason their governor, so he continued in office. President Jackson appointed a Pennsylvania man, Charles Shaler, as governor of the Michigan territory. Shaler turned down the job. Jackson then appointed a Virginia man, John Scott Horner, to govern the Michigan territory. Horner eventually got to Michigan, but found that no one would accept him as their governor. On his first day in Michigan, he could not locate a place to stay. He eventually obtained lodging in Ypsilanti. One of his first acts was to pardon all those Ohio residents who had been arrested for violating Michigan's Pains and Penalties Act. Ypsilanti residents found out about this, confined him to his lodging house and then pelted it with rotten eggs, stones and horse dung. Horner kept a low profile and eventually got back to Virginia in one piece.

Lucius Lyon was one of the two Michigan senators rejected by the US Senate. A savvy and politically astute man, he quickly learned that Michigan would never be admitted if it persisted in claiming Toledo. The interests of Ohio were strongly backed by Indiana and Illinois. Furthermore, Andy Jackson had picked Martin Van Buren as his successor. He knew that if he did anything in 1836 to upset Ohio residents, his party would lose that state's key electoral votes. Michigan lobbied diligently for statehood, and, in mid-1836, Congress agreed to admit Arkansas as a slave state and Michigan as a free state if a legally constituted convention of Michigan residents would ratify the boundary line that Ohio established. Lucius Lyon had skills as a surveyor and he and Lewis Cass had traveled extensively in the Upper Peninsula where Indians told them about the lodes of copper. Lyon may have realized that the Upper Peninsula could become a valuable area. Apparently, he told many members of Congress in 1836 that if Michigan had to give up Toledo, the state should get the Upper Peninsula. Wisconsin was a sparsely populated territory and did not resist since it was widely believed that the Upper Peninsula was fit only for Eskimos and Polar Bears.
Governor Mason called the Michigan convention that Congress required for September 25, 1836 in Ann Arbor. Most Michigan residents apparently felt that the territory should not relinquish its claim on Toledo just to become a state. The delegates voted against giving up Toledo, seemingly ending Michigan's quest for statehood. Governor Mason strongly upheld Michigan's legal claim for Toledo, but was a realist. The federal treasury had a surplus and President Jackson intended to distribute it to states before he left office in March, 1837. States—but not territories—would share the federal dollars. Michigan would get $400,000 and would derive funds from the sale of government lands if it were a state. It would get nothing if it remained a territory. Governor Mason called another convention for Ann Arbor for December 14, 1836. Apparently he strategically picked delegates who would support statehood and was not upset by the fact that some of the strongest defender's of Michigan's claim to Toledo boycotted the convention. This is known as The Frostbitten Convention because of the cold weather and poor heating in Ann Arbor that December. This convention approved the compromise that gave Toledo to Ohio. Many in Michigan assumed that once Michigan became a state, they would have standing to sue Ohio in the Supreme Court about the boundary. That did not happen for 13 decades. By the 1840s, it was becoming apparent that canals were not as efficient or flexible as railroads. The canal building boom was over and there was no need for a Toledo War.
Governor Mason had a successful year in 1836. Not only did he avoid bloodshed with Ohio, he made the political decision that got Michigan into the Union. That is, Congress approved the admission of Michigan on January 26, 1837. He also married a New York socialite. Mason was reelected governor in 1837 and undertook a massive program of infrastructure improvements calling for roads, railroads, the building of a canal at Sault Ste Marie, a free school system and the development of the University of Michigan in Ann Arbor. Many of these were to be funded by state-backed bonds. Alas, the national fiscal panic of 1837 had devastating effects on the young state's economy. Governor Mason found it difficult or impossible to sell the internal improvement bonds he had promoted. The state's financial situation deteriorated and Governor Mason got the blame. He decided not to stand for reelection for a third term in 1839. By the time he left Detroit in 1840, he was described as a broken man. He moved to New York City to practice law, but was not very successful. He caught pneumonia and died in 1843 at age 31.
The exact border between Ohio and Michigan was not settled in 1836. There was disagreement about where the line passed through numerous farms and townships. In 1915, the two states agreed to another survey. That settled the conflict about land, but not about water. After World War II, geologists presumed that some of the land under Lake Erie near the mouth of the Maumee contained gas or oil. Both states claimed about a 200-square-mile section of that Lake near Toledo. Michigan sued Ohio about this area. Suits between the states are heard only in the Supreme Court. In 1967, that body ruled in favor of Ohio, but Michigan was not happy with that decision. Michigan took the matter back to the highest court in 1971. The Supreme Court appointed a special master who consulted the survey lines. In 1973, that court upheld Ohio's claim to the disputed area.
Surveys over the years have created Michigan's Lost Peninsula. That is, there is a small peninsula projecting into Lake Erie near the mouth of the Maumee River and also close to the mouth of the Ottawa River, an area of 240 acres. This is part of the state of Michigan but to enter it by land, you must travel through Ohio and Toledo.
To celebrate the 100th anniversary of Michigan's becoming a territory, Steven T. Mason's body was taken from its burial place in New York and interred underneath the statue you see above. This is at almost the exact spot where the Michigan territorial capitol stood when Stevens T,Mason was governor. The Great Seal of the State of Michigan shows the date Mason selected as the day when the state joined the Union: November 2, 1835. However, Congress did not actually approve the admission of Michigan as a state until January 26, 1837.
In early 2013, the University of Michigan Press published an impressive and very information new biography of Michigan's Boy Governor.
Sculptor: Albert Weinger
Date of Statue: 1908
Book about Stevens T.Mason: The Toledo War: The First Michigan-Ohio Rivalry, by Don Faber (Ann Arbor: University of Michigan Press, 2008)
Biography of Stevens T. Mason: The Boy Governor: Stevens T. Mason and the Birth of Michigan Politics by Dan Faber (Ann Arbor: University of Michigan Press, 2013)
City of Detroit Local Historic District: Not listed
State of Michigan Registry of Historic Sites: Not listed
National Registry of Historic Places. The statue of Governor Mason is located with the Capitol Park Historic District (#99000338) established March 18, 1999 and bounded, roughly, by Clifford, Michigan, Washington and Woodward.
Photograph: Ren Farley; April, 2002
Description updated: February, 2013
Return to Public Art and Sculpture