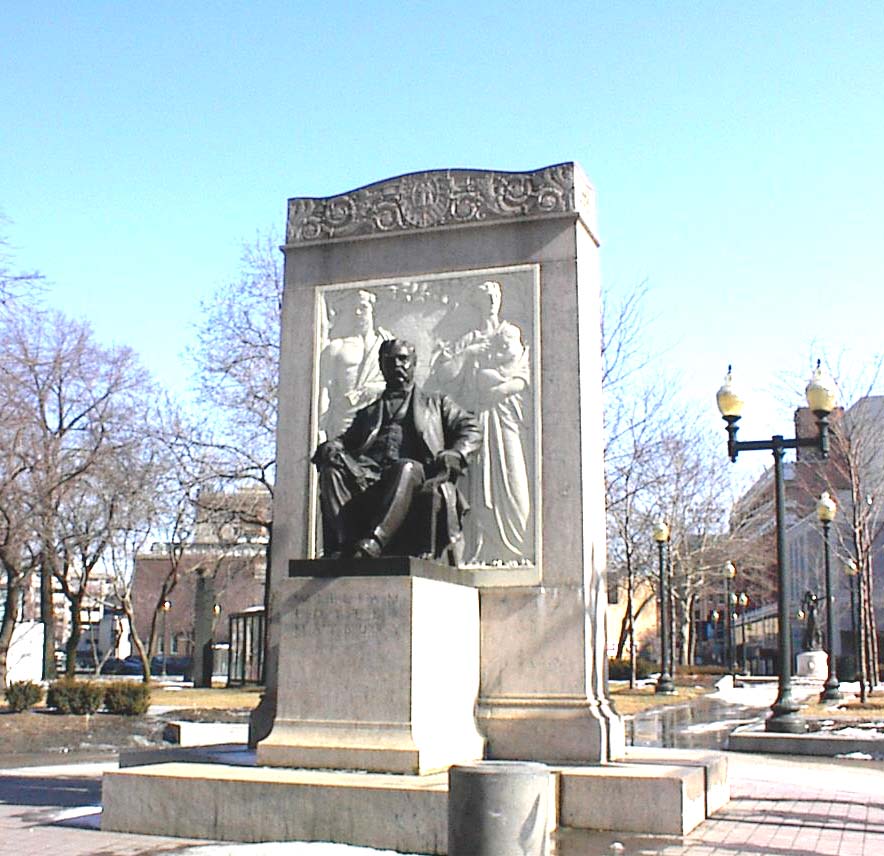 William Cotter Maybury Monument
East side of Grand Circus Park near the intersection of
Woodward and East Adams in downtown Detroit

Detroit is a city of monuments—some of them elegant representing the ken of the greatest sculptors, including Rodin's The Thinker at the Detroit Institute of Art and Calder whose Jeune Fille et Sa Suite is at Michigan and Cass. Others are more humble, such as the modest one at 12th and Clairemont memorializing the starting point of the 1967 riot. Detroit's wealth of public sculpture continues to increase with the unveiling of the new Cadillac and Underground Railroad sculptors in Hart Plaza in 2001 and, in 2003, the new memorial to the city's labor movement will be completed.
William Cotter Maybury was born in Detroit in 1848, graduated from the University of Michigan in 1870 and obtained his certificate from that University's law program the next year. He served as city attorney from 1876 to 1880 and then was elected to represent Detroit in Congress where he served two terms from 1883 to 1887. He did not run for reelection; returned to Detroit to practice law. He served as the city's 45th mayor, holding that office from 1897 to 1905 and then died in 1909.
Adolph Alexander Weinman, who was born in Germany in 1870 and came to the US a decade later, executed this classical statue. He studied with two of that era's most prominent sculptors: Daniel Chester French who crafted the nearby beautiful personification of the State of Michigan in Russell Alger Memorial Fountain and Augustus Saint Gaudens. Weinman presents us with a thoughtful but relaxed Mayor Maybury. Behind him is an idealized presentation of the family done in the classical Greek style. Note that the Greek style was used for many of the nation's prominent government buildings early in the 19th century thanks, in large part, to Thomas Jefferson's advocacy. The Greek style emerged in sculpture toward the end of that century as represented in this piece. There is one other Weinman statue in Detroit—the nearby state of General Macomb—a hero of the War of 1812—at the intersection of Washington Boulevard and Michigan.
Date of Unveiling: 1912
Sculptor: Adolph Alexander Weinman
Materials: Bronze was used for the statue of Mayor Maybury. The relief behind him is in marble. I believe that the base is granite.
Return to Public Art and Sculpture