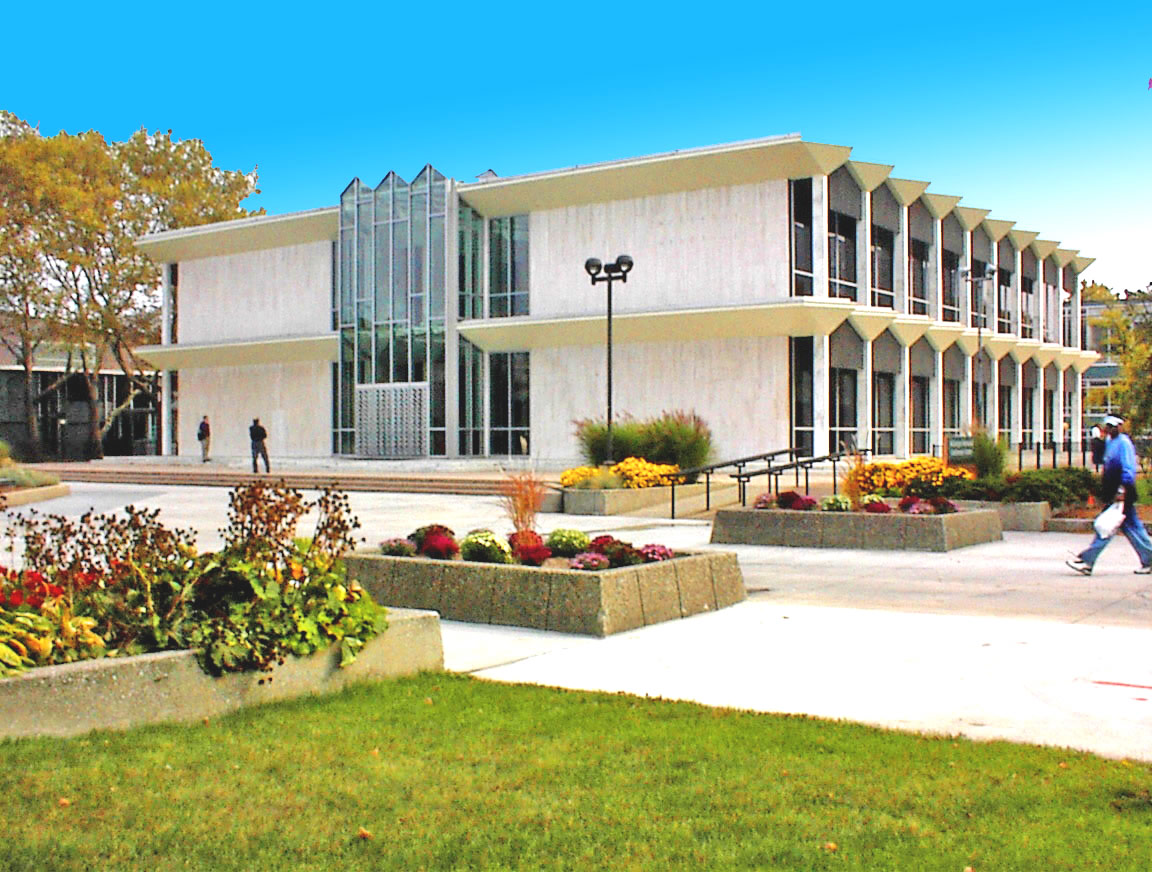 McGreagor Memorial Conference Center
495 Ferry Mall on the Wayne State University Campus
As David Gallagher states in his AIADetroit guidebook to the city's architecture, this may be among the more attractive buildings in Detroit. Other candidates might include the Michigan Consolidated Gas Building at Woodward and Jefferson, the addition to the Federal Research Bank on Fort Street, the tinker-toy-like College for Creative Studies Building in the Cultural Center—and this one. This building may be the easiest to appreciate. It is a two-story, very light-looking structure with an extremely interesting exterior. The interior is equally attractive with conference rooms on either side of a large hall with a skylight. David Gallagher observes that it seems like a "modern gothic cathedral in miniature."

An unusual array of extremely skilled and innovative architects used the Detroit area as their base in the Twentieth Century, including Albert Kahn whose contributions hastened efficient industrial production, Eliel Saarinen and his son Eero Saarinen, Wirt Rowland who designed the Guardian Building and C. Howard Crane, the imaginative designer of hundreds of movie palaces across the nation. Minoru Yamasaki is also a member of the group of productive and creative architects. The son of Japanese immigrants, he was born in Seattle in 1912. He studied at the University of Washington and graduated with a degree in architect in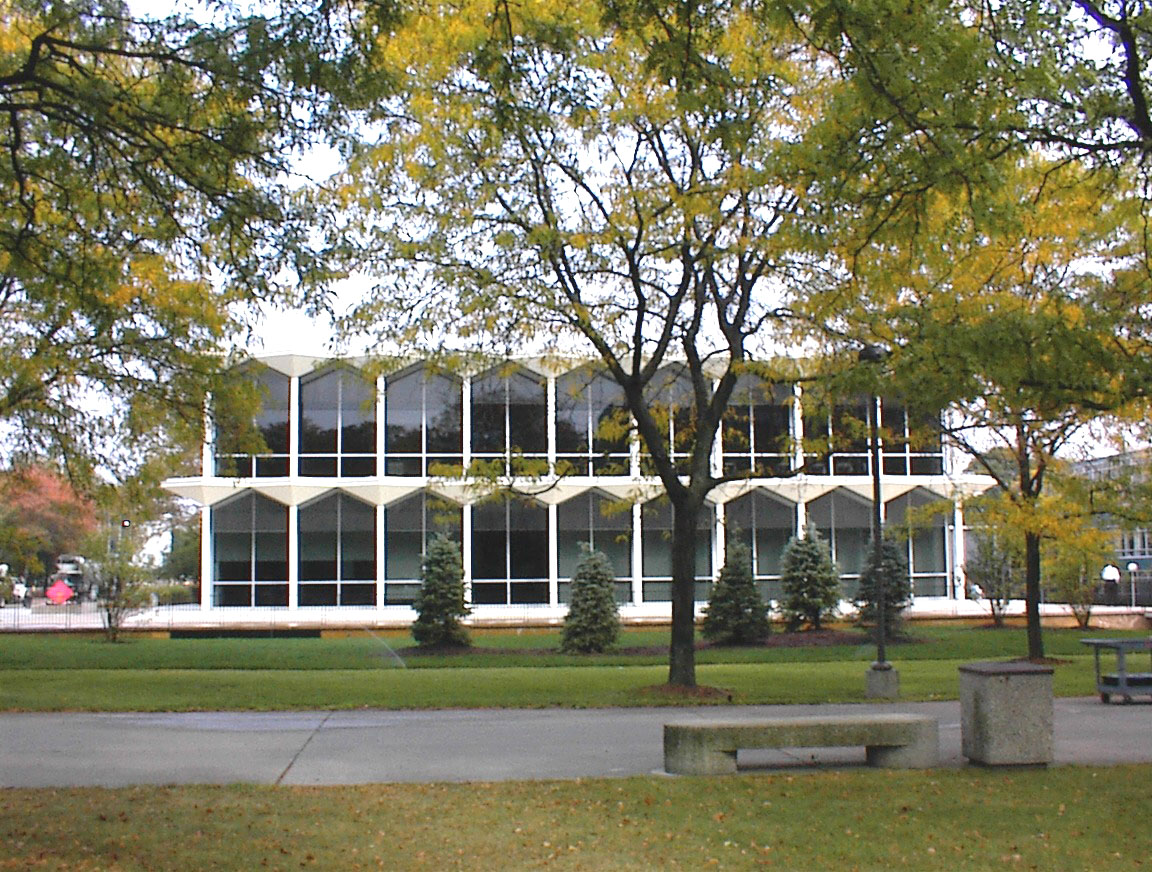 the early 1930s. He moved to the East Coast and enrolled for advanced architectural training at New York University and then began his career there. He—and his family who were then living in New York—avoided incarceration during World War II since only the Japanese living in California, Oregon and Washington were put into prison-like camps. Interestingly, the federal government did not incarcerate the large and prosperous Japanese population of Hawaii during that war.

In 1945, Minoru Yamasaki accepted an appointment as chief of design for the productive Detroit firm of Smith, Hinchman and Gyllis. Sometime prior to 1951 he established his own firm in Detroit and quickly became a nationally- and internationally-known architect. Quite likely, he will forever be best remembered as the architect who designed the twin towers of the World Trade Center in New York. I have pleasant memories of wandering through those towers, eating at the elegant restaurant that he designed at the upper level and running races through the plazas that he placed around his skyscraper. His first tall building was the Michigan Consolidated Gas Building completed in the early 1960s. When you look at that building from Hart Plaza on a sunny warm day, you clearly see a resemblance to those Twin Towers in New York. The Port Authority of New York, in the 1960s, held a competition to select an architect for was what originally scheduled to be a $280 million office building project. Minoru Yamasaki's design was selected while those of I. M. Pei, Philip Johnson and Walter Gropius were turned down.

Miroru Yamasaki designed the McGregor Conference Center in coordination with an attractive reflecting pond. This area is now known at the McGregor Sculpture Court. It includes Giacomo Manzo's The Nymph and Faun (1968), Michael Todd's Ikebana II (1976) and Georg Kolbe's Assunta (1976).
This is one of four buildings on the Wayne State University campus designed by Yamasaki. It was built with a one point three million dollar gift from Detroit's McGreagor Foundation. That orgnization derived their funding from the wealth that Detroit lumber baron David Whitney passed on to his children. That is, David Whitney's grand daughter, Katheine Whitney, married a man from Toledo, Tracy McGreagor, in 1901. Both of them were very interested in making investments that would foster the general well-being, especially education. I believe it is safe to say they devoted their lives to this. In 1925, they established the McGreagor Fund, a philantrophy that continues to support charitable activities. With assets of about $180 million in 2016, it is a substantial but moderate sized foundation, that is, it is much smaller in terms of assets that other foundations linked to Detroit entrepreneurs: Ford, Sloan and Kresge. Interestingly, the McGreagor also supported the building of what may be Albert Kahn's non-industrial masterpiece - the William Clements Library on the campus of the University of Michigan in Ann Arbor. The other three Wayne State University buildings designed by Yamasaki are, the College of Education (1960), the Helen D. Roy Auditorium (1960) and the Prentise School of Business Administration (1964).
The Secretary of the Interior has the authority to designate a building or site as a National Historic Landmark if it has exceptional value or quality in exhibiting or interpreting the heritage of the United States. There are approximately 2500 National Historic Landmarks in the entire country and 40 in Michigan. In 2015, the Secretary of the Interior designated the McGregor Conference Center as a National Historic Landmark because of its illustration of the nation's architectural ken.
The other nine National Historic Landmarks within the city of Detroit are: (there is a webpage on this site for each of these)

The Fisher and New Center Buildings
Henry Ford's Piquette Street Plant
The Fox Theater
General Motors Building (now Cadillac Square)
The Guardian Building
The Lafayette Park Historic District
The Parke Davis Research Labratory
The Pewabic Pottery Studio
The Steamship Sainte Claire
There are five National Historic Landmarks in the immediate suburban ring:
Henry Ford's Fair Lane home in Dearborn
Henry Ford's Highland Park Plant
The Henry Ford Museum in Dearborn
The Henry Ford River Rouge comples in Dearborn
General Motors Technical Center in Warren

Architect: Minoru Yamasaki
Style: Modern
Date of Construction: 1968
Use in 2017: Conference Center for Wayne State University
For additional information:http://historicdetroit.org/building/mcgregor-memorial-conference-center/
City of Detroit Designated Historic District: Not listed
State of Michigan Registry of Historic Sites: Not Listed
National Register of Historic Places: #10001023 Listed: December 13, 2010
National Historic Landmark: Listed 2015
Photograph: October 8, 2004; Ren Farley
Description updated: January, 2017

Return to Federal Register of Historic Places