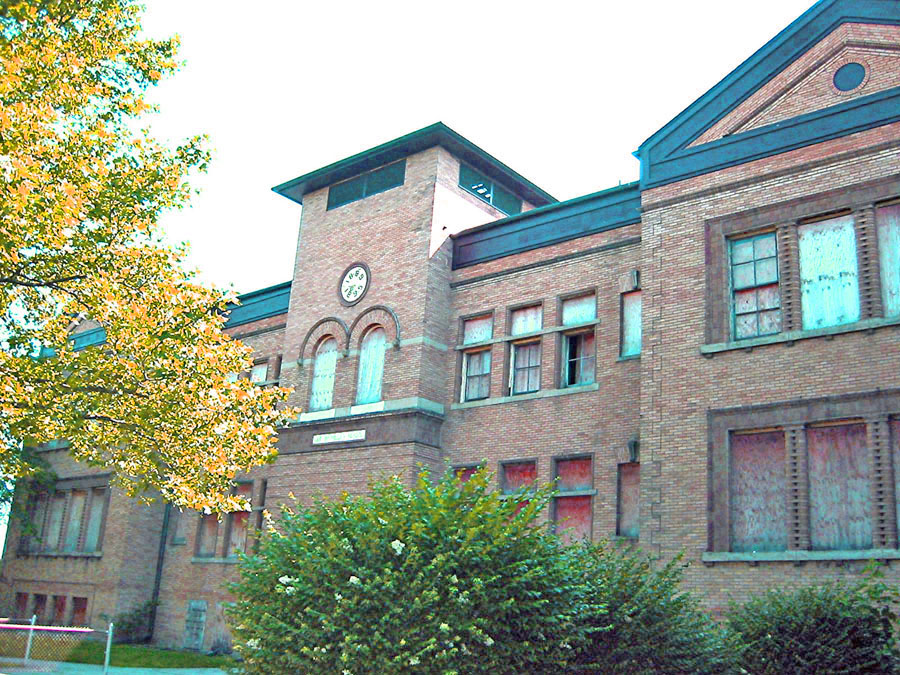 James McMillan School
615 South West End Avenue in southwest Detroit
Unfortunately, the beautiful school pictured above no longer exists. The village of Del Ray was founded in 1850 by Augustus Burdeno in what is now southwest Detroit . A decade later, salt beds were found there and, quite rapidly, this became a major industrial area. Rail lines and direct access to the Detroit River facilitated the mining of salt and the manufacture of steel and iron.
Del Ray Township school officials, in 1894, erected the two-story, 16-classroom building that you see. It replaced a previous school on this site that was razed by fire. Untended trees now obscure this attractive building with its appealing arched entrance. When you walk close to this school you can appreciate the care and detail of the architect. There was an impressive central tower with a working clock and the hip roof. The building featured projecting outer bays and interesting fenestration. This was a "classical" urban school from the early industrial era.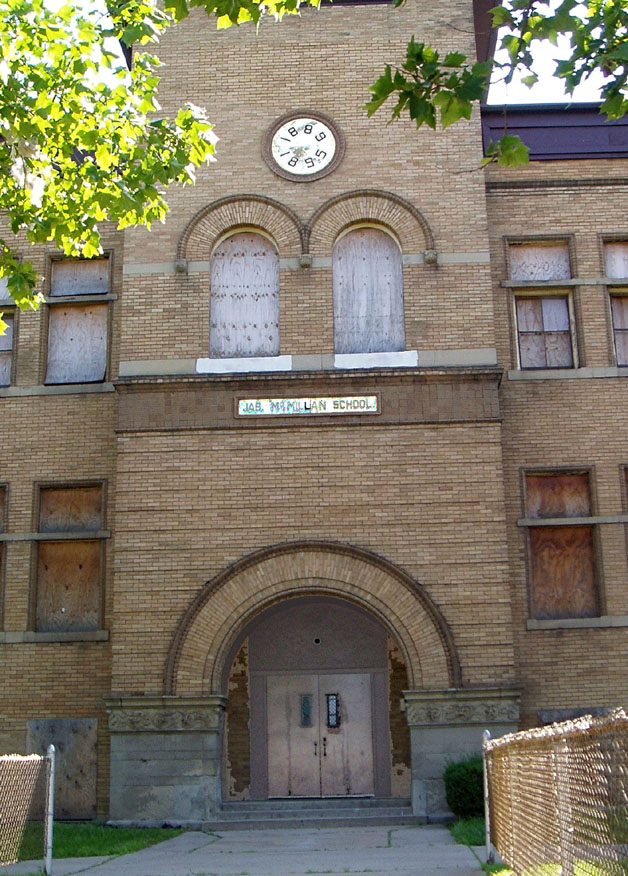 In 1907, the Detroit School Board took over Del Ray Township schools and converted McMillan to a secondary school, but in 1916 it was converted back to an elementary school. The institution was closed in 1960 and remained an empty building.
James McMillan played a significant role in Michigan's and the country's history. Born in Hamilton, Ontario in 1838, he migrated to Detroit in 1855 and went to work as a purchasing agent for the Detroit and Milwaukee Railroad. His father was a railroad builder in Canada. McMillan went on to work for a railroad contracting firm and then, in 1863, helped to establish what would be a large and very successful rail car manufacturer, the Michigan Car Works. Subsequently, he invested in Detroit real estate and then invested in the Detroit and Cleveland Navigation Company, a firm that ran steamships between those cities until the 1950s. He became a very rich man.
By the late 1860s, there was something of an economic boom in the Upper Peninsula as the nation's growing steel industry demanded great quantities of iron ore. Most iron ore was shipped south on large lake vessels. However, the first railroads to reach the Upper Peninsula were linked to Chicago and Milwaukee. People in Michigan presumed that Detroit merchants and wholesalers should service the needs of settlers in the Upper Peninsula, not merchants from Chicago. By the 1870s, there was discussion of a new rail line that would head east from the iron range near Marquette, Michigan and reach St. Ignace. Products could be shipped by boat across the Straits of Mackinac and would reach Mackinaw City where they could be sent to Detroit by rail. Subsidiaries of both the Michigan Central and the Pennsylvania Railroad were developing plans to build north in Michigan to reach Mackinaw City.
Apparently, James McMillen and other prosperous Detroit investors thought there were monies to be made in building a railroad across the Upper Peninsula. They chartered a line that would run from St. Ignace to Marquette, with a branch line from, roughly, Trout Lake, Michigan to Sault Ste. Marie. They hoped that iron ore would be sent to St. Ignace where it might be shipped by lake steamer. They also presumed that the then empty and marshy land in the eastern Upper Peninsula could be turned into highly productive farms. By December, 1881, the line from St. Ignace to Marquette was completed. It did not prosper. It proved less costly to ship iron ore by boat from Marquette than by rail to St. Ignace. Efforts to farm the eastern Upper Peninsula were marginally successful, at best. No large villages developed along the rail line. Ice in the Straits of Mackinac greatly limited travel from the Upper to Lower Peninsula during the winter months. By 1884, McMillen railroad was bankrupt. However, that did not prevent him for making additional efforts at railroad building in the Upper Peninsula. By purchasing some existing lines and building new lines, he helped to create the Duluth, South Shore and Atlantic Railroad that ran from St. Ignace and Sault Ste Marie on the east to Duluth on the west. It was not a profitable line and was sold to or taken over by the Canadian Pacific Railroad in 1888. I infer the McMillen did not lose much of his fortune on these Upper Penninsula endeavors. His rail line spent much of its life in bankruptcy, but survived to the 1970s.
James McMillen was active in Michigan's Republican Party. At this time, senators were not elected by voters. Rather, they were nominated by the governor and approved by the state legislature. The party controlling a state's politics selected who would serve as senator. In 1888, Michigan Republicans selected James McMillen to represent the state in Wasington. He continued to serve in the Senate until his death at age 64 in 1902. McMillen is an important senator in the history of this nation.
Pierre L'Enfant drew up a magnificent plan for Washington early in the Nineteenth Century. He laid out an interesting street plan that survives to the present. But just as Judge Woodward's plans failed to strongly influence the development of Detroit, L'Enfant's plans did not strongly influence the development of Washington. When steam railroads came to the nation's capitol, they built lines throughout the city, including across the Mall between the Capital and White House, making the city dirty and smoky. It was also difficult to get around since if you wanted to go from the Capitol to the White House you had to cross many railroad tracks. And Pennsylvania Avenue was graced with many mundane building. Given his lack of seniority, Senator McMillan was appointed to chair the District of Columbia committee. He tirelessly devoted himself to a revival and reinvigoration of L'Enfant's plan. In particular, he demanded the removal of railroads from the Mall. He encouraged the building of one Union Station for all the city's railroad. He did not live to see if but his efforts came to fruition in the beautiful state that Daniel Burnham designed. This is, quite likely, one of the dozen most impressive non-governmental buildings in the country and fits in very well with the Capitol, the Supreme Court Building and the Library of Congress. We have a strikingly beautiful capitol because, in part, Senator McMillan devoted himself to creating a city worthy of the nation. Jacqueline Kennedy is the other Twentieth Century figure who deserves applause for her work in making Washington attractive. Her prodding led to the razing of all the ugly low-rise commercial buildings that lined Pennsylvania Avenue. They have been replaced by suitably elegant governmental structure.
McMillen School closed its doors in 1960. It was idle for several decades. Early in the Twentieth-first century, the Detroit School Board tried to sell the structure. In many cities, a developer would have purchased this fine structure and turned it into costly condominiums. It's location in this section of Detroit precluded that. In 2008, the price of commodities soared. Apparently, thieves, known as "strippers", that year removed almost everything of value from this grand old structure and, in doing so, turned it into ruble.
Architect: Unknown to me
Date of Construction: 1894
City of Detroit Local Historic District: Listed July 13, 1999
State of Michigan Registry of Historic Places: Not listed
National Register of Historic Places; Not Listed
Use in 2009: Very little left
Photo: Andrew Chandler or Ren Farley; June, 2004
Description updated: January 13, 2009

Return to City of Detroit Historic Designations