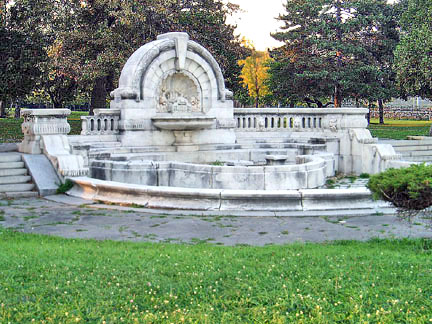 Merrill Fountain
Near the intersection of Second and Covington on the Merrill Plaissance.
At the southern boundary of Palmer Park just north of the
Palmer Park Apartment Building Historic District
One of the rewarding benefits of traveling extensively in the city of Detroit is imagining how the city will look in the future when, and if, its magnificent buildings and sculptures are restored to their original glory. Will Detroit someday rank with Rome, Paris and Vienna as a Mecca for those interested in art and architecture?
Charles Merrill was born in 1792 and lived for a century, many of those years in Detroit. As the white pine forests of Michigan were turned into lumber after about 1850, Merrill became extremely rich as one of the leading entrepreneurs in that booming industry. His granddaughter, Lizzie, married Thomas Witherell Palmer, a Detroit real-estate developer and politician. Palmer represented Detroit in the Michigan Senate in 1879 and 1880, and then was selected to represent Michigan in the U.S. Senate from 1883 to 1889. Then President Harrison appointed him ambassador to Madrid. Palmer was the developer who, at one point, owned much of the land that is now on both the east and west sides of Woodward between McNichols and Eight Mile. He donated about 160 acres to the city for Palmer Park on the west side of Woodward and then land on the east side to the state for the Michigan Fairgrounds.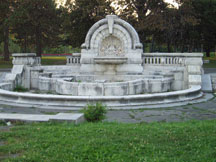 Two years after her grandfather's death, Lizzie Merrill Palmer decided to honor him by erecting a major fountain in Detroit. As you would expect, city officials dickered over the most suitable location. Eventually, a decision was made to erect the fountain near the intersection of Woodward and Campus Martius near the Detroit Opera House that no longer stands. The prestigious New York architectural firm of Carrere and Hastings was selected. Using white marble, they built a complicated and beautiful Italian Renaissance fountain. If you look closely, you will see overlapping basins along with their baldachins or canopies. There are a variety of aquatic animals, several maned lions, two dolphins and a representation of King Neptune.
As automobile traffic increased in downtown Detroit, the city's elders decided to move the beautiful fountain to the Merrill Plaissance. at the far southern boundary of Palmer Park. This was done in 1926.
Little has been done recently to maintain or restore this lovely structure. I believe that water has not flowed since its removal to Palmer Park. In 1950, the City of Detroit asked the engineering office to assess needed repairs. That office reported that major changes and restoration was needed, but the requisite monies have not become available. Apparently grafitti has been removed from this fountain several times but no major restoration has been undertaken.
The spectacular restoration of the Scott Fountain on Belle Isle, and the repairs of the Edison Fountain at Grand Circus Park offer hope for a renaissance of the Merrill Fountain. Will there be a future year when visitors come to the city of Detroit, not just to see Cass Gilbert's Library on Woodward, Writ Rowland's Guardian Building and Albert Kahn's Fisher Tower, but also to see Brede and Mueller's Hurlburt Gate on East Jefferson and John Carrere's Merrill Fountain?
Sculptor and architect: John M. Carrere and Thomas Hastings
Style: Italian Renaissance
Material: White marble
Date of unveiling: 1901
Date of removal from Campus Martius to Palmer Park: 1926
Use in 2004: Attractive but unused public art
Further information about this fountain:http://historicdetroit.org/building/merrill-fountain/
City of Detroit Local Historic District: Not listed
State of Michigan Registry of Historic Sites: Not listed
National Register of Historic Places: Listed December 14, 1976
Photograph: Ren Farley; September, 2004
Description updated: December, 2016
Return to Public Art and Sculpture