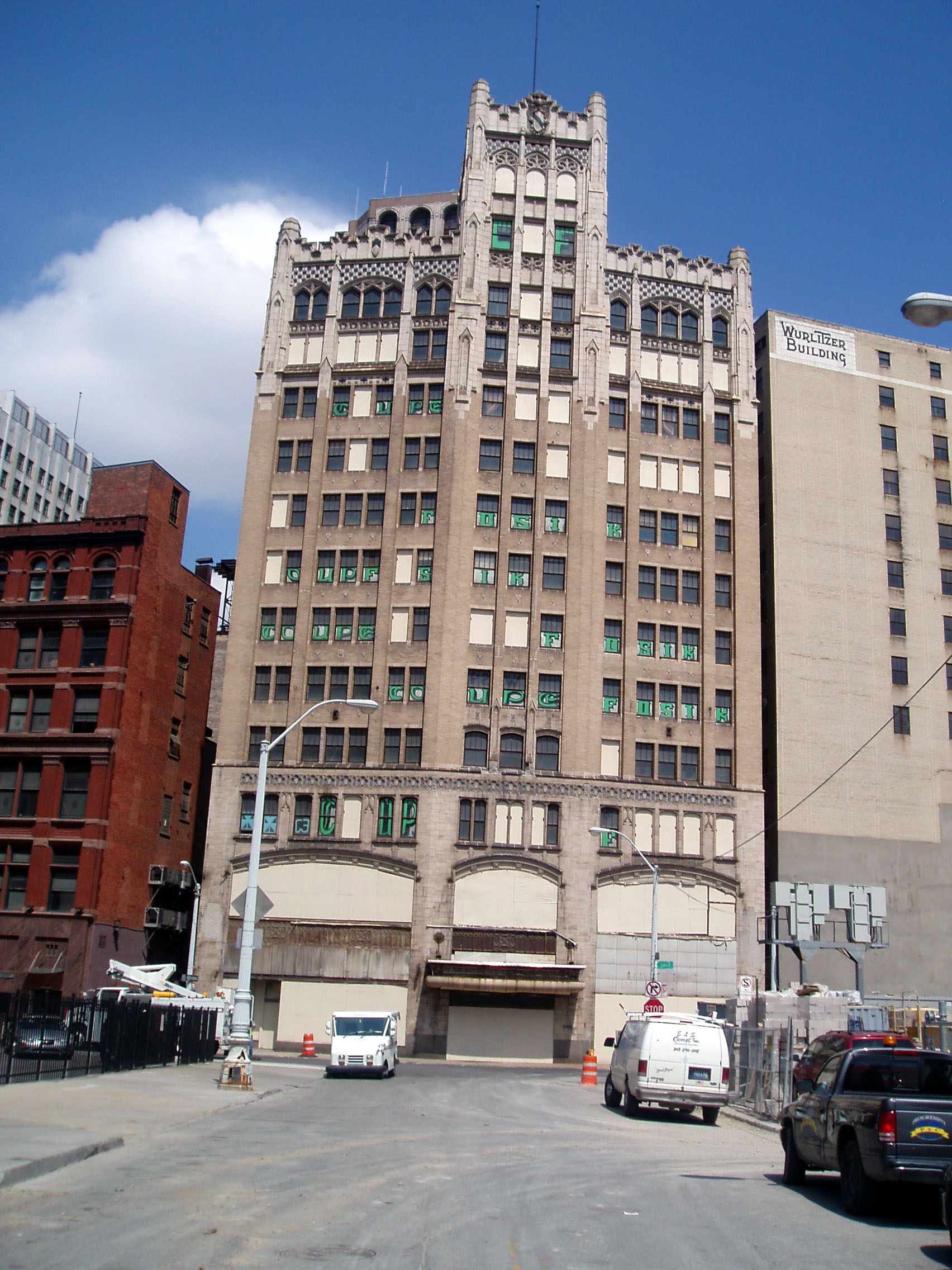 Metropolitan Building/
Element Detroit Hotel
33 John R Street at Farmer near the intersection of John R and
Library in downtown Detroit

Most skyscrapers in downtown Detroit were designed to provide office space. This one is different. It was intended for light manufacturing, namely for Detroit's once substantial jewelry industry. There are a few other examples of downtown manufacturing facilities, most dating from the pre-World War I era. These include the six-story terra cotta and brick Murphy Power Building at 155 West Congress and the nearby ten-story Marquette Building at 243 West Congress. The original Detroit Times edifice and other low-rise buildings once stood on this unusually shaped property at the corner of John R and Farmer. Those buildings were razed in the 1920s so that the attractive structure you see could be erected.

William Weston and Harold Ellington were commissioned to design this building. Two of their other accomplishments that still stand are the idle Fort Wayne Hotel on Cass Park next to the Masonic Temple and the Park Sheldon condominium building in Detroit's Cultural Center. One of the first challenges the architects faced was to capitalize upon the irregular plot. The face of most buildings is in the same plane but that is not the situation here. There is the tall, 15-story tower in the middle. The wing along John R is in the plane of that tower but the wing along Farmer is not. In the early 1920s, there was no consensus about what design was ideal for a skyscraper or what message should be conveyed by its style. Some were functional large, rectangular buildings. Others invoked classical elements as illustrated by Albert Kahn's First National Bank Building. Similar to the nearby Fyfe skyscraper, this one was designed with Gothic or Neo-Gothic elements. Note the broad arch windows on the second floor and the narrower arched windows under the roof line. You will also see interesting crenellations at the top of this building.

This structure was designed for retail shops on the first three floors, primarily but not exclusively, jewelry shops. The upper floors were designed to provide space for retail and wholesale jewelers to manufacture and repair their goods. Apparently, jewelers' lathes at that time were propelled by compressed air. So, in addition to a regular heating system, this building offered compressed air to all the upper-story workshops. Four elevators were installed so that customers could rapidly get to the upper level retail and wholesale merchants.

In the years following World War II, retail activity in downtown Detroit decreased very rapidly. This structure held on to its reputation as the Jewelry Building for some years but, after business activity fell off, it was closed in 1977. Several attempts have been made to convert it into lofts or condominiums. I have heard that there are challenges in renovating the space because it was designed for manufacturers. In addition, a great deal of radium was applied to watches and clocks in this building. One of my colleagues at the University of Michigan described his father who made jewelry in this building and emphasized how casually jewelers once dealt with radium. It is possible that radium traces impede the reuse of this building. I believe the city of Detroit currently owns this building. For several years, the Downtown Development Authority has been trying to interest developers in this structure but, so far, without success. This is not an easy building to photograph. Almost all shots of it will include the two structures that adjoin it, the Schwankovsky Temple of Music and the Wurlitzer Building. They are visible in the picture on this web page.
In May, 2016; Starwood Hotels and Resorts announced they would invest $32 million in a restoration so that this structure might serve as a botique or extended stay hotel. The first two stories will serve as the lobby and meeting rooms. Hotel rooms will be available on floors three through fourteen. The new Element Detroit Hotel is scheduled to open in the summer of 2018.

Architects: William C. Weston and Harold S. Ellington
Architectural style: Neo-Gothic
Date of construction: 1925
City of Detroit Local Historic District: Not listed
State of Michigan Registry of Historic Places: Not listed
National Register of Historic Sites: Not listed
Use in 2017: Abandoned building being converted to an upscale hotel.
Photograph: Ren Farley; July 7, 2005
Description updated: June, 2017

Return to Commercial Buildings