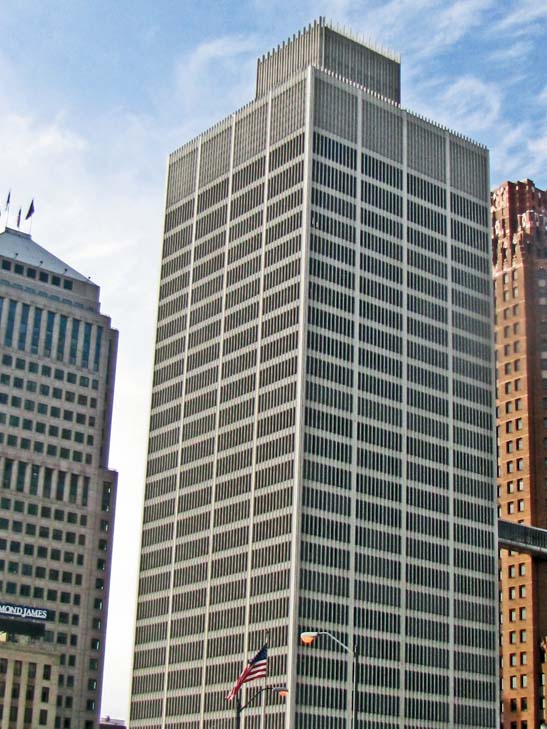 Michigan Consolidated Gas/One Woodward Building
at the Corner of Woodward and West Jefferson
This and Philip Johnson's Comerica Bank Tower are among the most attractive of the 1960s-era office buildings built in downtown Detroit.  This was the first skyscraper designed by Detroit architect Minoru Yamasaki, but is not his most famous work.  Tall office structures designed in the late 1950s and early 1960s bore no resemblance to those constructed in the 1920s as you can see by walking a block or two from this building.  Many of the new ones were designed to have a sleek, modern look conveying a message about efficiency.  Minimally adorned flat surfaces often appeared. One of the best examples of this is the Coleman Young City-County Building just across Woodward from this Michigan Consolidated Gas Building.

Yamasaki designed a two-story lobby with a loggia on all four sides at the base.  He called for an extensive use of white marble at this level.  Perhaps, this was because he wanted a design that might be compatible with nearby buildings including the then-new but now razed Ford Auditorium, the much renovated Cobo Hall and the National Bank of Detroit Building that is now the Chase Tower.  Atop the marble loggia and impressive lobby with its walls of glass, Yamasaki designed 26 stories of offices and then two stories devoted to mechanical appliances.  When the building opened, and for some years thereafter, there was an elegant Top of the Flame restaurant at the roof level with impressive views of the Detroit River, Belle Isle and Canada.   Frankly, this building is now much more appealing than the Coleman Young City-County Building primarily because of the style Yamasaki used to make it seem more interesting and, in some sense, warmer.  One component of his achievement here is the rather attractive lattice-style windows, an approach he used in several of his other designs for major office buildings in Buffalo, Minneapolis and New York.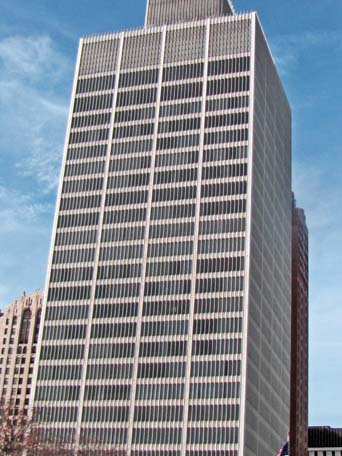 Minoru Yamasaki is best known for the immense World Trade Center Buildings in New York that were demolished on September 11, 2001.  Some elements that Yamasaki used in the Michigan Con Building—especially the treatment of windows—were incorporated into the World Trade Center.  While Yamasaki's accomplishments were much appreciated in Detroit and the Midwest, he was, apparently, surprised to win the competition to design the World Trade Center.  Indeed, as you examine pictures of the World Trade Center or remember visiting it, you appreciate its close resemblance to the Michigan Consolidated Gas building here in Detroit.

As the name suggests, this building provided office space to the local firm that supplied natural gas to homes and businesses in southeast Michigan.  In the 1980s, that company was purchased by or merged into American Natural Resources, a utility holding company headquartered in the Guardian Building.  At that time, a bridge was built across West Larned linking the two buildings.  For a short period, this building was named the American Natural Resources Building.  Later, Michigan Consolidated Gas and Detroit Edison were joined to become the area's leading energy provider, DTE.  Michigan Consolidated remains a distinct corporate entity with downtown office at 2000 Second Street.

This building is still used as an office structure.  I believe that one of the major occupants in 2011 is PNB Bank.  National City Bank out of Cleveland had many offices in the Detroit area but fared very poorly during the economic crisis that began in 2008.  Fearing that National City would not remain solvent, federal administrators forced that bank to merge with or become affiliated with PNB Bank from Pittsburgh
In December, 2012, Rock Ventures purchased this building. This is the real estate firm linked to Dan Gilbert who is the executive officer of Quicken Loans. Gilbert moved several thousand of his employees from the suburbs into downtown Detroit. Since January, 2011; Rock Ventures has purchased or taken options on ten downtown Detroit office buildings with about 2.5 million square feet of space. The firm has also purchased two garages that can park 2,300 vehicles. The Michigan Consolidated Gas Building was about 60 percent occupied when purchased in December, 2012. Apparently, Quicken Loans will move employees into this structure so that it will be 90 percent occupied. Many speculate that Dan Gilbert hopes to create a Detroit 2.0 or Webward District in downtown Detroit by concentrating innovative and entreprenurial individuals and firms in the many downtown office structures he now controls. Downtown promoters assert that downtown employment increased by 10,000 in 2011 and 2012, primarily because of the shift of Quicken Loan and Blue Cross Blue Shield employes from the surburbs to the downtown.

One of the most seen and impressive sculptures in Detroit is located in front of this building on West Jefferson.  The well-known Italian sculptor, Giacomo Manzu who had won commissions for several works in the Vatican, came to Detroit to study and work with Minoru Yamasaki.  Manzu asked his wife to pose for Passo di Danza—Dance Step—and it has graced the campus of this building since then.

Architect: Minoru Yamasaki
Date of Completion: 1962
Use in 2012: Office Building
City of Detroit Designated Historic District: Not listed
State of Michigan Registry of Historic Sites: Not listed
National Register of Historic Places:  This is a contributing site to the Detroit Financial Historic District, listed on the National Historic Register on December 14, 2009.
Photograph: Ren Farley
Description updated: December, 2012

Return to Commercial Buildings

Return to Detroit Financial Historic District

Return to Homepage
Return to Commercial Buildings