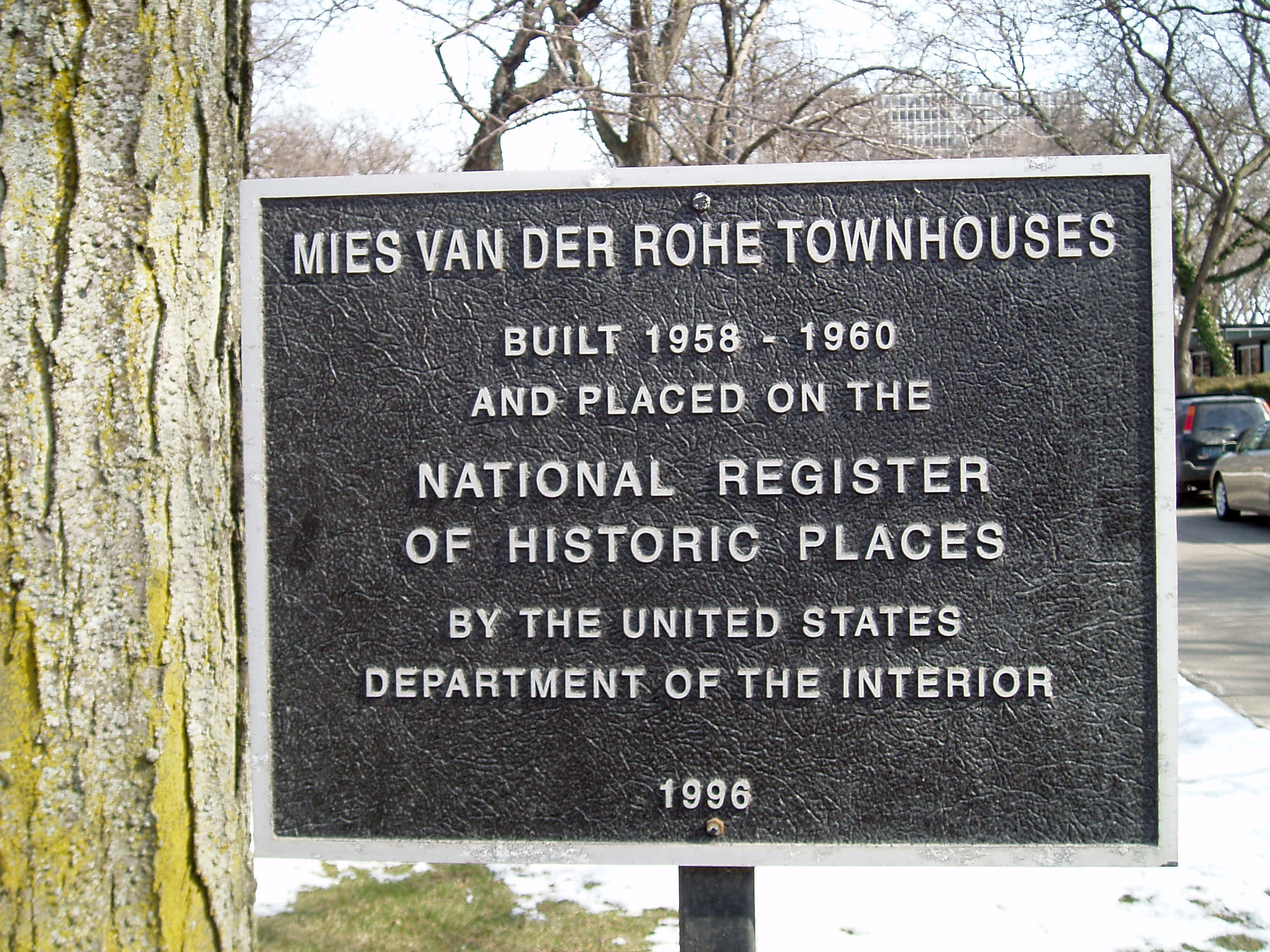 Mies van der Rohe Historic District/Lafayette Park
Bounded, roughly, by Rivard Street, Lafayette Avenue, Orleans Street and
Antietam Street in downtown Detroit
If you are inquisitive about the history of this nation's efforts to rebuild declining cities, or if you are interested in the history of the influential Modernist architecture movement that emerged in Germany between the world wars, than the Mies van der Rohe Historic District is a place to spend time.

There was extensive construction in the area where Lafayette Park is now located in the decades after 1870 when Detroit grew rapidly. Many of the first settlers were German immigrants, followed by immigrants from Eastern Europe, including some from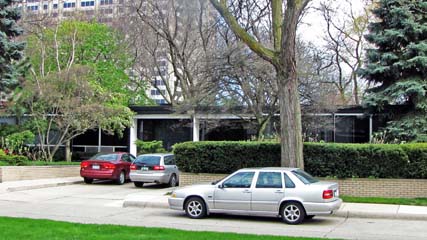 Greece and Armenia. For the most part, the homes and shops were modest, low-rise buildings. By 1900, the more prosperous Germans had moved further away from the riverfront and low-income immigrants replaced them. During the First World War, Americans from the South moved to Detroit in great numbers to take defense industry jobs, jobs that might have been filled by Eastern Europeans immigrants had not the German Navy dominated the North Atlantic. Blacks coming to Detroit faced great discrimination in the housing market so many of them settled in this area of low-cost housing. After World War I, the city's black population increased and a petit bourgeoisie of African-Americans prospered in this neighborhood. Many of their businesses were located along Hastings Street which was located where the Chrysler Freeway now crosses Detroit. But the city's largest black neighborhoods stretched back from the Detroit River as far as East Warren along Rivard Street and Hastings.

After World War II, city planners and developers drew up massive plans for Detroit. Some areas, including Corktown, were to be razed and turned into an area for light manufacturing. The old housing in what is now Lafayette Park was to be razed to create a 129-acre Gratiot Redevelopment Project. By 1950, the city had funds to tear down the old homes and businesses that existed in this area. The residences of about 8,000 lower-income people were torn down, units occupied almost exclusively at that by black families. That was accomplished by 1954, but the city did not have plans and funding to rebuild the area. The open fields were derisively called "Cobo's Fields" (after Mayor Cobo) or "Ragweed Acres." You have to search diligently to find pictures of these Ragweed Acres but you will find several in the book cited below.

A note about federal housing policy is in order here. Through Federal Housing Administration and Veteran's Administration guarantees loans, the government supported the construction of thousands of homes in the outlying sections of Detroit in the final years of the 1940s, and then later, in the suburban ring. But that was only one-half the story. The federal government's urban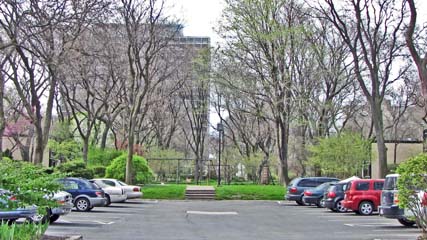 renewal program provided funds to raze older dilapidated homes in central cities. This program quickly came to be known as Negro Removal since city elders and the leaders of central city universities and hospitals often wanted to remove the low-cost, black-occupied housing found near downtown or near their institutions. Originally, little support was given to those who lost their homes and businesses in urban renewal, but later, the federal government started to finance the construction of tall, massive housing projects. The Brewster Homes—designed for black occupancy on the east side and the Jefferies Homes designed for whites on the west side—illustrate this type of federal housing construction. Shortly after their construction, most agreed that such buildings were not sound investments since they housed extremely impoverished black women and their children. By the 1990s, the federal government supported the razing of those undesirable structures. Most of the high-rise Jefferies and Brewster buildings are gone. In addition to urban renewal projects, the federal government, in the late 1950s, began financing the interstate expressway system. In many or most central cities, a great many homes—often the homes of moderate or low income families—were torn down to make way for modern automobile transportation. In Detroit this endeavor removed the city's black business district,along with numerous black churches.

An unusual opportunity presented itself in Detroit's Ragweed Acres. Herbert Greenwald had successfully developed lake shore high-rise housing in Chicago. He had a great appreciation for the architectural accomplishments of Mies van der Rohe and employed him to design the buildings that Greenwald erected in Chicago. Greenwald apparently proposed to Mies van der Rohe that they capitalize upon the vacant land near downto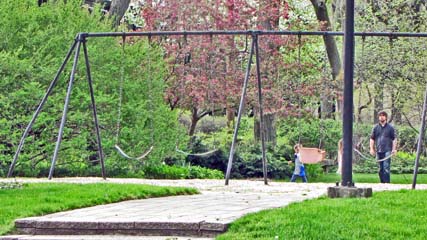 wn Detroit to build the largest urban renewal project in the nation, one that included beautiful buildings and great landscaping. It may have been Mies van der Rohe who enlisted two other key collaborators in this innovative project. The German urban planner, Ludwig Hilberseimer, had for decades advocated for what we would now call green cities and green spaces—places that were friendly to pedestrians and provided extensive park space. He came to Chicago with Mies van der Rohe in 1938 and designed the Illinois Institute of Technology campus. He also saw a great opportunity to develop a project that would emphasize the environment. Finally, Mies van der Rohe knew there was need for an innovative landscape architect who could carry out the designs of Hilberseimer. This was Alfred Caldwell. Caldwell also spoke English much more fluently than did Ludwig Hilberseimer or Mies van der Rohe so he was often the spokesperson.

The thinking and planning of these individuals included many innovative elements. They foresaw creating a community that would be both economically and racially diverse. They had trouble findings financing for the project and were apparently turned down by banks who found their ideas far too outré. Eventually the United Auto Workers invested some of their reserves in this project. Ground was broken on October 16, 1956 for what was then the most innovative urban renewal project in the nation. Residents would be able, at most cost, to live in apartments and units designed by a leading architect and to walk though a sylvan setting on their way to work in downtown Detroit. This not only promised to retain a middle-class population in the city but ridded the downtown area of slum-like housing and its black residents. The city agreed to build a large park and a new elementary school.

The Misian conception of modernism is clearly on display here. The skeletal frames of the buildings are exposed. The exteriors feature aluminum and glass. The interiors stress their open spaces. Two large apartment buildings designed by van der Rohe were constructed: Lafayette Tower and Pavilion Apartments. Even more innovative were the small but attractive row houses with their extensive use of glass. Unfortunately, Herbert Greenwald, the developer with the greatest financial acumen, died in an airplane crash. This pretty much ended building on this site. Original plans called for six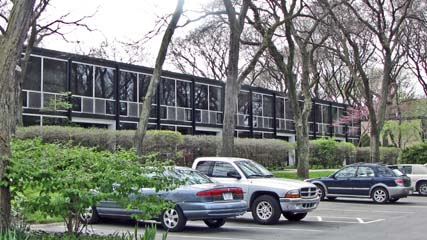 tall Miesian tower apartment buildings. Only two were completed. The low-rise structures included 24 single-story courthouses with walled private gardens and 162 two-story townhouses. This historic district includes 46 acres. Thirteen of those are park space.

This has always been a somewhat desirable residential location. The general troubles that Detroit faced in the decades after 1967 led to a decline in housing prices and thus there was apparently little, if any, appreciation in the value of units in the Mies van der Rohe area from their time of their construction until the late 1990s. However, with changes in downtown employment and a waning of racial conflict in Detroit, the Mies van der Rohe area has becoming an increasing popular residential location in the last 15 years or so. This area is much more appealing now that when it was first constructed. The trees and shrubs that Hilsbseimer and Caldwell designed have reached their maturity, making this a truly attractive urban neighborhood.

The Mies van der Rohe Historic District is within the 193 acre Lafayette Park neighborhoods. There are numerous other low-rise and attractive residential buildings in Lafayette Park outside the historic district but they lack the significance of the impressive buildings designed by Mies van der Rohe.
Architect: Mies van der Rohe
Urban planner: Ludwig Hilberseimer
Landscape architect: Alfred Caldwell
Date of first construction: 1956
Use in 2011: Residential neighborhood
City of Detroit Designated Historic District: Not listed
State of Michigan Registry of Historic Sites: P2577
National Registry of Historic Places: #96000809; Listed August 8, 1996
Book: Lafayette Park Detroit, edited by Charles Waldheim, (Munich, Prestal Verlad, 2004)
Photograph: Ren Farley
Description prepared: May, 2011

Return to City of Detroit Historic Designations
Return to Federal Register of Historic Places
Return to Michigan Registered Historic Districts