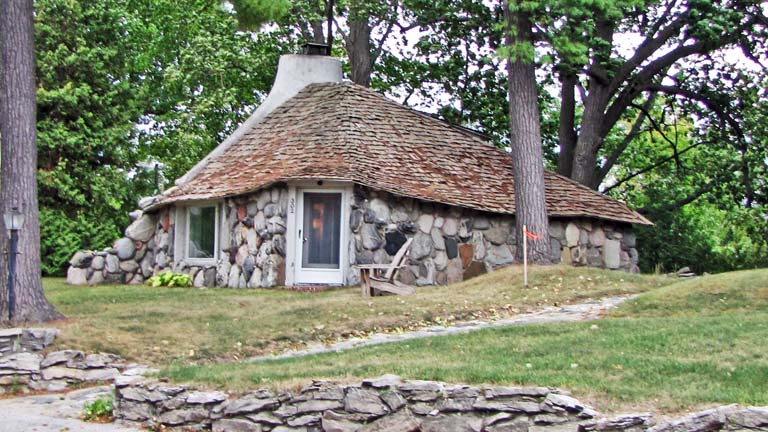 The Mushroom Homes of Charlevoix

Located primarily near Boulder Park and the lakefront to the west of
downtown Charlevoix and in another gore bounded by
Park Avenue, Grant Street and Clinton Street
Earl Young was born in Mancelona Michigan in 1889 but moved to Charlevoix in 1900 where his father ran an insurance business.  In 1908, he matriculated at the University of Michigan in the architectural program.  Apparently, he did not greatly appreciate that opportunity since he spent only one year as a student in Ann Arbor and returned to Charlevoix to work in the family insurance firm.  He continued doing so until his death in 1975.

Earl Young not only sold insurance but bought land and speculated in it.  He also had a desire to design and build homes.  He began building a home for his family in 1917.  At Michigan he learned about the emerging Arts and Crafts movement and may also have learned about the desirability of having structures melt into their environment.  Perhaps, he also believed that it was optimal to build using natural substances rather than man-made products.  He did not, however, have an architectural degree or license.  Nevertheless, I believe that he designed 33 homes or buildings and that 27 of them still stand in Michigan today.  All but one of them are in Charlevoix.  The other is in Alma. In 1924, he purchased a large acreage bordering Lake Michigan waterfront to the west of downtown Charlevoix.  He laid out 85 lots and offered a new Ford to the first ten buyers.  Many of his homes are located there.   He later purchased another tract in Charlevoix north of the river and erected more homes there.

Several aspects make his work unusual.  He apparently had a tremendous desire to build with local stones and was blessed with the ability to recognize and remember the color and size of large stones.  When he needed a stone of a specific size and color, he recalled where to find it.  In addition, he was not at all constrained by any of the rules that architectural students learn from their professors.  To be sure, he was somewhat influenced by architectural styles but he was very willing to do what he wished rather than what you would find in architectural publications.

One distinguishing feature is his aversion to planes.  Wherever possible he used curved walls.  Another was his development of curved stone roofs for many of his homes.  This gave rise to the name mushroom homes for his unique style.  Several of his homes are diminutive structures of local limestone and field stone seeming most suitable for very short individuals.  Today, the homes are known as hobbit homes.  However, the term hobbit was not coined until 1937 by Tolkien.  At that time, Earl Young was well along in his career of designing homes unlikely any others.  Apparently, Young followed few conventions and often designed doorway that were too small for most people and kitchens that were small and not very usable rectangles.  I believe that he rejected the use of blueprints and often worked with the construction crew making changes as he went along, perhaps influenced by the availability of stones for local quaries.  His homes featured large stone fireplaces.  Indeed, the more you read about his work, the more your think of him as an architect who was most pleased to design huge fireplaces make of very large local stones.  Most or all of his home feature unique fireplaces.  Not surprisingly, he named his homes in his whimsical manner
A partial list of his accomplishments includes the following:


1917-1921 — 304 Park Avenue – His first home designed for his own family
1927 — A home with a styling influenced by Frank Lloyd Wright but using green mortar
1929 —An English cottage with flat whitewashed stone.  This was the first of many homes with a very pronounced undulating roof.
1930 — A cobblestone home designed for Herman Panama whose son went on to great fame as a Hollywood producer who used images of this Charlevoix residence
1931— The Owl Home – made entirely of granite with two windows designed to resemble the eyes of an owl
1935 — The Pagoda House – This is a limestone residence with Oriental, Swiss and Gothic features
1938 — The Abide home – 310 Park
1928-1939 — The Boulder Manor.  This is a very large stone home that he built for his family.
1943 — The Tide Beside home at 308 Park Avenue
1945 — A cottage across Park Avenue from Tide Beside Abide with a thatched roof and constructed of whitewashed stone
1946 — 306 Park Avenue – The third and final home that he designed for his family
1947 — Half House – 302 Park.  This tiny home is the smallest one Young designed
1948 — Speedway 79 designed for William Sucher, proprietor of the Speedway79 petroleum firm.  This home was designed so that when its occupants looked outside one-third of what they saw would be sky, one-third water and one-third grass
1951 — Boulderdash – Clinton at Grant This home was designed to resemble a button mushroom with wall of stone three feet thick and led glass windows that were obtained from a Polish castle
1952 —  Residence at 301 Clinton Street.  This home was constructed on the foundation of the barn that was associated with the home that formerly stood on the site of Boulderdash.
1955 — Weathervane Inn at 111 Pine River Lane.  This is a restaurant with five large fireplaces featuring a nine ton boulder whose shape resembles that of the state of Michigan.  The inn was designed to resemble a gull in flight  This was built on the foundation or footprint of the former occupant of this property – The Argo Milling Company.
1962 — Remodling of a home at 306 Clinton.  This was originally a small frame structure but you would not know that today since Young added a large and substantial stone façade to the residence.
1965 — Weathervane Lodge  This is a motel that was under construction for a long span.
1967 — An A-frame house on Round Lake in Charlevoix.  Earl Young purchased land on the shore of this lake and constructed three homes there.
1969 — A red sandstone home on Round Lake that was razed in 1974
1974  —The Castle House.

Architect: Earl Young
Dates of construction: 1917 to 1974
Use in 2012:  Homes and commercial buildings
Pictures of the Mushroom Homes of Charlevoix: http://www.mikebartonphoto.com/gallery/mushroom-houses-charlevoix/999/
Book: Mike Barton, The Mushroom Houses of Charlevoix (Boulder, Colorado: Boulder Press, 2009)
State of Michigan Registry of Historic Sites: Not listed
National Register of Historic Places: Not listed
Photographs: Ren Farley; September, 2011
Description prepared: May, 2012

Return to Historic Residences

Return to Homepage