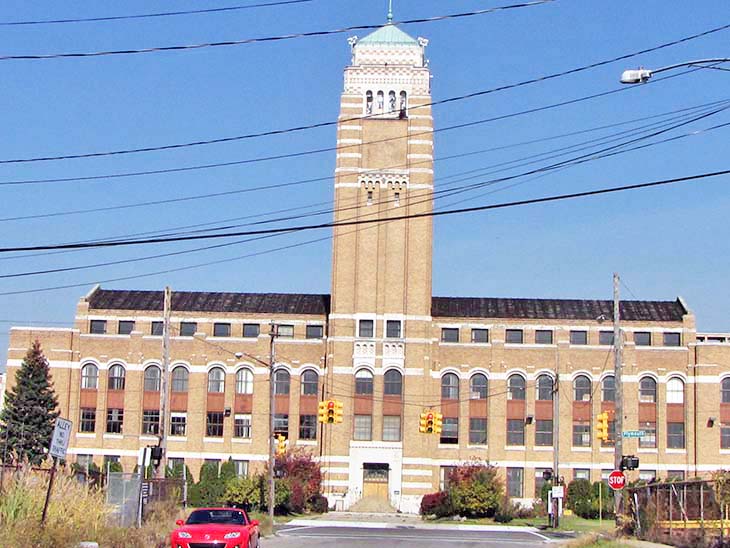 Nash-Kelvinator Administration Building/
Plymouth Road Office Complex
14250 Plymouth Road
Early in the Twentieth Century, there was no effective mechanical means to lower temperatures.  Ice was the only source of cooling.   In the early springs, ice would be cut from lakes near northern cities.  Fifty pounds blocks of ice would be loaded into rail cars with straw used to prevent them from freezing together.  It would be shipped to specially built warehouses in cities such as Detroit.  These were immense building six to ten stories in height but with no floors and no windows.  Using conveyers and elevators, after the blocks of ice were taken from freight cars, they would be stacked in these buildings.  By early May they were full of ice.  When the weather got warm, the ice would be drawn down and loaded into horse-drawn wagons that would travel throughout the city selling ice to customers.  Homes had colorful signs to put in windows to indicate whether the ice man should leave 25, 50 or 100 pounds of ice.  The ice was put into a real ice box: an insulated wooden box that used the ice to cool food and beverages.

Just before World War I, a variety of inventors began experimenting with a system that would use electricity and various chemical compounds to produce cool temperatures.  One of the most successful in this field was Detroit engineer, Nathaniel Wales.  He obtained financial backing from Arnold Gross who was the secretary of the Buick Motor Car Company in its early years.  In 1914, Wales established Electro-Automatic Refrigerating Company to manufacture refrigerators for use in the home.  In 1916, Wales changed the name of his business to the Kelvinator Corporation to honor the British Physicist Lord William Kelvin who discovered the concept of absolute zero in 1848.

By the end of World War I, there were several dozen firms producing electric refrigerators in the United States, but Kelvinator was the dominate one.  I believe that much of their manufacturing was done in Grand Rapids but they may have had some production in Detroit. Apparently, by the early 1920s, Kelvinator may have accounted for 80 percent of the refrigerators manufactured in this county.

Charles Nash was one of the founders of the Buick Motor Car Company, and when General Motors was created by Durant in 1910, he became its General Manager and then rose to president.   Durant was the principal owner of General Motors for some years but then lost the firm.  However, he secured control of General Motors again in 1916 and promptly replaced Charles Nash.

Nash decided to establish his own vehicle firm, Nash Motors.  He began by purchasing the Thomas B. Jeffery Company located in Kenosha, Wisconsin.  That firm manufactured automobiles with several different names but the Rambler was their most popular model.  Nash began his production in Kenosha using the name Nash for his cars and trucks.  Later he turned out a lower priced model called the Ajax.

The Nash firm was moderately successful, but similar to most other manufacturing companies, suffered greatly in the Depression.  In 1937. Charles Nash decided to retire from the auto business and he identified the man who, he presumed, would be the ideal person to run Nash Motor.  This was George Mason who happened to be the Detroit resident who ran the Kelvinator Corporation.  Mason agreed to take the job if he could merge his Kelvinator firm with the Nash Motor Car Company.  That merger took place in 1937 and this explains the name for the huge building on the west side of Detroit pictured above.

Being a very successful firm in the mid-1920s, Kelvinator's management decided to erect a massive manufacturing plant and an impressive office building in a vacant area of Detroit.  The offices of the firm were to be located in the building you see.  The firm had the funds to spend generously on architectural details.  Indeed, the administration building you see here looks much more like a collegiate building with its impressive tower than a building designed for a manufacturing firm.

The building served as the headquarters for the Nash-Kelvinator firm after the 1937 merger.  You do not see it here, but in 1927, Kelvinator constructed a huge manufacturing plant directly behind this office building.  I believe it was designed to contain 1.5 million square feet of space on this 58-acre site.  During World War II, this was one of the major sites for the production of helicopters.

After World War II, the smaller American auto producers—Hudson, Nash, Packard, Studebaker and Willis—enjoyed a few years of great prosperity, but by the early 1950s, it became clear that they lacked the capital and dealer networks to effectively compete with Chrysler, Ford and General Motors.  In 1955, the Hudson Motor Car Company ceased its production of vehicles in Detroit and merged with Nash to form a new American Motors Corporation.  Production was concentrated in Kenosha and, by 1957 or so, both the Nash and Hudson name plates had been eliminated.  The cars they produced were, primarily, sold as Ramblers although a few other name plates appeared.  American Motors was first headquartered in the building you see but they were prosperous enough, in the early 1960s, to move into a large modern skyscraper of an office building in Southfield.  This building on Plymouth Road in Detroit continued to be used for offices but I do not think American Motors ever used it as a manufacturing facility. While prosperous in some years with the sales of a few successful models such as the Pacer, American Motors struggled and was, quite frequently, in need of cash.   Most years in the late 1960s and 1970s were annus horriblis for United States auto firms since the European and Asian producers grabbed market shares by selling higher quality cars at lower price.   Presumably to raise capital, American Motors in 1968 sold Kelvinator and got out of the refrigeration business.  They, however, had the funds in 1970 to produce the Kaiser Corporation that then produced the Jeep in Toledo.  That is, Kaiser-Fraser was not very successful in building and selling their own line of cars but, eventually, they produced the remnants of the Willis-Overland Company of Toledo that was, after World War II, the sole manufacturer of the quite popular Jeep.  They also produced modest numbers of cars with other names including the Willis and the Henry J.

Needing an influx of capitol and ideas at the end of the 1970s, American Motors began to partner with the large French auto producer, Renault.  By 1983, Renault owned the entire former American Motors firm.  They began building Renaults for the American market in Kenosha but they had a great deal of difficulty getting Americans to buy their product.  I recall considering the purchase of a Renault Alliance and quickly giving up on that idea because of its lack of quality.  By 1987, Renault was glad to go back to their Gallic routes so they sold the former American Motors to Chrysler.  The most valuable component was Jeep and the several plants in Toledo where that popular vehicle was assembled.

As a result of their purchase of Renault, Chrysler got this very attractive building.  They renamed it the Plymouth Road Office Complex and used it as office space for the engineering staff responsible for the design of Jeeps and Dodge trucks.  I do not believe that Chrysler or Daimler-Chrysler ever used the large Kelvinator plant for manufacturing but I might be wrong about that.

Chrysler went into bankruptcy in spring of 2008 and the federal government superintended the process.  Cutting cost was imperative.  At that time, Chrysler had an engineering staff of about 1,500 working at this building.  In June, 2009; they were shifted to the Auburn Hills headquarters of the firm that we now know as Fiat-Chrysler.  After 82 years of activity, this building was empty and has been for sale since the summer of 2009.
Date of Construction: 1927
Architect for the administration building:  Amedeo Leoni
Architect for the tower: William E. Kapp
Architect for the industrial plant: Wallace Mckenzie
Use in 2012:  Recently abandoned building listed for sale
City of Detroit Designated Historic District: Not listed
State of Michigan Registry of Historic Sites: Not listed
National Register of Historic Places: Not listed
Photograph:  Ren Farley; October 20, 2013
Description: November, 2013
Return to Industrial Buildings