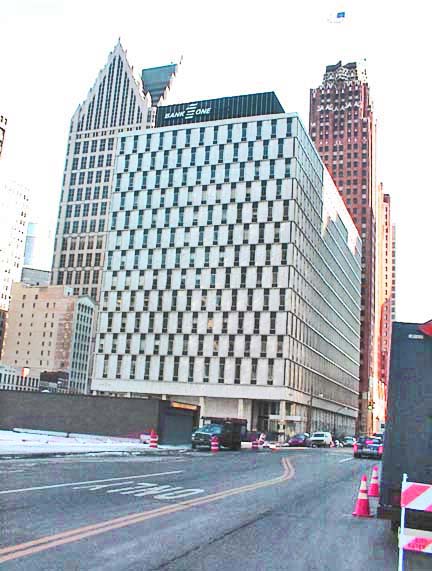 National Bank of Detroit/Bank One Center/Chase Tower/Qube
611 Woodward Facing Campus Martius

Because of the Depression and World War II, there was almost no new construction in downtown Detroit from the late 1920s to the 1950s. This was one of the first major new commercial buildings erected in the city's center after that long interval. You can see how architectural styles changed in one generation. Just across the street is Albert Kahn's First National Bank Building with its classical elements. Just around the corner on Griswold is the Art Deco Guardian Building that Writ Rowland designed, a National Historic Landmark. The building you see resembled neither of those earlier structures. Designed as the headquarters office building for the National Bank of Detroit, it is a 14-story structure with an exterior of white marble and glass. This, and the annex for the Federal Reserve Bank on West Fort that Minoru Yamasaki designed in 1951, were among the first examples of Modernist architecture in downtown Detroit. As Eric Hill and John Gallagher, observe in this AIADetroit The American Institute of Architects Guide to Detroit Architecture (Detroit: Wayne State University Press, 2003), this building is a "checkered curtain wall of glass and white marble panels," distinctive for its staggered pattern of windows. This remains one of the most prominent examples of Modernist architecture in downtown Detroit.

The National Bank of Detroit was established in 1933 as a joint venture of the federal government's Reconstruction Finance Corporation and General Motors. Just as General Motors received assistance from the federal government after the financial crisis of 2008, so too they benefitted from governmental assistance in the Great Depression. By 1945, GM had sold its one-half interest in the National Bank of Detroit and, two years, later, the Reconstruction Finance Corporation sold its ownership of the other half of the bank. In 1995, the National Bank of Detroit merged with First National Bank of Chicago to form Bank One. After that merger, the building you see pictured here was known as Bank One or Bank One Michigan. In 2006, Bank One was purchased by JPMorgan Chase and Company. After that the building was renamed the Chase Tower.

Dan Gilbert, chief officer of Quicken Loans, purchased the building in April, 2011 and, apparently, will use it as headquarters for his firm. As many as four thousand workers may be employed here by firms Mr. Gilbert controls or recruits to rent office space. This is one of twenty-two buildings in this area of downtown Detroit that he now owned or controlled by Dan Gilbert and his Rock Financial firm. These include the First National Bank Building, the former Federal Reserve Building, Dime Building—recently renamed The Chrysler House—and the Madison Building. This building has borne many names over the years. It would not be surprising to find that Mr. Gilbert rechristens it once again.

Architect: Albert Kahn and Associates
Date of completion: 1959
Architectural style: Modernist
City of Detroit Designated Historic District: Not listed
State of Michigan Registry of Historic Sites: Not listed
National Register of Historic Places: Not listed
Photograph: Ren Farley
Description updated: June, 2013

Return to Banks and Commercial Buildings
Return to Dan Gilbert and Rock Financial Holdings

Return to Homepage
.