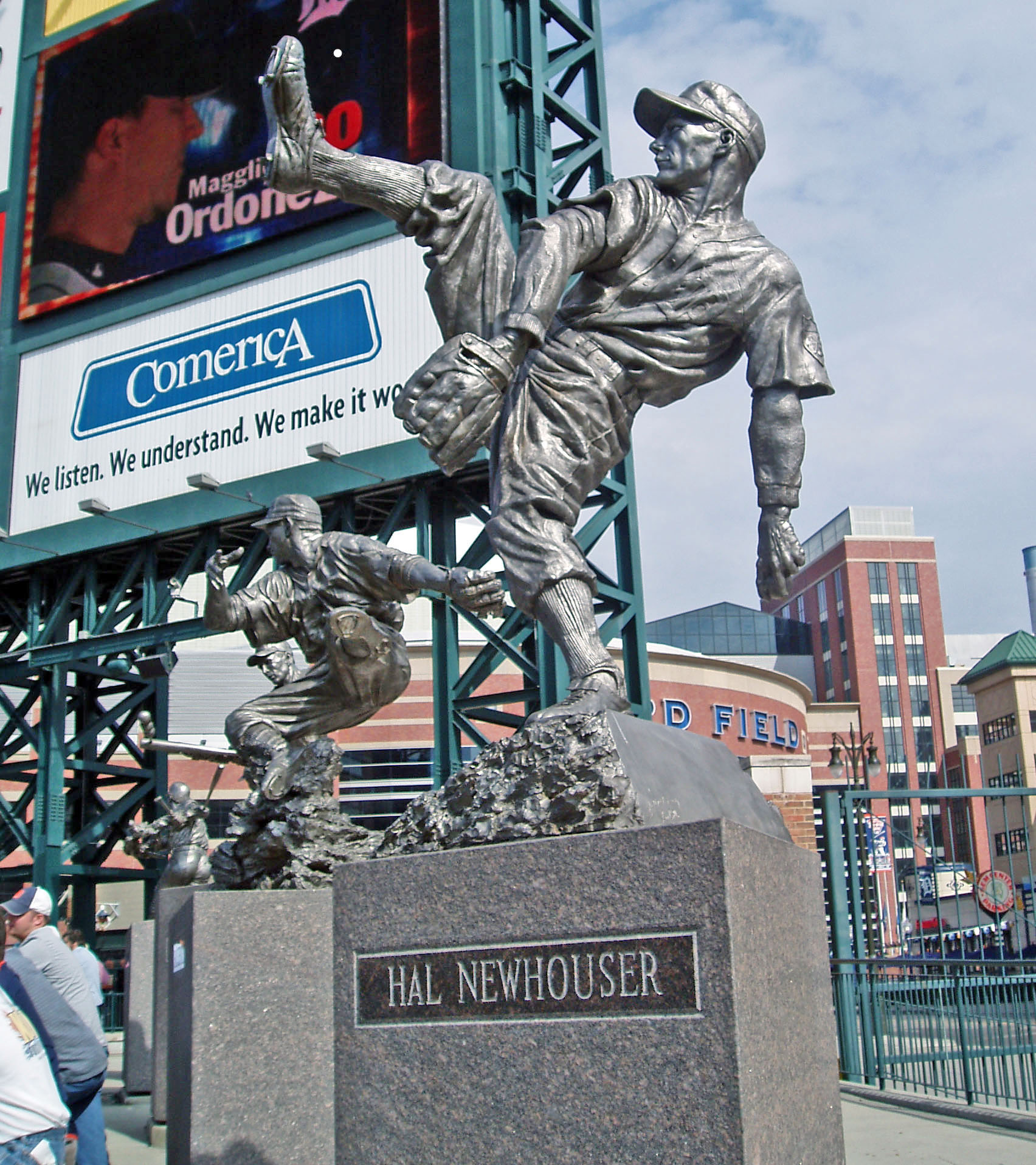 Statue of Hal Newhouser

Located in the walkway above left field in Comerica Park in
Downtown Detroit and visible from Adams between Witherell and Brush

If you asked who was Detroit's most accomplished athlete, most would give you the name of Joe Louis who dominated the heavyweight ranks of prizefighting from 1937 through 1949. The Brown Bomber, although raised in Detroit and learning his craft here, was born in Lafayette, Alabama. This means that Hal Newhouser is, arguably, the greatest native Detroit athlete. Newhouser, born in the city in 1921, attended the William Wright Institute for his secondary education and then signed with the Tigers. He joined the team in September, 1939 at age 19 and continued with them until the end of the 1953 season.

Newhouser's career got off to a slow start. He had a 9 win, 9 loss record with the Tiger's 1940 championship team, and despite the team's need for pitching, did not play in any of the World Series games against the Reds. Indeed, in his first five seasons, he posted a mediocre record of 34 wins and 51 losses. His proficiency greatly improved with the start of the 1944 season. Apparently he perfected the fast ball that allowed him to dominate most hitters and rival Bob Feller. In the next seven seasons, he won 151 games and lost only 80 on his way to a 17 year career in which he won 207 and lost 150 with a remarkably low 3.06 earned run average. Newhouser is, I believe, the only pitcher to win the Most Valuable Player award two years in a row, 1944 and 1945. The Cubs, in the first game of the 1945 World Series, drove Newhouser from the mound in three innings but he defeated the Cubs in the fifth game at Briggs Stadium and then won the decisive seventh game in Wrigley Field. That year, Newhouser also won the pitcher's triple crown: most victories, lowest earned run average and most strikeouts. No pitched did that again for 52 years until Roger Clemens won back-to-back pitcher's triple crowns. Seven times, Newhouser was selected for the American League's All-Star team.

A look at Newhouser's records reveals how the philosophy of pitching changed in the last six decades. In his era, a starting pitcher who loaded the bases with no outs was expected to work his way out of trouble no matter the inning. A pitcher could take satisfaction in six good innings with the expectation that long and short relief men would finish the job. Newhouser started 104 leagues games from 1944 through 1946 and completed 83 of them.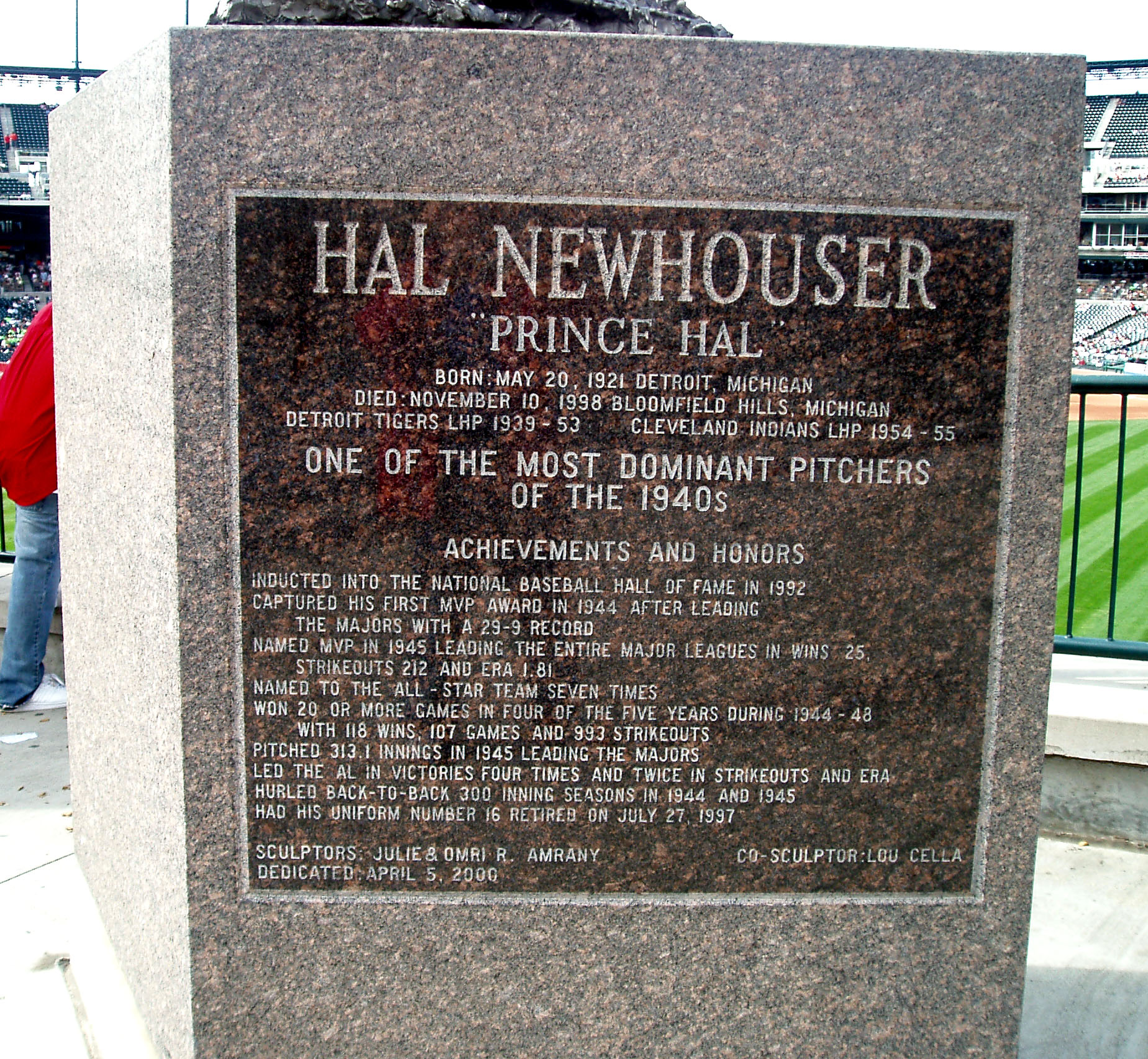 Newhouser had arm troubles in 1953, so the Tigers released him at the end of that season. He believed that he had been treated poorly and could still contribute. Senor Al Lopez, manager of the Cleveland Indians, signed him, and converted him into a relief pitcher. Newhouser pitched effectively for the Indians, winning seven games for them as they went on to a then-record 111 wins in one season.

Newhouser election to the Hall of Fame was much delayed compared to athletes with comparable achievements. His career ended in 1955 but he was not chosen for Cooperstown until 1992. He got the demeaning reputation of being a World War II player. He took his physical in 1941 or 1942 but the examining physician found a heart murmur so his draft board classified him as unfit for service. I believe he worked in a Detroit machine shop to make his contribution to the war effort. During the war years, the quality of players declined markedly as teams went with men too young or too old for the Armed Forces and those physically unfit. The St. Louis Browns put one-armed Pete Gray in their outfield and the Cincinnati Reds signed
15-year-old Joe Nuxull to pitch. By 1946, regular major league players were back in uniform. That year, Hal Newhouser pitched 29 complete games, and won 26 with a 1.94 earned run average.

Newhouser was known for his fiery temper. Apparently, he was estranged from the Detroit Tigers from his release in 1953 until 1997 when the team ceremoniously retired his number. After leaving baseball in 1955, Newhouser went into the banking business. Retiring from that industry after a score of years, he became a baseball scout in Michigan. He takes credit for recognizing the promise of Jim Abbott who had a ten year career in the American League and Steve Avery who will likely be the only Detroit native playing in major league ball in 2006. While working for the Houston Astros, Newhouser spotting a promising young shortstop in Kalamazoo who intended to enroll at the University of Michigan. Newhouser strongly encouraged the Astros to make Derek Jeter their first draft choice. They rejected his advice. Newhouser resigned the next day. Newhouser died in Bloomfield Hills in 1998. He is the only Detroit native elected to the baseball Hall of Fame.
Sculptors: Julie Amrany, Omni Amrany and Lou Cella
Date of Dedication: 2000
Use in 2005: Public Art honoring the baseball tradition in Detroit
Biography of Hal Newhouser: A Tiger in his Time: Hal Newhouser and the Burden of Wartime Ball, by David M. Jordan
(South Bend: Diamond Commentaries, 1990)
City of Detroit Local Historic District: Not Listed
State of Michigan Registry of Historic Sites: Not Listed
National Register of Historic Places: Not Listed
Photograph: Ren Farley; September 14, 2005

Return to Public Art and Sculpture