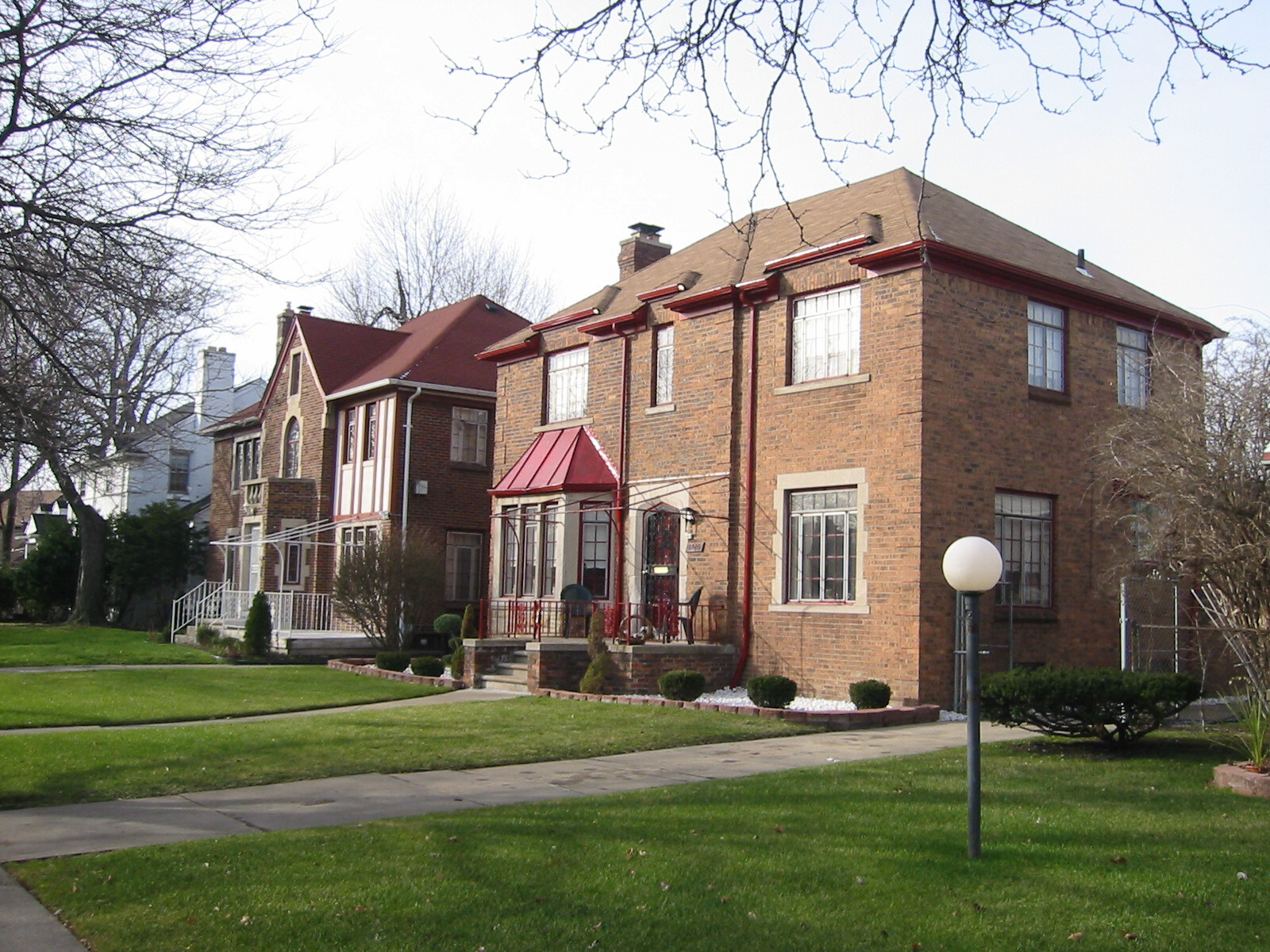 Oakman Boulevard Historic District
This includes both sides of Oakman Court from Linwood to its intersection with Oakman Boulevard, and then both sides of Oakman Boulevard to the intersection of
Oakman Boulevard and Davison in Detroit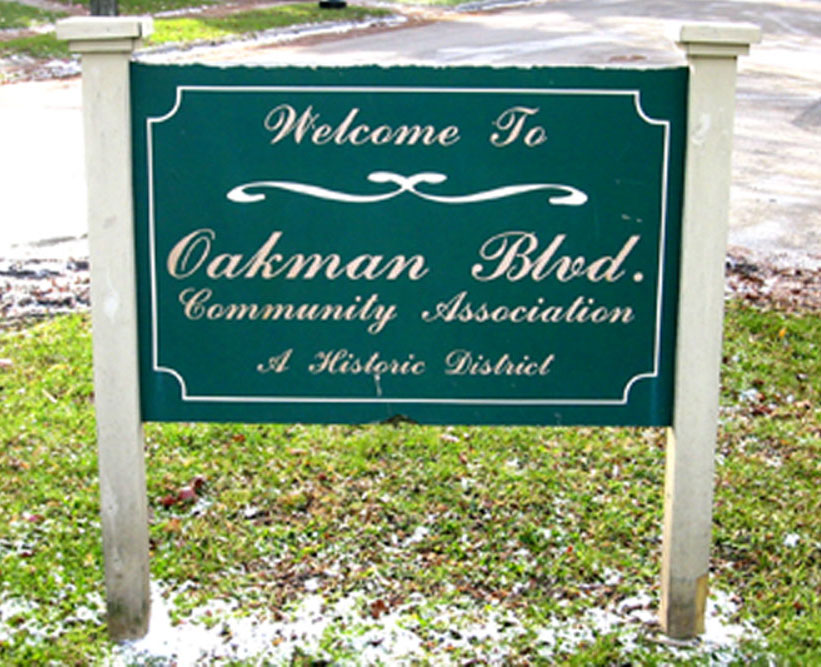 The Nineteenth-Century city of Detroit was encompassed by the great half-circle Grand Boulevard forms as it extends from its intersection with West Jefferson in southwest Detroit near the Ambassador Bridge to its intersection with East Jefferson at the Belle Isle Bridge. The wealth generated by the city's manufacturers and merchants allowed many of them to build massive homes on this ring road, the majority of them still standing eleven decades later. As you drive along Grand Boulevard from Jefferson to Jefferson, you will see that some are well maintained, many that have been converted into homes for the infirm or for senior citizens, while a few are in disrepair.
By 1908, the city's population and wealth were growing rapidly, thanks to the entrepreneurs of the vehicle industry. By the mid-teens, developer Robert Oakman proposed another ring road that would mark the boundary of the expanded city, a boulevard he named after himself. Shortly thereafter, he realized that Henry Ford only had a huge production plant in Highland Park and was constructing another and ever larger plant along the River Rouge in Dearborn. Needing capital for his real estate adventures, Oakman proposed a boulevard that would connect the two plants. He also hoped that Henry Ford would invest funds so that he, Oakman, could build homes along this boulevard rivaling the mar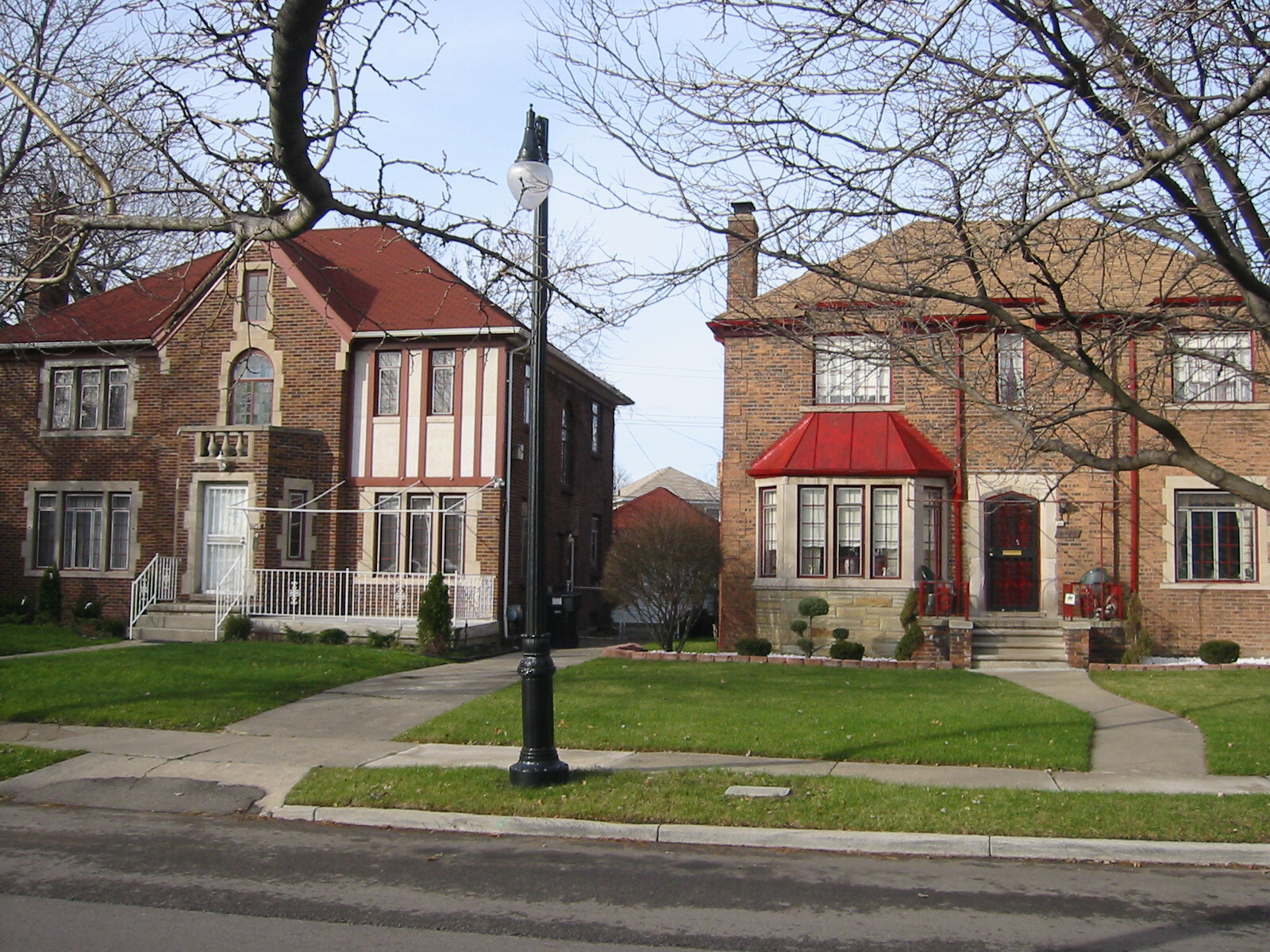 velous homes found on Grand Boulevard.
Ford opted not to invest in this project, but Robert Oakman found that his friend, John Dodge, was willing to put up almost one-quarter million dollars, so construction began. Similar to many spectacular projects, Oakman Boulevard is more limited than first conceived. It extends from Hamilton in Highland Park, about three blocks away from the Ford Plant, to Michigan Avenue in Dearborn, about a mile from the Rogue Plant.
The most attractive homes built along Oakman Boulevard are found between the intersection of Oakman Court—a branch of Oakman Boulevard—and Linwood and the intersection of Oakman Court and Davidson. The Oakman Boulevard Historic District includes homes on both side of this boulevard. Most of them are large, attractive brick colonial and Tudor homes with landscaped yards built before 1929.
After the racial riots of 1967 and the employment restructuring that accelerated with the oil crisis of 1973, many Detroit neighborhoods fell into decline. The exodus of prosperous whites to the suburbs continued and high-paying, blue-collar jobs became increasingly difficult to find or hold. Under Mayor Coleman Young, the city faced an extreme financial crisis, so public services were severely reduced. The Oakman Boulevard neighborhood is one which successful weathered the difficult times. Neighborhood organizations were formed around 1970, and successfully fought to maintain the quality of city services. This is an example of active residents organizing themselves to preserve the quality of their prosperous neighborhood. They also created a positive image for the area, especially by having the neighborhood declared a historic district. This provided residents with modest financial incentives to maintain their homes. You can certainly find many neighborhoods in the city of Detroit with dilapidated and burned-out homes. But there are also very well-kept neighborhoods, with the housing amenities and green space that you would expect to find in the prosperous suburbs of Boston, New York or Chicago.
Besides building homes, Robert Oakman was a major figure in the Michigan Republican Party from the 1890s to the 1920s. He held a number of appointed offices in both the city's government and the Republican Party. The troika of John Dodge, Robert Oakman and Oscar Marx who served as mayor from 1913 to 1918 ran the powerful southeast Michigan Republican Party at this time. Robert Oakman was a Michigan delegate to the Republican Party convention in 1920, the convention that nominated Warren Gamiel Harding.
City of Detroit Local Historic District: Established October 6, 1989
State of Michigan Register of Historic Buildings: Not listed
National Register of Historic Sites: Not Listed
Use in 2004: Upscale residential neighborhoods
Photo: Andrew Chandler; December, 2004
Return to City of Detroit Historic Designations