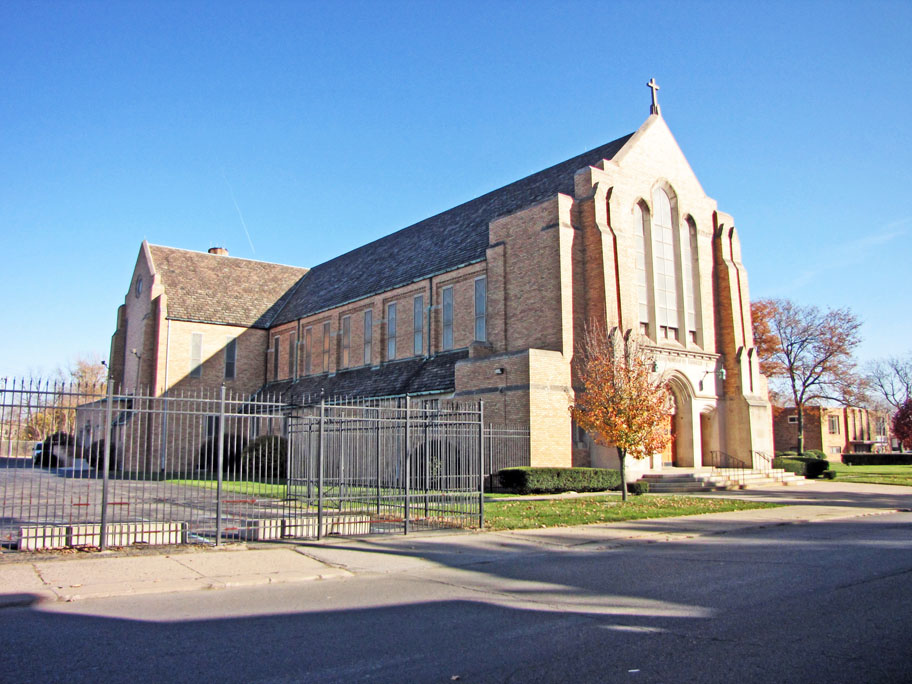 Our Lady Queen of Angels Church/
La Iglesia Catholica de Nuestra Seňora Reine de Los Angeles
4200 Martin Street
This area of Detroit was settled by eastern European immigrants in the early decades of the Twentieth Century.  Booming employment in Detroit's manufacturing plants attracted them.  Many of the immigrants were Polish.  As you walk around the neighborhood, you appreciate the type of housing that was constructed for working class families at that time.  Most are small, single-family homes, but there are some two-unit flats.  Apparently, the Polish residents here originally attended church at St. Hedwig's Church on Junction.  But that was some distance away, so the residents asked Bishop Foley to establish a new parish for them.  The Bishop selected a Franciscan priest then appointed at St. Hedwig's—Raymond Marciniec—to establish a new Our Lady Queen of Angels parish.  He purchased land and started building what would become a school.  The parish was officially opened on the Feast of the Immaculate Conception in 1915—December 8—when the first Mass was said in the basement of the future school building.

I infer, but I do not know for sure, that a small church was constructed.   This community grew as Detroit boomed in the 1920s.  Apparently, entrepreneurial pastors purchased land on Martin and foresaw the eventually development of the large parish campus that you now see, perhaps similar to the huge one at Junction and Vernor Highway that still serve as the home of Holy Re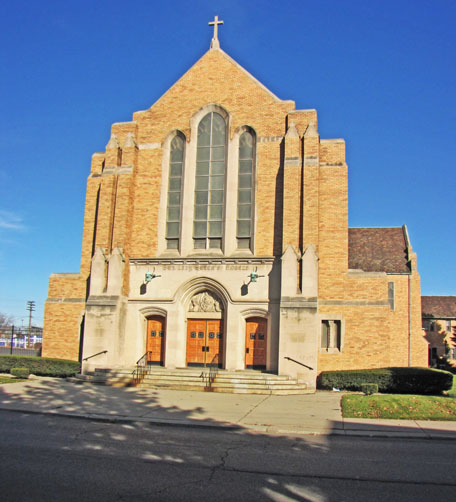 demmer parish.  A building fund was set up but the Depression and then World War II precluded almost all construction in this county.  In the late 1940s, plans were drawn up for the beautiful modern Gothic church erected here on Martin.  Construction began in 1951 and, as the website for this parish states, the physical configuration has not been altered very much in the last six decades.  It is interesting to compare this modern post-World War II style Gothic church to the older Gothic styles represented in Bethel Evangelical located on West Grand near Lawton or Trinity Evangelical on Gratiot near Russell.

I am surprised by the construction projects of numerous Catholic parishes in Detroit in the late 1940s and early 1950s.  Demographers and urban analysts clearly understood the exodus of white population from older central cities since federal housing policies made it easy to purchase homes in the suburbs.  And the diocese of Detroit quickly established numerous parishes in the flourishing suburban ring.  Yet many of the older ethnic parishes in the city of Detroit built magnificent structures that would serve the needs of a parish of several thousand congregants while the actual number of Catholic residents in the city was falling rapidly because of suburbanization.

This congregation dates from 1916.  The website lists the pastors who led this church.  All of them apparently were Polish by ethnicity until the end of the 1980s. This parish survives, I believe, because of the Spanish-speaking population that has migrated into southwest Detroit in modest numbers in recent years.  However, the migration of Mexicans and Central Americans to Detroit appears to be over.  That is, Census 2010 reported that the number of Spanish-origin individuals in the city of Detroit increased to 47,000 to 49,000 in the decade.  In the suburban ring, the growth of the Spanish-origin population was much greater: from 79,000 to 120,000.  The recent census showed that many downriver suburbs and Macomb county locations now have numerous Hispanics.  This parish survived the suburbanization of the Polish population after World War II.  Will it survive the suburban movement of Detroit's small Spanish population?
Date of construction: 1952
Architectural style: Gothic
Architect: Unknown to me
Use in 2011: Active Roman Catholic parish
Website: http://www.olqachurch.com/Our_Lady_Queen_of_Angels_Catholic_Church/Welcome.html
City of Detroit Designated Historic District: Not listed
State of Michigan Registry of Historic Sites: Not listed
National Registry of Historic Places: Not listed
Photograph: Ren Farley, 2010
Description prepared: May, 2011
Return to Religion
Return to Religious Structures