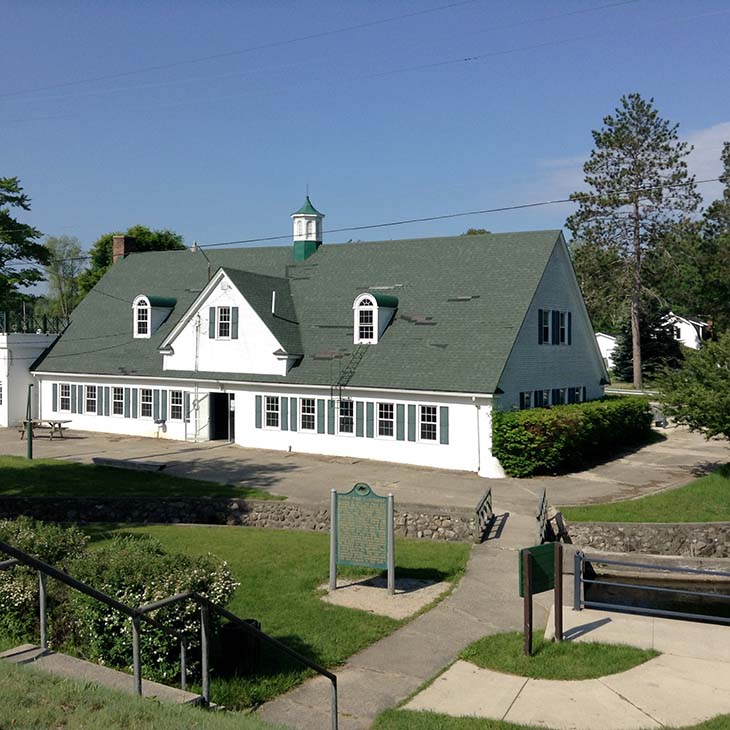 Paris Fish Hatchery
22090 Northland Drive
Paris, Mecosta County

If you ride your bicycle north from Big Rapids toward Reed City on the Fred Meijer White Pine Trail State Park, you come to the small community of Paris and ride by a freshly painted large white building in extremely well-maintained Paris Park.  This is the Paris Hatchery which was established by the state of Michigan to develop fish for the state's rivers and streams. The Fred Meijer White Pine Trail is a 93-mile-long state park extending from Comstock Park to Cadillac on the former road bed of the Grand Rapids and Indiana's line that once extended from Richmond, Indiana to Mackinac City.  What is the reason why a picture of a fish hatchery would be included in a website devoted to the City of Detroit and rail transportation in Michigan?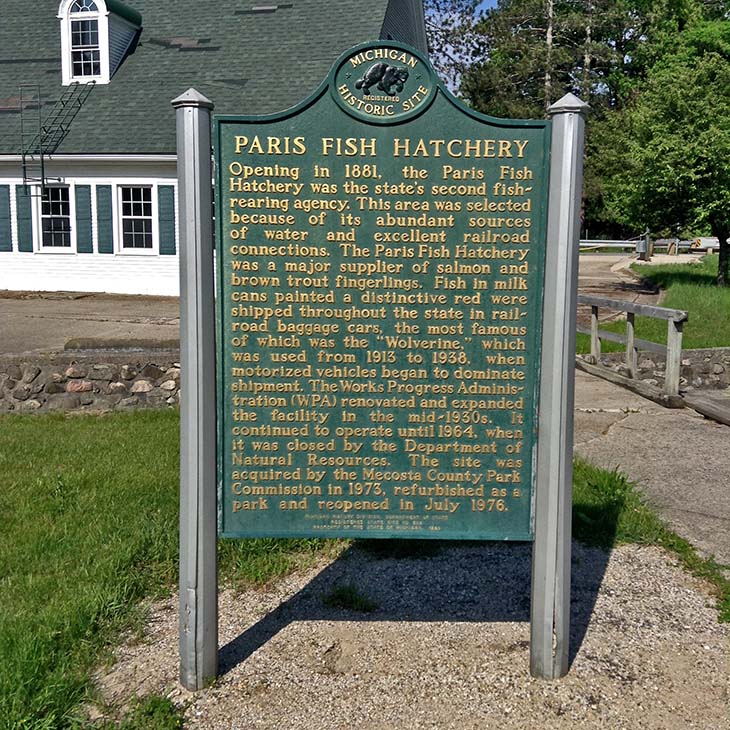 This hatchery opened in 1881.  I do not know when the present building was put up.    The structure was substantially rebuilt by the Works Project Administration in the Depression decade.  It continued to operate as a hatchery until 1964. You may notice the fish ponds on the east side of the former rail line.  It is now a component of a very attractive park opened by the Mecosta County Park Commission in 1976.  I presume that some refurbishing was done when Mescota County officials converted this area into Paris Park.   This is a 40 acre extremely green park with 68 camping site.  It includes a replica of the Tour Eiffel—a delightful sylvan place to pause when you are taking a bicycle ride.

Rail historians know that Michigan was, apparently, one of the few or the only state that used specially designed rail cars to transport fish from a state hatchery to waterways.  In the Nineteenth Century, I believe that fingerlings from this site were put into cans that were then put into baggage for transport around Michigan.   There was once a depot in Paris and, in the 1890s, six passenger trains a day stopped at this location whisking passengers and fish to various interesting locations in the state. 

At some point, Michigan conservation authorities had a special railroad car designed for transporting fish. The last one of these special cars was given the name Wolverine and is now on display at the Oden Hatchery Visitor Center in Oden.  This rail car is pictured on this page.  It apparently not only transported fish but had sleeping bunks and a kitchen for the conservationists who traveled with their fish throughout the state.  This rail car was retired in 1935 or 1938 when delivery shifted to trucks. Oden, Michigan is located on the north shore of Crooked Lake between Petoskey and Alanson on United States #31 in Emmett County.  Oden was also served by the Grand Rapids and Indiana.  The former road bed from Petoskey to Alanson has been paved for use by pedestrians and bicycle riders.

John Parish became the first European to live at this site when he built a cabin here in 1851. He bought land in the area and founded a village in 1865. It was originally named for him but when a post office was established in 1866, the name was shortened to Paris.  The Grand Rapids and Indiana line reached this point in August of 1870.  Rail service through Paris came to an end in 1984 and the tracks were removed.

State of Michigan Historical Site:     Listed SO506   
State of Michigan Historical Marker: Put in place in 1980 and highly visible from the bicycle trail.
National Register of Historic Places: Not listed
Website for oden Hatchery Visitor Center: https://www.michigan.gov/dnr/0,4570,7-153-10369_46675_58961---,00.html
Picture of hatchery:  Ren Farley; June 3, 2015
Picture of rail car:  Take from website for the Oden Hatchery Visitor Center
Description prepared: June, 2015