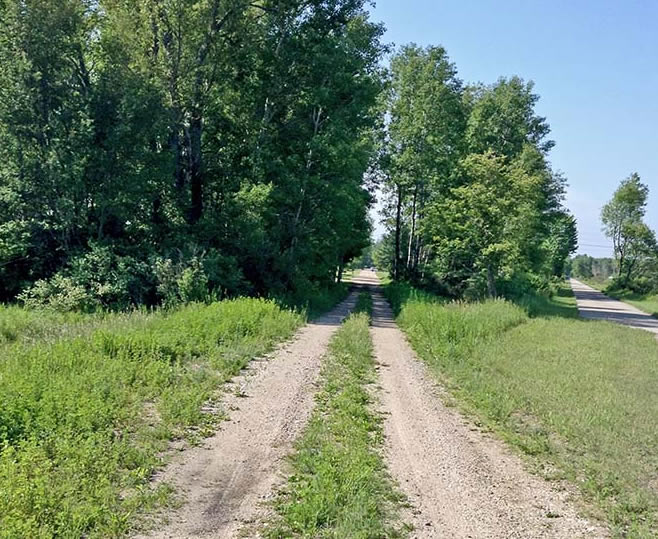 The Paris and Pere Marquette River Railroad Company
About two miles north of Paris
Mecosta County

The first time I rode the Fred Meijer White Pine Trail State Park north from Big Rapids to Reed City, I recognized a flat unpaved trail intersecting the bicycle path just a couple of miles north of the hamlet of Paris.  I realized that this was, most likely, a former railroad.  It did not look like a vehicle road since, in this part of Michigan, highways most often go from east to west or from south to north.  None of the usual historic maps of rail lines in Michigan provided information about this abandoned line.  Finally, I searched Graydon M. Meints, Michigan Railroads and Railroad Companies (East Lansing: Michigan State University Press, 1992) and discovered the answer to my question. 

The Fred Meijer White Pine Trail State Park is the roadbed of the Grand Rapids and Indiana Railroad extending about 93 miles from Grand Rapids to Cadillac.  Substantial parts of it are a paved trail but there are other sections that are quite rough so please determine where you will ride and select the appropriate bicycle.

Mecosta County was covered by forests when Michigan became a state in 1837.  That timber became valuable as industrialization occurred during and after the Civil War.   A firm,  Palmer, Nichols and Company, built a 16-mile rail line from the Muskegon River just north of Paris in a northwesterly direction towa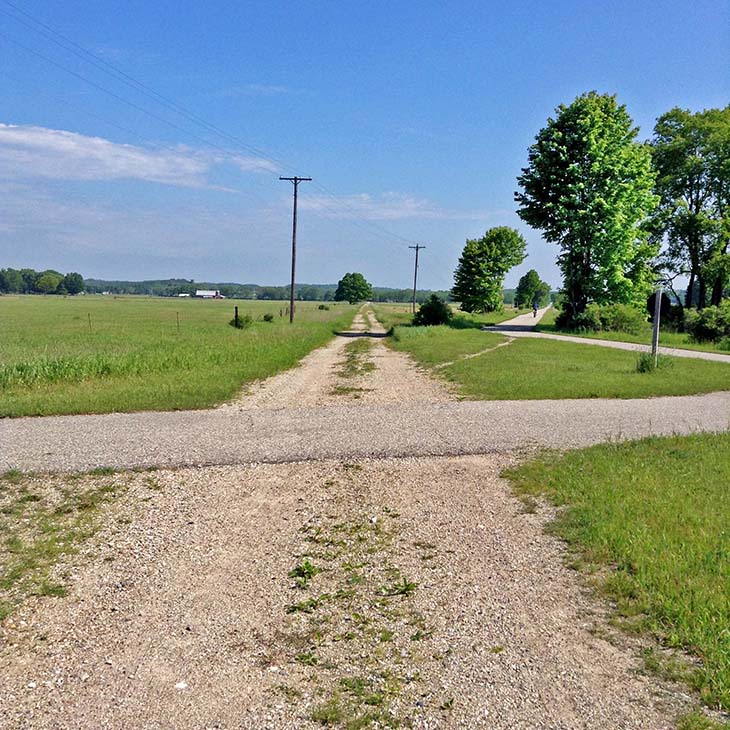 rd the Pere Marquette River, the stream that empties into Lake Michigan at Ludington.  I presume that the line was designed to haul lumber to either the Muskegon River or the Pere Marquette River where logs could be floated to a sawmill or, perhaps, to a sawmill located on the rail line.  The railroad began operation in 1884.

The Paris and Pere Marquette was, I believe, a common carrier.  That is, I have seen a copy of a report the railroad filed with the state of Michigan in 1888.  Some timber companies built short railroads to take logs from their stands of trees to their sawmill or to a river.  Many of these railroads did not carry passengers or any freight traffic other than wood and did not interchange freight cars with other railroads.  Those railroads were not common carriers so they were not subject to state regulation or to the federal regulations that came after the Interstate Commerce Commission Act went on the books in 1888. As a common carrier, the Paris and Pere Marquette, I presume, interchanged traffic with the Grand Rapids at Indiana at a crossing just north of Paris.  The pictures on this page were taken from that interchange point.  The line, in 1888, reported they had three steam engines and 42 freight cars, presumably cars for carrying logs.  I do not know if they offered scheduled passenger service.

This rail line was abandoned in 1889.  I presume that the timber in this area of Mecosta County had been harvested and that the steam engines and log cars of the Paris and Pere Marquette were sold to some other logging railroad in Michigan or a nearby state.  So far as I know, there are no other surviving structures or buildings to remind us of the brief existence of the Paris and Pere Marquette River Railroad.

The small community of Paris was founded by John Parish who built a cabin at the site in 1851. He bought land in the area and founded a village in 1865. It was originally named for him but when a post office was established in 1866, the name was shortened to Paris.

Date of Construction: 1883 and 1884
Date of Abandonment: 1889
Use in 2015:  Abandoned rail line suitable for ATVs and snowmobiles.
State of Michigan Registry of historical Sites: Not listed
Photograph:  Ren Farley; June 3, 2015
Description prepared:  June, 2015

Return to Transportation

Return to Homepage