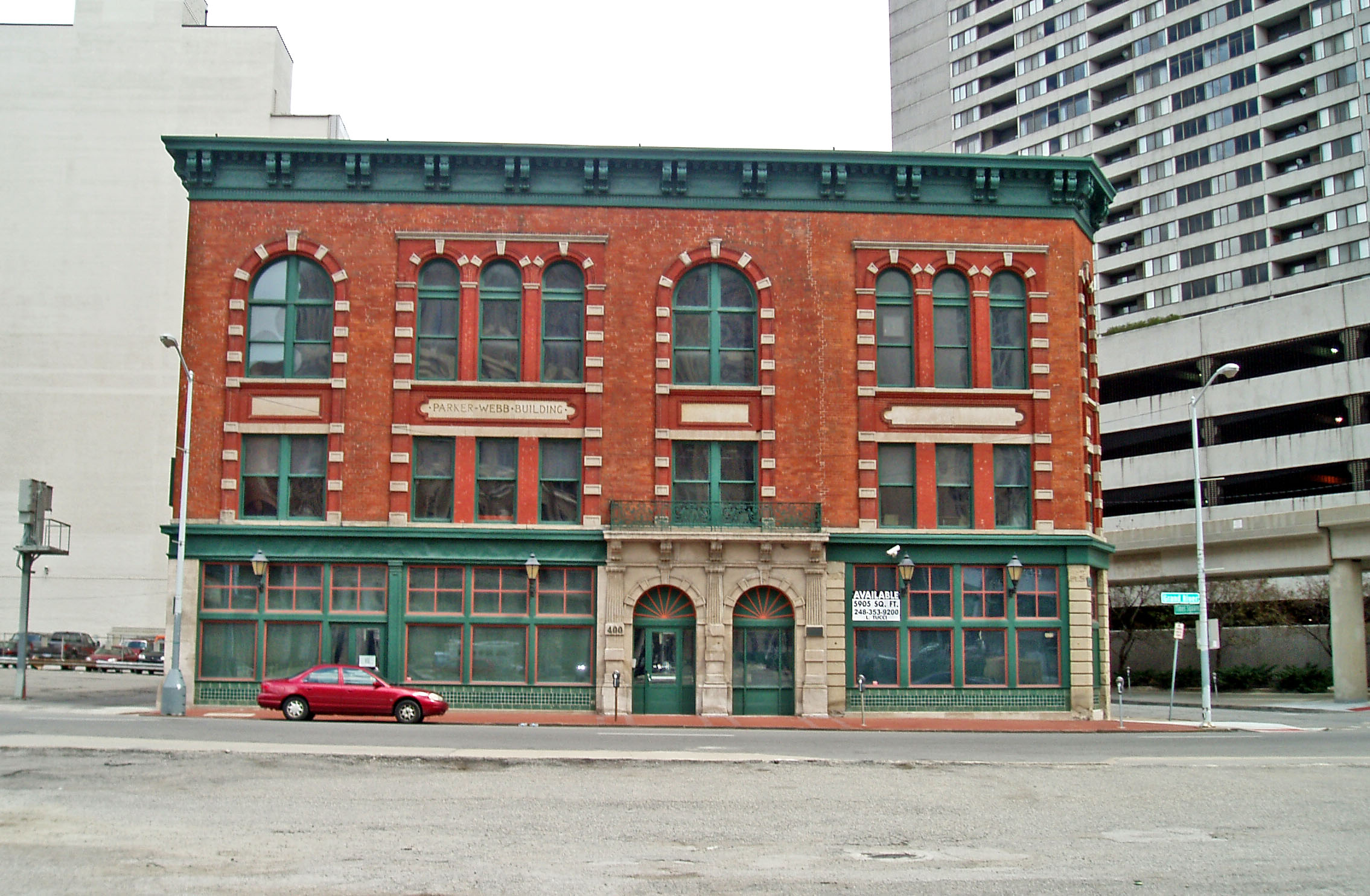 Parker-Webb Building
400 West Grand River
One of the great rewards you get when you walk about downtown Detroit and the neighborhoods is to find an architecturally significant building that has been restored. Everyone knows about the restoration of the Book-Cadillac Hotel and the successful conversion of the manufacturing buildings in the Parke-Davis campus. But throughout the city, you find other excellent and successful restoration achievements. The Parker-Webb Building is one of them.
This building was constructed about 1900 to serve as a meat processing facility. It is interesting to think that the developers or owners invested greatly in architectural detail for a building with such a mundane purpose. I do not know anything about the history of this strikingly attractive building. Apparently in the 1990s, Gilbert Silverman owned the building and hired architects Robert and Maureen McGovern Kraemer to restore it. By the end of the 1990s, the Kraemer design firm moved their offices here. In 2008, the Kraemer Group moved to a different location on Broadway in downtown Detroit at 1426 Broadway.
If you look at the website of the Michigan Department of History, Arts and Libraries, you will see the Parker-Webb Building shown with a description of the Grand Circus Park Historic District. But that is not correct since this section of Grand River Boulevard is not near Grand Circus Park. If you look at the website of the City of Detroit's Historic District Commission, you will see they list this building as a registered historic site, but they do not indicate if it is on the city, the state or the federal register. I have seen a report that the Parker-Webb Building is eligible for the National Register of Historic Sites, but so far as I know, it is not yet a registered site.
Architect for original building: Unknown to me
Date of construction: About 1900
Architects for the renovation: Robert and Maureen McGovern Kraemer
Date of renovation: 1990s
Use in 2009: Available
City of Detroit Designated Historic District: Apparently not listed
State of Michigan Registry of Historic Sites; Apparently not listed
National Register of Historic Places: Apparently not listed
Photograph: May 2, 2009
Description prepared: May, 2009
Return to Commercial Buildings