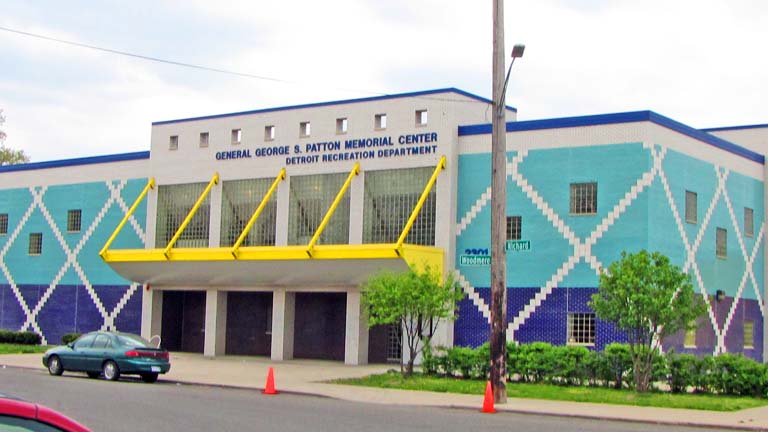 George S. Patton Recreation Center
Located in George S. Patton Park near the intersection of Woodmere Street and
Elsmere Street in southwest Detroit

This very modern and imposing recreational building is a central feature of George C. Patton Park in southwest Detroit.  Jacques Bebe, who, I believe, was a descendent of one of the original French families, owned this land near the River Rouge and Dearborn.  At some point, he gave 93 acres to the city of Detroit with a covenant saying that it could only be used as park.  For some time, the city did not have resources to create a park here but they were able to do so in the early 1950s.  At that time, a creek flowed through the park and feed a pond.  However, that water flow was covered in the 1960s and the pond was filled in.  This stream was known as Baby Creek, an Anglicization of the original owner's surname.

This park was dedicated shortly after World War II so it was common to invoke the names of the heroes of that conflict.  Officials in Detroit decided to honor General George C. Patton.  Patton, born in California in 1885 was a career officer having graduated from West Point in 1909.  He represented the nation in the 1912 Olympics and then served as an officer in a motorized unit in the skirmishes with Mexico before World War I.   He was an artillery officer in first great European War.  During the period between the world wars, Patton became friends with and served with both General MacArthur and General Eisenhower.  For much of that period Eisenhower and Patton advocated for an armored corps using tanks, an idea that did not win much favor with the members of Congress who appropriated funds.  But the fighting in World War II demonstrated how effective armored units could be.  For much of World War II, he led the Allied troops on the ground who fought the Germans, first in the Italian peninsula and then in France and the Low Countries during the final and successful offensive that followed D-Day.  While General Eisenhower deserves credit for the planning that lead to victory in the European theater, General Patton was the commander in field directing the actual fighting.  By 1945, he was a very popular and well-known figure but his career ended in an unexpected way.  In September, 1945;,the Allies appointed Patton as military governor of Bavaria.  The winners, of course, occupied Germany.  Patton, apparently, was a much more accomplished military leader than a politician.  He appointed many National Socialists to leadership positions in Bavaria and went on to make remarks which were interpreted by some saying that the National Socialists were rather like the Democratic Party in the United States.  Patton was replaced as governor of Bavaria within a month.  In December, 1945, he died as a result of injuries suffered in an auto accident.  

The fascinating and colorful building that you see pictured here is, I believe, a 1978 renovation of the original George C. Patton Recreational Center.  When originally built in the 1950s, that structure was the first to include a feature that we now take for granted at upscale hotels—a pool that was both inside and outside.

Architect: Unknown to men
Date of construction or rehabilitation: 1978
Use in 2012: Recreation center
City of Detroit Designated Historic District: Not listed
State of Michigan Registry of Historic Sites: Not listed
National Register of Historic Places: Not listed
Photograph:  Ren Farley; April 20, 2012
Description prepared: May, 2012
Return to Sports and Recreation

Return to Home Page