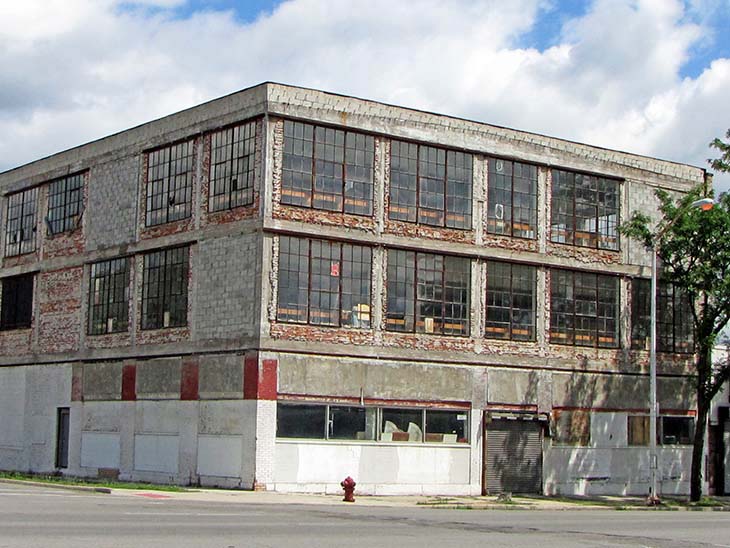 Peter J. Platte Motor Sales
14,801-14,825 East Jefferson

In the winter of 2014, the Detroit Blight Removal Task Force surveyed every parcel of land in the city of Detroit and, in May of that year, issued their informative report "Every Neighborhood Has a Future …. and It Doesn't Include Blight."  They identified 17,962 commercial buildings in the city.  Thirty percent of them—a total of 5,471—were blighted.    The Peter J. Platte Motor Sales building was, I presume, one of the blighted commercial structures in the Detroit Blight Removal Task Force survey.

We often laud the innovative men who, in Detroit, designed automobiles and then determined how to produce them efficiently in great quantity while maintaining quality; such men as Henry Ford, R. E. Olds and Henry Leland.  However, the survival of a vehicle producer depended upon sales.  Without a network of dealers to market cars and trucks and then service those they sold, the auto firms would have withered.  I can think of no instance in which a path was beaten to the door of an auto factory because of the quality or innovativeness of their product.

Today, we think we know what auto dealerships looks like.  Located on several acres or more of land, it includes large lots full of new and used cars, an attractive well-lit showroom where the walls are windows and where you can work out a deal with the sales person.  Then there is a large one-story service area where new cars are prepared for delivery and older vehicles repaired.  First-generation auto dealerships were very different as illustrated by the World War I era building pictured here.  Typically, there was a first floor with a modest sized show room facing the street, sufficient in size, perhaps, for one-half dozen new cars along with offices for the sales staff. By modern standards, these show rooms had tiny windows and must have been rather dark.  Then there were one, two or even three upper stories.  This is where the repair work was done.  Cars had to be driven up a ramp to get there.  I wonder how they handled cars that could not move up the ramp to the second story under their own power?  Urban land was often costly so it was desirable to construct these multi-story dealerships.  I suspect that if you took a picture of a first generation auto dealership and showed it to sales persons working today at one of the huge suburban dealers; they would have a hard time recognizing it.  In a few places where land is very expensive, such as Manhattan, you will find dealers operating in buildings similar to the one shown here but that is very rare.  Since World War II, dealers have needed immense amount of space so they left cities such as Detroit.  By 2014, I believe that there were only three new car dealers operating in the city of Detroit.

I spent a fair amount of time trying to determine what brands of vehicles Peter Platte sold as a Ford Dealer.  The closest producers would have been Chalmers, Hudson and Liberty located, approximately, where the Jefferson North plant now produces Dodge Durangos and Jeep Grand Cherokees for Fiat/Chrysler.  I never learned what brand was sold from this dealership.

This building was constructed as a three-story brick and reinforced concrete structure.  In 1936 a two-story addition was built toward the rear.  In 1956, the front and Ashland Avenue sides were covered with blue metal sheathing.  At some point, the auto dealership closed and B. F. Goodrich opened a tire store in the building.  I do not know how long this building has been underutilized.  Perhaps it is used for storage.

In 2007, the City of Detroit created a Jefferson-Chalmers Commercial Historic District.  It includes both sides of the blocks of East Jefferson near the city's border with Grosse Pointe Park as well as some structures on Eastlawn, Chalmers, and Manistique.   The now abandoned St. Columba's Episcopal  and its parish house on East Jefferson is within this historic district.   I presume that owners of properties in this area saw potential for economic growth since they were located very near to the Grosse Pointes where the population is modest in number but the spending power is great.  People driving home along East Jefferson from their jobs in Detroit to their domicile in the Pointe could easily stop to make a purchase.  The years since 2007 have been very challenging ones for metropolitan Detroit because of the persistent recession.  Alas, I see few indicia of the success of an effort to create a vibrant shopping district in this corner of Detroit closest to the Pointes.

The Blight Removal Task Force estimated that the cost of removing blighted commercial building in Detroit would be between 800 million and one billion dollars.  They did not identify a source of such funds.
Architects: James S. Rogers, Harrie W. Bonnah and Walter C. Chaffee
Date of construction: 1919
Use in 2014: Apparently an abandoned building
City of Detroit Designated Historic District:  The structure is within the Jefferson-Chalmers Historic Business District listed in 2007.
State of Michigan Registry of Historic Sites:  Not listed
National Register of Historic Places: Not listed
Photograph:  Ren Farley; July, 2014
Description revised; January, 2015
Return to Commercial Buildings

Return to Homepage