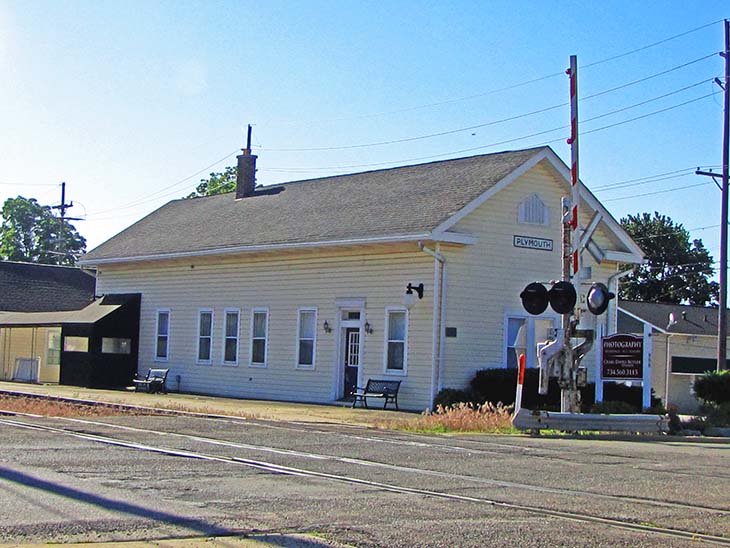 Pere Marquette/Chesapeake and Ohio Plymouth Depots
900 Starkweather and 904 Starkweather
The first settler, William Starkweather, arrived in this area in 1825.  A few other settlers arrived shortly thereafter.  Some of them, I assume, traced their families back to those who traveled from England on the Mayflower, hence the original name for this site, Plymouth Corners.  A post office opened in December, 1828 and the village was incorporated in 1867.  For the first fifty years or so, this was an agricultural settlement.  That began to change right after the Civil War.

The 1870s were years of a railroad building boom and industrialization in Michigan as the state quickly became a center for the manufacturing industries that supplied the needs of a rapidly growing nation.

By 1855, Chicago was connected to New York by a rail line that passed through Detroit.  Actually, goods and passengers had to be transported across the Detroit River by ferry.  By the mid-1860s, many settlements in Michigan knew their future depended upon their having a rail line for the shipment of what they produced.  Thus began Michigan's railroad boom which lasted until the economic crisis of 1892.

In 1862, entrepreneurs and investors in the Flint and Saginaw area began building what would become the Flint and Pere Marquette railroad.  By 1874 that line extended north from Toledo to Flint and Saginaw and then west across the state to the town then known as Pere Marquette, but now as Ludington.  It was called Pere Marquette since Father Jacques Marquette died there in 1675.  This rail line reached Plymouth in 1871.

The Detroit, Lansing and Lake Michigan Railroad began building a line from the Lansing area toward Detroit in 1869.  By 1871, they reached Plymouth and, shortly thereafter, their line linked Detroit with Lansing.  This line was reorganized as the Detroit, Lansing and Northern in 1877 and was extended to Grand Rapids with connections to rail lines that went to Chicago and served the east shore of Lake  Michigan in the 1880s.  Both of these railroads became components of the much larger Pere Marquette railroad in 1899, a line that extended from Buffalo across Canada to Chicago with numerous branch lines throughout the Lower Peninsula.  This railroad was purchased by the Chesapeake and Ohio (C & O) in 1926 but operated as an independent line until 1947 when it became a part of the C & 0.  In 1987, the C & 0 became the CSX transportation firm.  Both of the lines through Plymouth continue to host daily freight trains.

The coming of the railroad hastened Plymouth's development as a manufacturing center with quite a few large and several larger plants located here.  After the state began building roads in earnest in the early 1920s, Plymouth was gradually included within the suburban ring that surrounds Detroit.  Plymouth had a great stock of attractive late Nineteenth Century Victorian homes erected by the industrialists.  They are quite appealing to prosperous suburban residents in the Twenty First Century.

The passenger depot that you see picture here is along the former Detroit, Lansing and Northern line.  The website of the Plymouth Historical Society lists 1871 as the year when it was built.  That is possible but I am doubtful.  Most of the early railroads were undercapitalized so, when constructed, they lacked the funds to build a depot as substantial as this one.  They often used a small shed as a depot until they had sufficient funds to erect a depot appropriate for the city where it was located.
I believe that the Flint and Pere Marquette originally had a depot of their own located near the city where Main Street now crosses the Flint to Toledo rail line. 

Presumably, that location was close to 200 South Main Street.  Perhaps that depot was closed when the two railroads were merged into the Pere Marquette.  I have an 1893 Official Guide that shows the Flint and Pere Marquette operating three northbound and four southbound trains a day with a stop at Plymouth Junction.  The Detroit, Lansing and Northern operated five west bound and five east bound trains daily except Sunday with a stop in Plymouth.  I presume these two lines stopped their trains at different depots.   A 1910 Official Guide lists both north-south and east-west Pere Marquette passengers trains stopping at Plymouth.  However, it also reports that there was only one depot in Plymouth.  If so, the Toledo to Flint passenger trains would have had to spend time backing into or away from the depot you see pictured here.  I believe that passenger service on the Toledo to Flint line ended by or about the time of World War I.

In the late 1920s, the Pere Marquette offered five daily round trips from Detroit to Grand Rapids with each of the trains pausing at the depot shown on this page.  In addition, they offered three daily round trips from Detroit to Flint, Saginaw and Bay City.  Passenger service on the former Pere Marquette line through Plymouth ended in May, 1971 when Amtrak took over.  At that time, there were three Detroit-Grand Rapids round trips but only two of them stopped at Plymouth.  There was also a Baltimore and Ohio train from Detroit to Cincinnati that took a circuitous trip from Detroit to Toledo, one that gave Plymouth residents a change to board or alight.  In 2014, the Michigan State Legislature approved expenditure to study the possible reestablishment of passenger rail service from Holland to Detroit.  If such service ever develops, there may once again be a need for a depot in Plymouth.

The Chesapeake and Ohio freight depot was originally located on the same side of the tracks as the passenger depot.  I do not know when it was moved to its present location.
Passenger Depot at 900 Starkweather
Architect: Unknown to me
Date of construction: 1871
Use in 2014:  Office space for a photographer
Freight Depot at 904 Starkweather
Architect: Unknown to me
Date of construction: unknown to me
Use in 2014: Building with three office suites
Website for the Pere Marquette Railroad Historical Society: http://www.pmhistsoc.org/http://www.pmhistsoc.org/
State of Michigan Registry of Historic Sites: Not listed
National Registry of Historic Places: Not listed
Description prepared: June, 2014