Phylon
Philip A. Hart Civic Center Plaza at the intersection of Jefferson and Woodward
at the riverfront in downtown Detroit
One of the Twentieth Century's most important designers and sculptor, Isamu Noguchi, created this striking piece. His works may be found throughout the world. He was selected to design the Philip A. Hart Plaza, along with its Horace E. Dodge and Sons Fountain and the Pylon sculpture that you see pictured here.

In 1904 in Los Angeles, Noguchi was born to a Japanese-American poet; Yone Noguchi, and an American writer, Leonie Gilmour. At age 3, he and his parents moved to Japan where he lived for more than a decade. Both of his parents were creative artists and they encouraged his interests in art and design. When he was 14, his mother sent him to rural Indiana—Rolling Prairie—where he completed high school, using the name Sam Gilmour.

After secondary school, he obtained a summer apprenticeship with the famous America sculptor, Gutzon Borglum. He is well known for his very large sculptors of individuals, especially for the faces of four presidents that he carved on Mount Rushmore in South Dakota. However, one of Borglum's early busts of President Lincoln is located in the Civil War Memorial Garden that adjoins Philip A. Hart Plaza near the Veterans Memorial Building. After working with Noguchi, Borglum concluded that he had no future in the world of art and encouraged him to pursue some other career.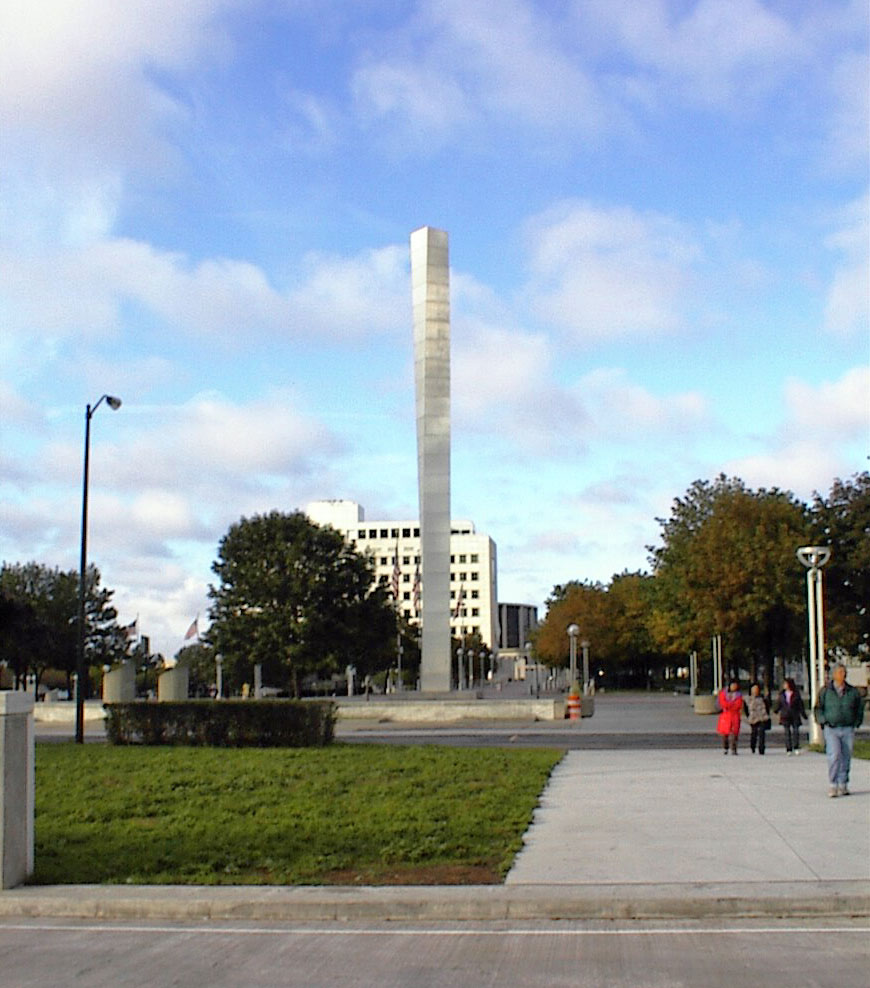 Noguchi apparently took Borglum's advice. He moved to New York City and enrolled in Columbia University with the intention of becoming a doctor. Quickly, he met other members of that city's Japanese community. He changed his name back to Noguchi. They encouraged him to pursue his original love of art. After a few semesters, he quit the pre-med program and began studying sculpture in New York. In 1927, he won a Guggenheim Award that supported one year's study in Paris and allowed him to travel throughout Europe and Asia studying art and sculpture.

After several years, he returned to New York City where he sought commissions for portraits and sculptures. Not surprisingly, he found it difficult to support himself since the Depression limited the discretionary spending of almost everyone. Fortunately, the economic stimulus and job creation program of the Roosevelt Administration, the Works Projects Administration, was hiring artists and writers. Noguchi supported himself and greatly enhanced his reputation by designing parks and sculptures to go in them. By the late 1930s, he was a successful New York artist, winning commissions in the United States and other countries.

West Coast Japanese were interned during World War II, but President Roosevelt's confinement order did not apply to Japanese-origin citizens living in Hawaii or away from the Pacific shore. Noguchi, however, agreed to go to an internment camp in Arizona to teach arts and crafts to the American citizens held there. When he sought to leave, the FBI accused him ofespionage and held him.

After World War II, he returned to his extremely productive career in New York. By this time, he was becoming well known for designing parks and sculptures for them. This may help to explain why he won the commission for Philip A. Hart Plaza. He also branched out by designing sets of Broadway shows. One of his most famous commissions was the design of a line of furniture for the Herman Miller firm of Zeeland, Michigan. The Noguchi Table is a well-known work of art. As he reached older age, Isamu Noguchi won very many awards for his contributions to design and sculpture include the National Medal of Art from the United States government in 1987.

The pylon that you see here may borrow from many traditional architectural shapes that have been known since men constructed objects. It may suggest a tower, lighthouse or obelisk. But it is constructed of modern stainless steel. As you will note, the pylon twists as its rises. I do not know if Noguchi meant to use the twist as a pointer to direct your attention toward the Detroit River or toward the nearby Horace E. Dodge and Sons Fountain that he designed.

Pylon is a word of Greek origin referring to an Egyptian gateway structure that resembled a truncated pyramid. They were, apparently, commonly built in significant locations by Egyptian architects. The word came into the western European languages and was used to describe a tall tower, such as those used to support elevated wires.

If you will go to the website of the Noguchi Museum listed below, you will see a model of his original design for Hart Plaza. His original design is very different from what you see now. He called for several levels of elevation and quite a few trees. But his original design did not include his Pylon sculpture nor his Horace E. Dodge and Son Fountain. His design incorporated the Ford Auditorium that was razed in the summer of 2011. Frankly, I think the Hart Plaza would be more appealing had his original design been executed. It would be much warmer and welcoming, I think, that the gigantic concrete slab that now exists on the river front. I do not know the history of why the design of Hart Plaza was changed but architectural designs are often changes when the construction is actually done. Frederick Law Olmstead's design for Belle Isle would have produced a park that look considerably more like New York's Central park had it been executed. I believe his original design for Belle Isle did not include the miles of canals and waterways that were added when the park was constructed.
http://www.detroit1701.org/Public Art and Sculpture.html
Sculptor: Isamu Noguchi
Material: Stainless steel
Date of completion: 1973
Website for the Noguchi Museum: http://www.noguchi.org/noguchi
Photograph: Andrew Chandler; July, 2004
Description prepared: August, 2011
Return to Public Art and Sculpture